How to furnish a modern kitchen
These days, more and more people are opting for a modern kitchen style. Everyone knows that the kitchen is the heart of the home, but it is also the room which needs to be the most practical and functional of all. This is why it is essential to select a kitchen with a contemporary style. Not just because a modern kitchen lends a touch of design and elegance to the home. But also (and above all) because only a modern kitchen or a designer kitchen are designed to optimise all the available space (even the most confined and compact settings) and better facilitate cooking tasks and the everyday activities of its users.
And lastly because a kitchen with a modern style is free from excessive decorations, mouldings and frills, making it so much easier to clean. This translates to maximum hygiene and cleanliness in the kitchen.
What distinguishes a modern kitchen
A modern kitchen is not just a place to cook, but it brings together the characteristics of a practical, ergonomic and functional workspace (which are essential to performing all the activities involved in the different phases of cooking with those of a sociable and welcoming place to come together. Indeed, today the kitchen is the heart of the household, even more so than ever before.
The latest kitchen design concepts aim for a more modern stylistic layout and a more rational configuration of space, in order to strike the perfect balance between aesthetic styling and functionality.
Do you want to furnish your kitchen with a modern style but have no idea where to start?
Follow our furnishing advice to create a dynamic vibe to enjoy your kitchen 100%.
10 useful tips on how to furnish a modern kitchen
A modern kitchen combines style and functionality in a single household environment.
Contemporary kitchen designs stem from the increasingly frequent requests on the part of consumers for an area where rationality and optimised space reign supreme, without for that matter waiving the pleasure of benefiting from a room designed with painstaking care for detail and in a customised way.
However, what are the technical and stylistic aspects underpinning the design of a modern-style kitchen? To find out, follow our 10 tips on how to furnish a modern kitchen.
1. Say yes to plain coloured kitchens or those packed with trendy hues
Modern kitchens often don a total white or a total black look. Choosing a neutral hue, such as white, grey or even black, is not only always elegant, but it also matches all the other colours in the surroundings. It is an ideal choice for a new kitchen being fitted in a fully furnished home. However, in addition to monochrome versions, there is an extensive choice of colours to choose from in order to create the perfect modern kitchen, while retaining a simple yet stylish style.
The trendiest colours these days are traditional Scandinavian pastel shades, sage green, amaranth red, saffron yellow and baby blue. All these colours are the perfect match for white, beige, greys and with the warmth hue of wood.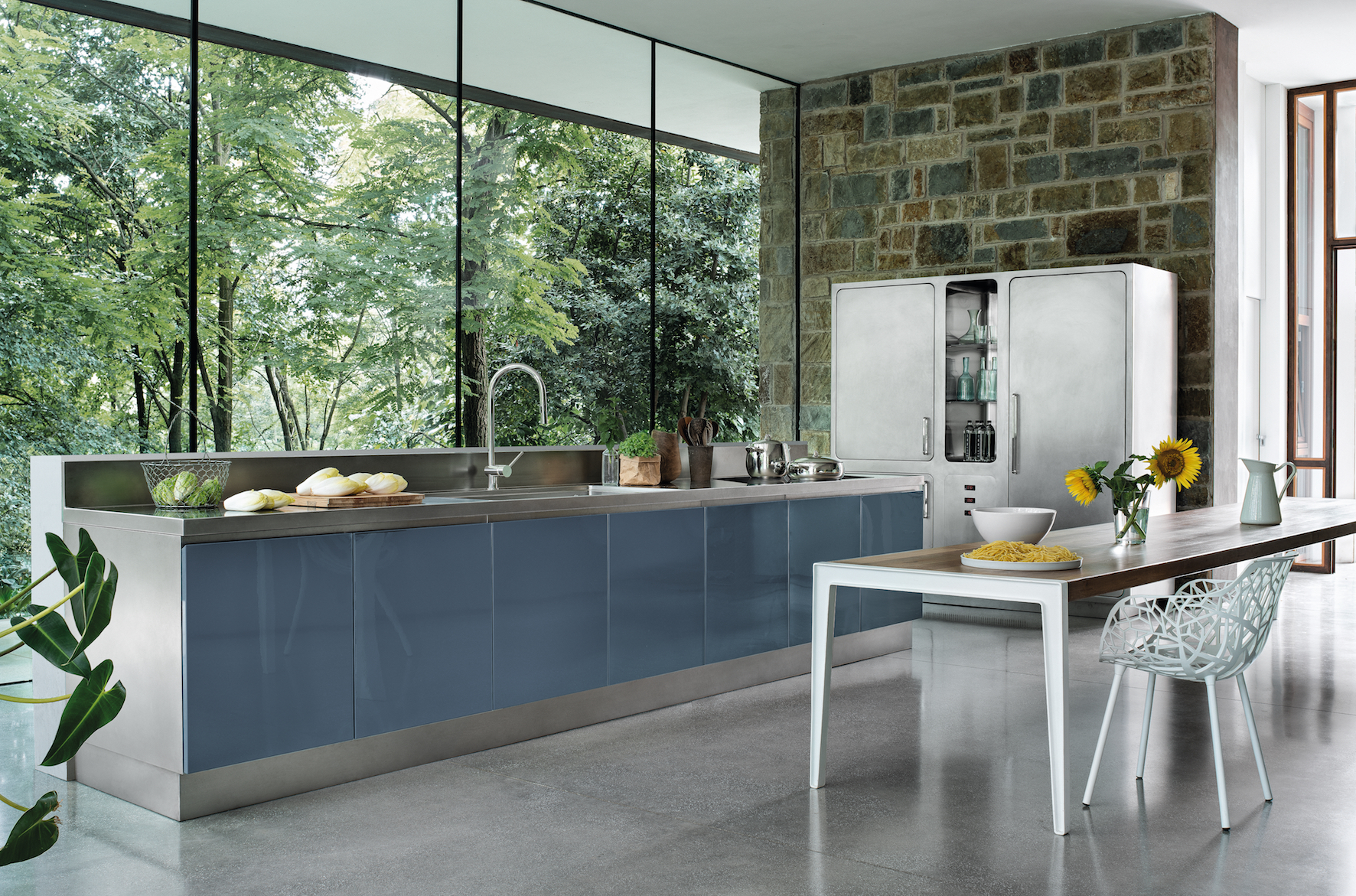 2. Opt for hard-wearing materials with a decorative soul
Efficiency and functionality are two factors that only a modern, high-performance kitchen can guarantee through the use of hard-wearing, quality materials with superior performance levels.
These include:
Corian
Quartz
Marble
Dekton
Cement
Natural stone
Stainless steel
These materials offer the best characteristics when it comes to hard-wearing durability, practicality and cleanliness, which are essential features in a modern kitchen. Specifically, whereas they were once only used in professional kitchens or in the homes of great chefs, stainless steel kitchens have come a long way and are now perfectly suited to domestic settings as well.
Moreover, stainless steel is not just an elegant material with great personality, it also offers hard-wearing durability. This material is easy to clean and guarantees the utmost hygiene levels, since it is completely antibacterial.
These characteristics make stainless steel an excellent quality material, perfect for furnishing a modern kitchen concept.
Find out more about the Atelier  and Ego  stainless steel kitchen lines by Abimis.
3. Have you got your sights set on styling and functionality? Then choose an induction hob
In the kitchen, technical and stylistic sophistication also and above all concerns the work areas, particularly the hob.
Efficiency and style are categorical must-haves in a modern kitchen. Consequently, to accommodate these needs, you need to choose a hard-wearing, easy-to-clean hob with simple yet striking silhouettes.
These days, the most recommended solution to go for is an induction hob.
An induction hob has a smooth and linear tempered glass surface, which is extremely easy to clean. It has great styling impact and guarantees fast and uniform cooking.
What's more, it does not need to be connected to the gas mains. Which not only provides extra safety, but also entails considerable advantages if you are refurbishing your kitchen.
4. Choose an island kitchen
An island kitchen is the perfect choice for consumers looking for a contemporary designer kitchen. The only constraint is that you need to have enough space…
Its modern layout is designed specifically to ensure user-friendliness, comfort and sociability, especially when the kitchen and living room are closely connected. An island kitchen in fact allows you to redesign your lounge area, acting as a filter between the actual kitchen and the dining room or living room.
The central island makes up the core of the kitchen. It creates an extra work surface or a table to have breakfast, a quick snack or simply take a seat and enjoy some well-earned down time.
If the island plays host to the hob as well, sociability is guaranteed because the cook doesn't have to have their back to their guests or family as they work.
5. Make the colour of the walls an attraction
A modern kitchen can be distinguished not just by its design, but also by the harmonious blend of colours. To complete the mood of this particular room in the home, we recommend you choose the colour of the walls or tiling in shades which match the look of your kitchen. Be brave and dare to use bright contrasts.
Is your kitchen white or pale coloured? Prefer vibrant colours for the walls, such as red, yellow or navy blue. If on the other hand your items of furniture are colourful, then paint the walls white, grey or dove-grey, in pale and versatile colours.
If you enjoy contrasts, you could tile the walls with a marble-look porcelain stoneware, or with tiles featuring bright "pop" designs in pure Sixties style, or even fit a stainless steel wall panel. If your kitchen is compact in size, you could choose a polished mirror-finish stainless steel cladding to make it appear brighter and bigger.
6. Don't forget the floor
Choosing the perfect kitchen floor material is vital in defining the overall look of the room. In modern kitchens, there's room only for top-performance materials with a great aesthetic presence. The most suitable are:
Marble or natural stone. This is an attractive, hard-wearing and easy-to-clean material. Beware however of stains, especially oil, which must be wiped off straight away to prevent the stone from absorbing it and leaving a ring mark…
Wood. Its sinuous grain patterns, which differ from one type of wood to the other, create natural designs that differ each time, giving the surroundings a restful allure, making it appear warm, cosy and welcoming. Don't think that wood only suits a country-style kitchen. The contrast between wood and stainless steel, for instance, creates a kitchen environment with a contemporary design yet packed with personality.
Cement. Contrary to its cheap appearance and "rough" image, cement is a perfectly suitable material for use in modern kitchens. It is extremely wear-resistant and is easy to clean. It is the perfect material when combined with wood, natural stone or stainless steel, with which it generates stark and striking textured contrasts while making its surroundings look like an industrial-type kitchen.
7. Light up your kitchen with style
While it is true that lighting plays a significant role in every room of the home, this rings even more true in the kitchen. Here, light plays a role that is not merely aesthetic, but mostly practical and functional.
To light your kitchen, select a ceiling lamp in neutral colours and with clean-cut silhouettes. For a more character-packed solution, opt for a designer suspension lamp or ceiling lamp, which will play the starring role in your contemporary kitchen.
If you need strong, direct light, then install some recessed spotlights above the busiest areas of your work surfaces. If you prefer softer, more uniform lighting, then fit some LED strips to the underside of your shelves or wall units.
8. Fit your kitchen with efficient appliances
Any self-respecting modern kitchen can never lack in comfort and quality equipment, which are necessary throughout the entire meal preparation process. A dish made professionally is the result of both skill and experience, as well as prior proper preservation of the raw materials. A proper cold control system is extremely important to guaranteeing quality food. That's why we recommend you choose a refrigerator that contains separate compartments for different food types, with different temperatures.
An efficient and high quality refrigeration system is an essential must for your modern kitchen, allowing you expertly to preserve the flavours and freshness of your food.
9. Don't neglect keeping it clean, neat and tidy
A kitchen equipped with large pantries and pull-out shelves guarantees the immediate use of both ingredients and utensils, thereby ensuring the rational organisation of space and making all your tasks straightforward and practical. In addition to functionality and to optimising space, the catchphrase is hygiene and cleanliness in the kitchen.
Stainless steel is an antibacterial alloy, which is hard-wearing and easy to clean, making it one of the most suitable materials for use in the kitchen and contact with food.
It is no coincidence that this is the material of choice in professional restaurant and catering kitchens, where hygiene and cleanliness are indispensable!
One of the solutions which avoid the build-up of dirt and the spreading of bacteria throughout the kitchen is to opt for smooth worktops, to eradicate any joints between storage units and to prefer compartments and pantries with rounded inner corners. The hygienic integrity of the room is guaranteed.
10. Designer accessories oozing creative charm
When asked how to furnish a kitchen with a modern style, the first thing that springs to mind is whether one can be daring by introducing decorative elements or whether it is better to opt for a kitchen that is as simple and minimal as possible.
Our advice is never to forgo creativity and imagination in the kitchen, where design can and must coexist with functionality.
You could add a touch of glamour to your kitchen with designer accessories.
Modern kitchens are often very stark and rational so a touch of inspiration would go a long way to distinguishing it. The result will be a homely ambiance, a warm and welcoming room, without having to give up on your own personal style.
In conclusion, choosing a modern kitchen means mixing the need for a comfortable and user-friendly environment with an efficient and functional workplace. All this with a keen eye on design.
A rational place that is also attractive. Featuring understated silhouettes, yet characterised by your own personal style. Perfect for cooking in, but also ideal for moments of sociability among family and friends.