EGO, THE KITCHEN WHERE IT ALL BEGAN
Ego is the first model by Abimis designed to cook like a professional chef at home
Ego is the first model with which Abimis reinterpreted the professional stainless steel kitchen for domestic settings.
Professional kitchens guarantee superior performance for chefs, but their aesthetic styling is not ideally suited to residential settings. Abimis, in partnership with the architect Alberto Torsello, designed Ego, a kitchen that combines the superior performance levels of professional restaurants with the more elegant shapes of domestic kitchens.
Its design stands out for the rounded silhouettes, inspired by 1950s kitchens.
Every Ego kitchen is entirely customisable and bespoke, so as to adapt to the needs of every customer.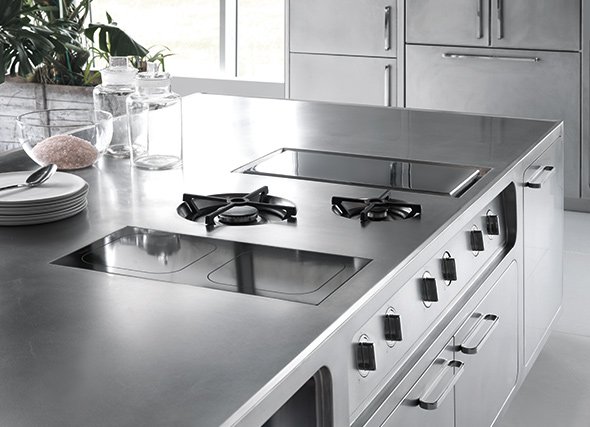 Bevelled flush doors fully integrated into the structure. Completely invisible hinging pivot, patented by Abimis, that is non-rusting and requires no adjustment. Stainless steel joint-free worktop. Rounded handles.
These are the distinguishing features of Ego. The elements which soften its design, making it ideal for domestic settings.
The material used for all Ego kitchens is AISI 304 stainless steel. A hygienic, hard-wearing and sustainable material. Every kitchen is available in 3 natural finishes – orbitally polished, brushed or mirror-finish – or it can be painted in all the RAL colours.
Discover all the Abimis kitchens secrets