Top-performing, versatile and beautiful. Today, we're talking about designer kitchens. The ideal kitchens for those in search of a solution that can team together styling with functionality.
What does "designer kitchen" actually mean?
When we mention design we're not only referring to the shape, but, as the masters of the Bauhaus taught us – and they invented design 100 years ago – design means striking the perfect balance between form and function.
That's why when we use the expression designer kitchens, we don't only mean the most beautiful kitchens to behold. That too, but that's not all…
Designer kitchens are the best solution also in terms of performance and versatility.
From the use of the most innovative materials, to the endless customisation possibilities, ergonomic design and multi-functionality, space-saving solutions and state-of-the-art appliances.
Beauty lies in the eye of the beholder, a wise saying goes. That's so true, considering beauty is subjective. Functionality, performance, ergonomics are on the other hand objective concepts.
Beauty can be copied. Research, innovation and quality, on the other hand, are inimitable.
When we buy an item of interior décor, whether this is a vase or a centrepiece, a table or a sideboard, we can focus on the aesthetic appearance, since their function is quite simple. But when we buy a more complex item, such as a washing machine or a sound system, a kitchen, or even a car, functionality and performance become just as important as the aesthetic styling.
These are genuine strengths to be taken into consideration when we buy a contemporary designer kitchen.
A designer kitchen becomes the heart of the home
Today, plenty of people pick a designer kitchen for their home. A kitchen that teams beauty with performance, to offer the best it has to offer to its users and guests.
The kitchen has always been the heart of every home, and it has recently made a veritable starring role for itself. It is no longer merely the place dedicated to preparing meals, but it has become a smooth, multi-functional setting which accompanies us throughout various times of the day.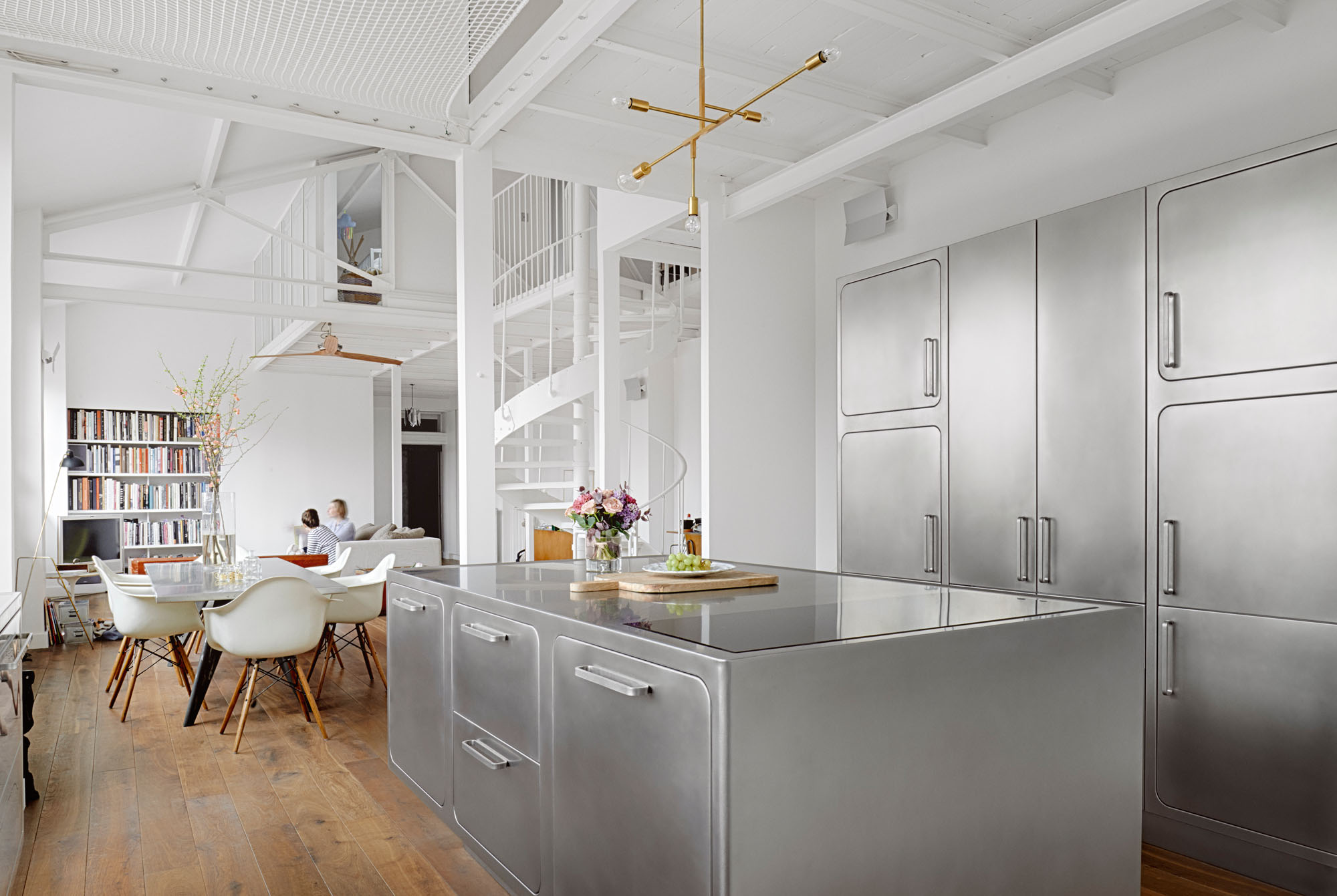 Studies confirm that everyday life in contemporary homes revolves around the kitchen. This is where we cook and eat meals, study or even work, get together at the end of the day, and welcome friends too. The kitchen has become a room that is enjoyed through 360 degrees and, specifically for this reason, it should be selected and designed with the utmost care.
So let's look at the criteria for choosing a modern and functional designer kitchen.
What characteristics should a designer kitchen have?
THE SHAPES NEED TO BE CLEAN-CUT AND SIMPLE YET STRIKING
Less is more. We've borrowed the famous statement made by Ludwig Mies van der Rohe, one of the leading exponents of modern rationalism, to illustrate the essence of designer kitchens.
In a house with fluid boundaries, kitchens are increasingly connected to the living room. That's why the shapes have become clean-cut as well as simple yet striking. Designer kitchens have a minimal silhouette, where the handles disappear, the hobs appear to blend in with the tops, the appliances and crockery hide away inside the cabinets. Even their design has been devised to blend in seamlessly with the other rooms in the home. The result? Sculptural islands, tall units that resemble wall panelling, shelves which get mixed up with the sitting room bookshelves.
The modern designer kitchen loses its vernacular character and its traditional silhouettes to become increasingly integrated with the furniture and style of the living room, which it becomes a fundamental part of.
DESIGNER KITCHENS SHOULD OFFER SPACE-SAVING AND MULTI-FUNCTIONAL SOLUTIONS
Multi-functionality. That's the key word in interior design today. Contemporary settings in fact require "multitasking" furniture and items of interior décor. 
This need is even more important in the world of kitchens. Worktops are transformed into breakfast benches or snack counters. Cabinets are not only used as larders, but they can be equipped with fully-integrated appliances and pull-out tops. They can even conceal tables or chairs inside. Space-saving solutions are endlessly cropping up.
Contemporary designer kitchens don't just ensure the traditional functions of cooking.
A DESIGNER KITCHEN IS AN ERGONOMIC KITCHEN
In this day and age, the ergonomic design of a kitchen has a vital role. This is for two reasons.
Often the space in modern homes forces us to opt for compact-sized kitchens. It is specifically for this reason that they need to be designed to offer maximum performance in the minimal amount of space. Everything needs to be well-organised and within easy reach.
An ergonomic kitchen facilitates, speeds up and makes the cook's job easier. A modern, well-planned designer kitchen needs to be able to optimise the chef's movements, allowing him or her to move around easily from one area to the next. It should adapt to their shape, height, and movements. This will make their job easier and more enjoyable.
A designer kitchen is first and foremost an ergonomic kitchen, designed around the chef's movements.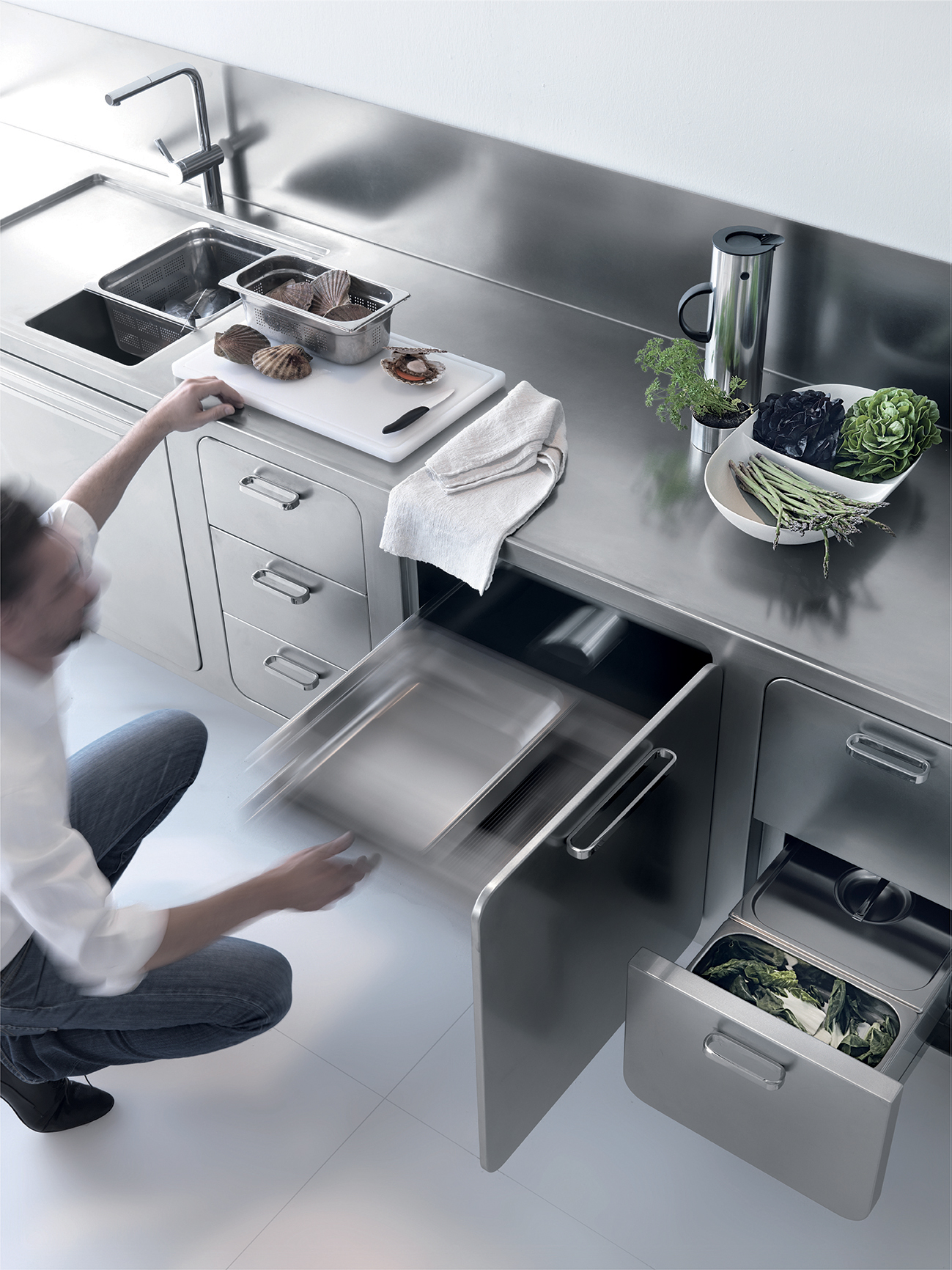 THE MATERIALS HAVE TO BE DURABLE, INNOVATIVE AND TOP-PERFORMING
While the aesthetic styling of designer kitchens is vital, the materials used to make it lend the setting character. Stainless steel kitchens, glass or wooden details, marble or stoneware tops, innovative, high-tech materials such as acrylic stones. These materials can be used on their own or combined together, to create endless different kitchen styles. However, these materials aren't just attractive to look at or enjoyable to touch. They also need to be top-performing, they need to offer outstanding resistance to knocks, heat, acids and scratches. To guarantee maximum hygiene in the kitchen, the materials need to be easy to clean, anti-bacterial, and they must not release any substances when they come into contact with food.
Stainless steel kitchens are definitely those which best accommodate these needs. It is no surprise that stainless steel is the favourite alloy used in professional restaurant kitchens.
A designer kitchen is first and foremost a functional, hygienic kitchen that's built to last.
CUSTOMISATION POSSIBILITIES
Customisation is another key word in interior design. Customisation that is not only limited to shape and size. Contemporary designer kitchens guarantee endless customisation possibilities in terms of materials, colours and finishes too. The doors can be white or brightly coloured, glossy lacquered or matt finish. The stainless steel of the kitchen can also be mirror-finish, satin finish, orbitally polished by hand or painted. All tastes can be satisfied. This versatility allows modern designer kitchens to adapt to various settings and to different styles: from a city apartment to a country house, from metropolitan lofts to mountain chalets.
Modern designer kitchens need to offer almost endless customisation possibilities.
DESIGNER KITCHENS ARE GENUINE COOKING MACHINES
The heart of the home, but that's not all. These days, the kitchen is increasingly seen as a veritable domestic restaurant. Not just to accommodate the passion of all good food lovers. But also to give them the chance, should they wish to, to invite a professional chef into their home, to cook for their guests.
This trend has been around for a few years now, but it has recently grown in popularity these last few months due to the pandemic. That's why these days designer kitchens need to be equipped to prepare both a quick snack as well as the most sophisticated gourmet dish. They need to be capable of accommodating state-of-the-art appliances, which guarantee the same performance levels as professional kitchens. So there's plenty of room for latest-generation induction hobs, smart ovens which display the cooking time and even recipes, smart refrigerators that help you save energy and avoid wasting food, hoods that sanitise the room and turn on automatically when you start to cook. For a super-technological kitchen worthy of a chef.
Contemporary designer kitchens must allow you to cook like a pro at home too.
Designer kitchens by Abimis
However, not all designer kitchens are equal. Like we mentioned at the beginning of this post, it's not just the aesthetic appearance that counts. When you make your purchase, you also need to assess the functionality of the kitchen, its ergonomics and its performance levels. The materials used to make the kitchen, and the innovative solutions implemented. That's why not all beautiful kitchens can truly be designer kitchens.
Stainless steel kitchens by Abimis  constitute one of the best solutions for those in search of a designer kitchen for their contemporary home. Because they are long-lasting and extremely hard-wearing, thanks to the special stainless steel used to make them. Because they are designed to offer the same performance levels as a professional kitchen. Because they are bespoke kitchens, which can be customised to nearest centimetre and down to the smallest detail. Because they are genuine designer kitchens also in their silhouettes, since they adapt to any home and to every style of interior décor to perfection.
And, last but not least, because they'll allow whoever chooses them to cook like a star chef in the comfort of their own home.