A growing number of people today are opting for stainless steel kitchens for their home too. There are many reasons for this decision.
Some people prefer them to traditional kitchens due to their hard-wearing resistance and durability. Others pick stainless steel because they want a kitchen that's easy to clean and they won't compromise on hygiene. There are people who can't resist their unique, strong, warm design that's decidedly packed with punch. Some consider them to be an investment to hand down, just like a vintage car, a watch or a family heirloom. There are also people who enjoy having guests over (and cooking for them) in the garden and therefore want a kitchen that's designed for outdoor use, hard-wearing, built to withstand all weather. Many prefer it because they have a green soul and they know that stainless steel is one of the most sustainable materials in the world and that it is 100% recyclable. Lastly, there are also those who choose a stainless steel kitchen because they only want the best in their home!
How to choose a stainless steel kitchen
While there are a myriad reasons to choose a metal kitchen, there are only a few people who know how to choose a good stainless steel kitchen, how to distinguish its quality, workmanship and finishing without having any unpleasant surprises after purchase.
So here is a small guide which we are certain will help all foodies and aspiring chefs to choose the most suitable stainless steel kitchen for their needs.
A guide which, in addition to explaining why stainless steel kitchens constitute the absolute top of their industry, also provides precious tips on how to choose it, what to pay attention to and what to demand at the time of purchase.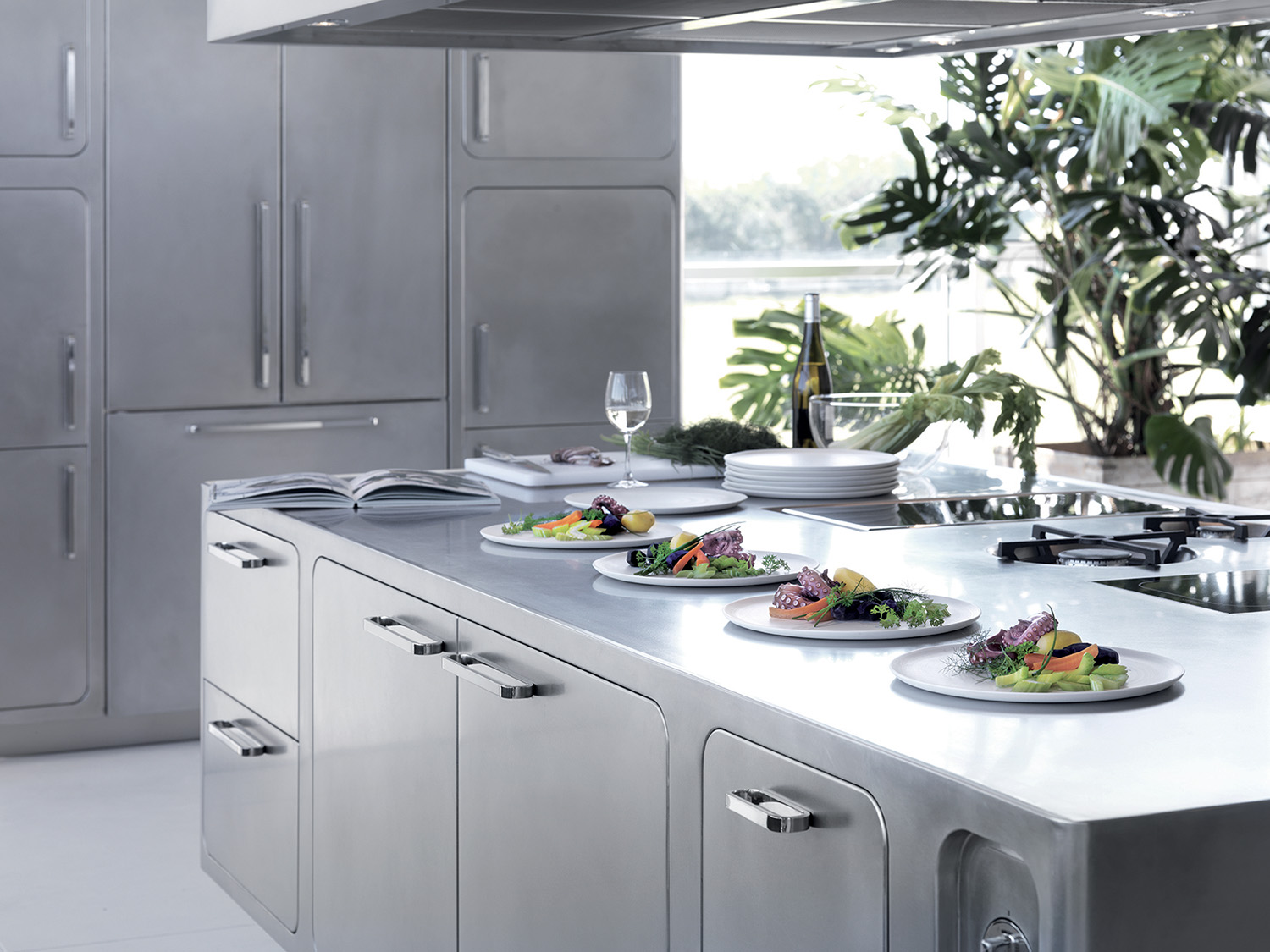 1. Stainless steel kitchens are extremely hard-wearing
Stainless steel is a metal alloy which stands out for its hardness and hard-wearing resistance characteristics. Stainless steel resists impact, corrosion and it withstands temperatures of up to 500°C. Indeed, owing to these intrinsic characteristics, stainless steel is the material of choice when making professional kitchens. Indeed, these need to be especially resistant to wear, considering they are designed for much more intensive use. Owing to its characteristics, stainless steel is being increasingly used in the production of domestic kitchens too.
→ THE EXPERT'S ADVICE
Beware: not all stainless steel kitchens for the home are the same because not all stainless steels are the same. Quite the opposite…
If the stainless steel does not have the right hardness or the right thickness, the risk is that you will end up with a scratched, or worse, a dented stainless steel kitchen in your home. If you are not careful when you choose it, your dream of having a stainless steel kitchen in your home could turn into a disappointing nightmare (on top of being a waste of money).
This is why it is important to choose a kitchen made with the most suitable, hard-wearing stainless steel, also for domestic use.
All the stainless steel kitchens for domestic use by Abimis are made using AISI 304 stainless steel, the same stainless steel that is used to make professional kitchens.
2. Stainless steel kitchens are hygienic
Stainless steel is a biologically neutral and therefore an antibacterial material. Unlike other metals, stainless steel does not modify the colour, the fragrances or the flavours of food and it does not release toxic substances which could contaminate it. This is why it has always been used in the kitchen. Both to make cutlery, crockery and food containers, as well as to design industrial kitchens, where hygiene and perfect food preservation are fundamental requisites.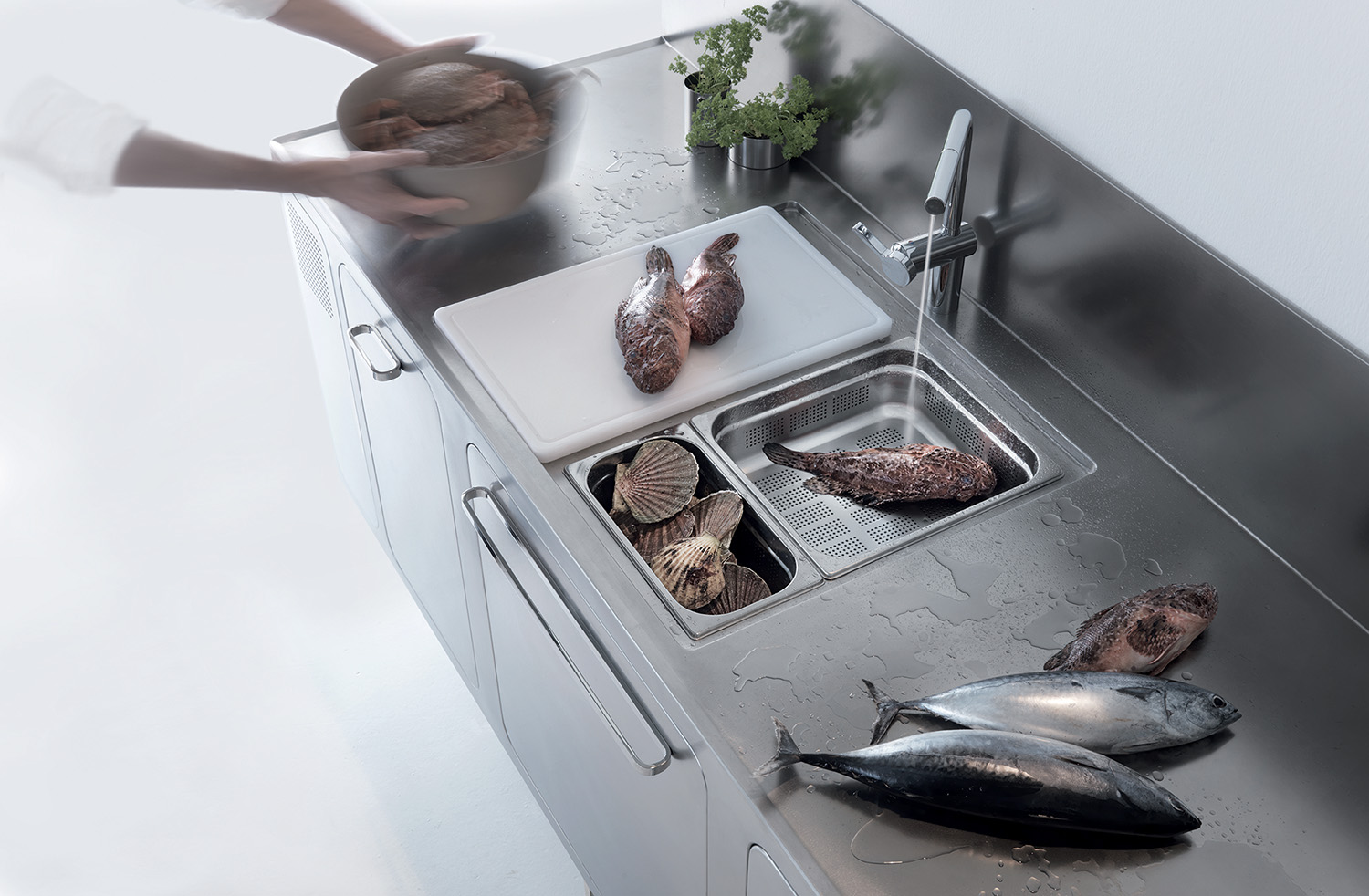 → THE EXPERT'S ADVICE
To obtain these characteristics, however, you need to make sure the kitchen is made in austenitic steel, which is also referred to as 18/10 stainless steel or Inox steel (from the French word inoxydable) or Rostfrei (in German). Indeed, stainless steel is the only one suitable to come into contact with food, as stated in Italian Decree no. 269 of 12th December 2007 for the production of food-grade materials, "…Stainless steel, owing to the exceptional properties that distinguish it, is perfect for a wide variety of uses linked to food and drinks"
This type of stainless steel includes AISI 304 and AISI 316.
Abimis only makes kitchens in stainless steel. To guarantee every customer can benefit from the same performance and safety levels as a professional kitchen in the comfort of their own home.
3. Stainless steel kitchens are easy to clean
Another characteristic feature of stainless steel is that it proves extremely easy to clean thanks to the smooth surface which is immune to bacteria. This makes it the preferred material for professional kitchens, where cleaning tasks need to be facilitated as much as possible.
→ THE EXPERT'S ADVICE
The only places where dirt and bacteria can build up in a stainless steel kitchen are the inner corners of compartments and the joints between one module and the next. Before choosing a stainless steel kitchen, make sure that it is easy to clean, including inside the compartments.
4. Stainless steel kitchens are suitable for outdoor use
The fun of cooking for guests outside as well, perhaps by the sea, on a poolside, or on the panoramic terrace of a hotel has encouraged the widespread use of stainless steel kitchens. Indeed, stainless steel is a material that is resistant to corrosion and to extremely high temperatures. It is weather-resistant and extremely strong. It can withstand UV rays and harsh winter weather.
→ THE EXPERT'S ADVICE
Great care needs to be taken with salt air and chlorine, two substances which could corrode and damage the stainless steel with time. This is why kitchens fitted near the sea or by a pool need to be made with a special stainless steel, namely AISI 316. This is a special steel, which has been supplemented with a percentage of molybdenum, which is guaranteed against corrosion even in settings that are rich in chlorine and salt air.
5. Stainless steel kitchens are 100% recyclable
Stainless steel is an environmentally-friendly and sustainable material, since it is 100% recyclable. But that's not all: its life cycle is near eternal since it can be recycled endless times without ever losing its original properties. Stainless steel is an irreplaceable material which guarantees the sustainable consumption of resources.
For this reason, unlike almost all the other kitchens (which are only partially recyclable or often not at all), stainless steel kitchens can be 100% recycled. At the end of their useful life, they return to being pure steel, without causing our planet any problems. But don't worry, as we will see in point 6, a stainless steel kitchen is so durable that this problem will never arise… But it is still great to be able to make a choice that helps the environment and makes the world more sustainable. For us and for our children!
6. Stainless steel kitchens are practically eternal
Stainless steel kitchens, when well-made using prime quality materials, are near eternal. Indeed, stainless steel is a very hard-wearing material that does not age or change over time.
Moreover, unlike other kitchens made of wood or lacquered panels (MDF, hollow-core or chipboard), stainless steel kitchens have a much longer life. And, even in the event of scratches, they can easily be restored as good as new with a simple restoration task. In short: stainless steel kitchens are potentially eternal. This is why they are considered to be a genuine investment for the future and many families hand them down from one generation to the next.
→ THE EXPERT'S ADVICE
The stainless steel kitchens on the market come in a variety of workmanship. If you want your stainless steel kitchen to stand the test of time, make sure it is made using stainless steel of the right thickness and of the AISI 304 type, guaranteed by the American Iron and Steel Institute, the US certification institute for iron and steel. This is the only way to avoid unpleasant surprises after purchase.
7. Stainless steel kitchens are designer objects
Let's tell the truth: professionally-derived stainless steel kitchens are not just practical, hard-wearing and functional. They are also genuine designer sculptures which bring a touch of "industrial" transgression into the home. Indeed, stainless steel kitchens blend in seamless with both contemporary settings, where they emphasise the attractive design, as well as in classic environments, creating a strong yet well-balanced contrast with the more decorative ambiances.
Stainless steel kitchens can be made in several finishes. The matt finishes in orbitally-polished stainless steel give the kitchen a warmer appearance and reduce the visibility of fingerprints and small scuffs. The polished or mirror finishes give the kitchen a brighter and decidedly more contemporary look. Stainless steel can also be painted, but in this case you need to be extra careful with the quality of the paintwork
→ THE EXPERT'S ADVICE
Owing specifically to their long life, it is better to pick a professionally-derived stainless steel kitchen. Seeing as they derive from the domestic adaptation of restaurant kitchens, they have an "industrial" look that never ages. A design with painstaking care for aesthetic styling as well as from a functional and ergonomic perspective. A life-long choice.
If you then opt for a coloured stainless steel kitchen, take particular care with the paintwork which must be applied using professional and guaranteed techniques. Nobody wants a coloured stainless steel kitchen full of scratches, do they?
8. Stainless steel kitchens are a favourite among great chefs
Great chefs have always used stainless steel kitchens to prepare their dishes. They prefer them in their restaurants, but at home too, in their private life or when they are cooking for guests. They do so because they are practical, hygienic, ergonomic, hard-wearing, easy to use and to clean.
Choosing a stainless steel kitchen for your home means demanding the best the market has to offer. Especially if the kitchen is equipped with those solutions and accessories, which have been tested "on the field" by great chefs, that make cooking simpler and more enjoyable for everyone.
→ THE EXPERT'S ADVICE
Deciding to have a professionally-derived stainless steel kitchen in your home is not just an aesthetic choice. It means using all the typical functions and features of the kitchens of great chefs and Michelin star restaurants. Not all domestic stainless steel kitchens can incorporate this type of equipment, these solutions, that range of accessories that make it truly "professional".
The guide by a great expert in stainless steel kitchens
This guide was drawn up by experts from Abimis, a company that specialises in designing and building professional stainless steel kitchens.
The experience of Abimis derives from Prisma, a Veneto-based company that has manufactured professional stainless steel kitchens for the restaurant and catering world for more than 30 years. An experience you can trust.