OPEN AIR COOKING WITH FRIENDS
A compact and super-accessorised outdoor kitchen by Abimis plays the starring role in the garden of this villa just outside Treviso
Appreciation of great food knows no boundaries. We don't only mean geographical boundaries, but also those between the indoors and outdoors of your home.
Indeed, lovers of good food are increasingly turning their noses up at a simple barbecue for cooking outdoors. They want to be able to rely on a complete and professional tool, suitable for preparing any dish, even the most sophisticated ones. They want a genuine kitchen, designed fully to fulfil their passion for preparing food. And they want to share this passion with friends and guests, without being forced to waive the pleasure of their company while they are cooking.
This is exactly the trail of thought which a young family with a toddler daughter had when they came to live in this villa with a garden on the outskirts of Treviso.
The mum, an architect specialising in landscaping, designed every single detail of the house. She had always wanted to have a generous outdoor space to host multiple friends and their children, where she could cook for everyone.
This is why she decided to install a genuine outdoor kitchen in the garden.
She wanted a compact kitchen that would at the same time be complete and functional. A professionally-derived kitchen, which would therefore offer her the same functions as a restaurant kitchen, yet one which would also be attractive to look at, compact and suitable for outdoor settings.
The choice was inevitable, and she immediately opted for an outdoor kitchen from the Atelier by Abimis line.
This is a stainless steel kitchen the most suitable material for outdoor use because it withstands all weather, heat and frost, chemical agents and rust perfectly. Moreover, stainless steel is particularly recommended for outdoor use since it is a hard-wearing, antibacterial, easy to clean and wash alloy. In short, this material guarantees maximum hygiene in the kitchen, even outdoors!
The kitchen was designed in a joint effort together with the team from Abimis.
Despite being considerably compact in size, this outdoor kitchen has been super accessorised to be perfectly functional. It has been equipped with a teppanyaki hot plate, a generous integrated sink and a large number of accessories. As for the design, the designer wanted a kitchen with a minimalist look, so it would be easier to keep clean. For the doors and drawers, for instance, she preferred the flush doors without handles. She then picked a rather impressive backsplash, so as to create a barrier between the worktop and the external wall of the house. A long magnet was inserted inside it, making it possible to attach knives and stainless steel utensils without having to install a hanging rail. Again along the backsplash, a practical book rest supports an iPad or one of the many recipe books of the owners, who are both gourmet fans and often peruse them for culinary ideas.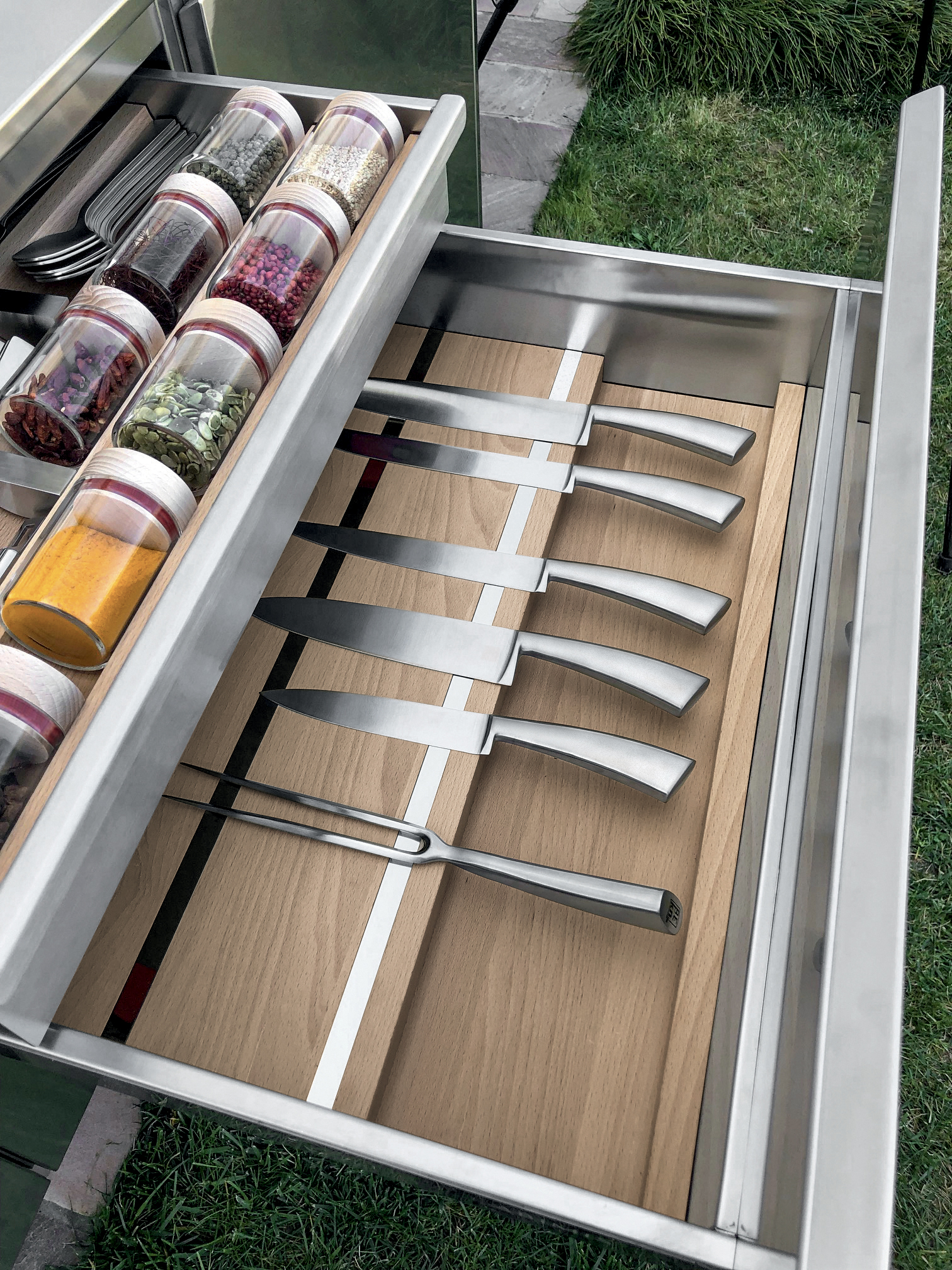 Everything has been designed to offer guests a meal worthy of any great restaurant. Not surprisingly, the kitchen was placed right beside the large vegetable garden, where the family pick their own home-grown fresh vegetables and aromatic herbs every day.
Abimis solutions perfectly reflect the original concept for which they were conceived: a professional-grade product devised for domestic settings that is both functional and designer.