Bringing a professional chef into your home allows you to enjoy an exclusive dinner with your partner or your friends…
Looking for a gourmet dinner prepared by a chef directly in the luxury of your own home? Now you can!
This is the latest trend in the catering industry: a professional chef in your very own home. The trend began in the U.S. about 20 years ago, and it has started to gain traction in Italy too, especially over the last few months.
The measures imposed due to COVID-19 have deeply affected our habits, making us rediscover the beauty of staying at home. One's home has always been perceived as a protective nest, but it is also a place to allow ourselves a few luxuries in the company of our friends. Because staying at home doesn't mean not being able to treat yourself. And what bigger treat that having a Michelin-star chef all for ourselves?
From gourmet food delivery to home restaurant delivery
We all know that gourmet food delivery has blown up during lockdown. Many Michelin-star restaurants have responded to the health emergency by taking their dishes to their clients' houses. This high-quality delivery service has been well-received. It has been so successful that it may continue even when the pandemic is a distant memory. Or at least, that's what many field experts foresee.
Personal chefs, however, add an extra special touch. This represents the evolution of signature delivery food. A sort of restaurant home delivery, where it's not just food that is brought home, but the entire restaurant.
What does a personal chef do?
Personal chef services are not to be confused with catering services. A personal chef does not bring ready made dishes. He or she prepares dishes in the client's kitchen and takes care of every aspect of the meal: from buying the ingredients to delivering the food, setting the table to waiting the table and cleaning. It's a truly gourmet experience in which you can feel pampered and as if you were in a real Michelin-star restaurant.
What's more, people who recruit a personal chef do so to surprise their partner or guests with something special and eat high-quality dishes in an intimate and relaxed environment. A space to exclusively share with your friends and a way to benefit from a more tailor-made kind of service. And not only for one evening. Because personal chefs can't only be seen at big events. Everyone can create a "private restaurant" in their own kitchen. Or, if the space allows, a second kitchen dedicated solely to dinners with friends, prepared by a chef.
A personal chef for an outdoor dinner.
Many people choose to install a second kitchen outdoors. We're not talking about those good-old brick-walled kitchens with chimneys and barbecues. Today, the more modern outdoor kitchens are every bit as good as traditional kitchens.
What's more, they can be kept outdoor all year round as they are resistant to adverse weather conditions, UV rays and the cold. If the outdoor kitchens are to be installed near the sea or a poolside, they can be made with special 316 AISI stainless steel. This is a special metal alloy which is highly resistant to chlorine and salt.
DISCOVER ABIMIS OUTDOOR KITCHENS
A chef-approved kitchen for domestic use
People who decide to enlist the services of a personal chef need to give chefs the freedom they need to express their creativity. How? By providing them with a state-of-the-art kitchen. The best case scenario would be a professional-type kitchen, which guarantees the chef the same performance levels offered by a professional kitchen, but which is purposely designed for domestic environments both in terms of size (albeit more compact than restaurant kitchens) and in terms of design.
Allowing a great chef to cook in a low-performance kitchen means limiting his or her possibilities. It's a bit like a Formula 1 driver driving an economy car…
We know all too well: the art of cooking needs to be given the best possible conditions to express itself.
Another key aspect in a chef-approved kitchen is ergonomics. An ergonomic kitchen simplifies the cook's movements, making his work faster and more agile. It saves a lot of time when preparing food because a rationally designed kitchen allows you to optimise space, reducing pointless and unnatural movements.
Stoves and professional appliances
When a chef prepares food, he/she rarely limits himself/herself to using the stove and the oven. Often, blast chillers, fryers, grills, cooking plates and other professional cooking tools are required. To optimise his/her work, the kitchen should be laid out to accommodate for every type of professional or semi-professional accessory, if necessary. It's the only way can we enjoy a culinary experience and make quite the impression on our friends.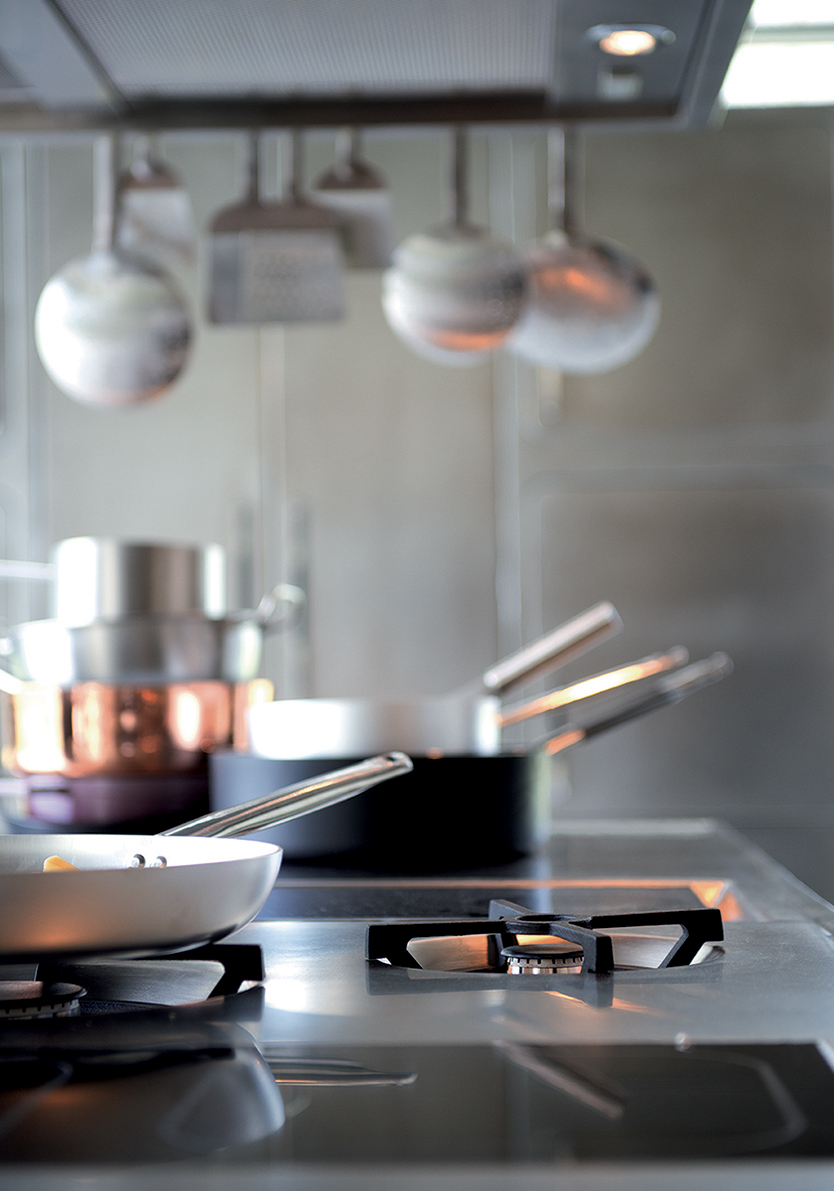 Basically, with a professional-type kitchen and a personal chef, you'll really feel as if you have a Michelin-star restaurant in your own home. What are you waiting for?
Abimis kitchens are perfect for a personal chef
All Abimis professional kitchens for domestic use are in AISI 304 stainless steel, the same steel that professional catering kitchens are made of.
All Abimis professional kitchens guarantee maximum ergonomics. The socle of the kitchen is fully adjustable and retractable up to 200 mm to make the most of the entire depth of this work surface. The backsplash of the worktop can be any size, based on the cook's needs.
All Abimis kitchens are out and out machines designed for cooking. They can be fitted with professional Teppanyaki stainless steel stoves and grills and they can be laid out to feature different types of electrical appliances, including professional ones.