A terrace (with an outdoor kitchen) overlooking the ocean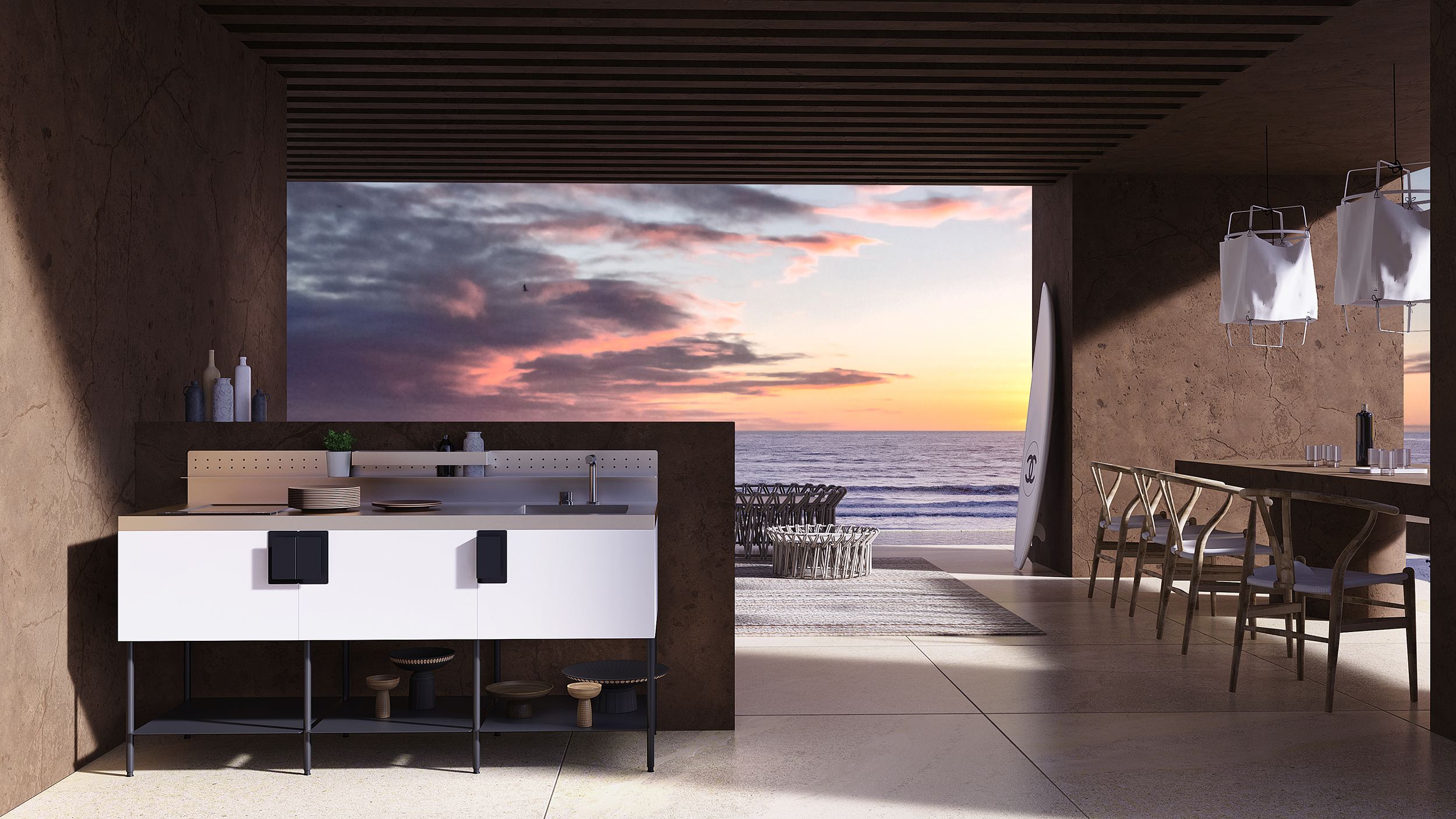 This spectacular seaside villa with a terrace belongs to a young Spanish entrepreneur originally from Andalusia but who moved to the centre of Madrid for his job.
Madrid is a lively, thriving international city which offers a host of professional opportunities as well as a rich cultural life and a seemingly endless nightlife.
But according to him, Madrid has one single, massive flaw: its distance from the sea…
A distance which for him, who from a young age grew accustomed to falling asleep to the sound of waves gently lapping the shore and breathing the salty air sprayed by the Atlantic ocean, was becoming increasingly difficult to accept.
An old fisherman's cottage
So, since he had no intention of doing without all the benefits afforded by the Spanish metropolis, nor the sea from his childhood, he found a solution that satisfies him completely.
He purchased and renovated an old fisherman's cottage, which had been abandoned for some time and stands specifically on the beach of Costa de la Luz, in southern Andalusia, one of Spain's most charming and less touristy coasts.
His dream was about to come true. Living and working in the Spanish capital but sneaking away whenever possible to the shores of his beloved ocean with its deep blue sea and breathtaking sunsets.
Here, life can be enjoyed outdoors year-round
The cottage isn't very big but in this area in the South of Spain, the weather is so mild you can enjoy life outdoors practically all year round.
Its strong point is the large terraced space, partially covered by a wooden structure, which was once used to keep the boats dry and to hang out the fishing nets.
Inside, he managed to refurnish two small bedrooms, each with an en-suite bathroom, and a living room/study area which he uses on those rare occasions the weather is unpleasant.
Everything else is set up outside. Including the kitchen, which is fitted under a wooden portico, a large brickwork table to eat with his guests and the sofa-relaxation area, with a sea view.
Cooking outdoors while watching the sun set
In order to cook outdoors, the entrepreneur picked a small yet well-equipped Atria outdoor kitchen by Abimis, whose stainless steel structure is lightened by the slender legs and by the doors which have been painted white.
Considering the proximity with the ocean, the Veneto-based bespoke kitchen manufacturer recommended a kitchen in AISI 316 stainless steel, a special alloy which is particularly resistant to salt air.
A wall was built in the centre of the terrace which acts as a windbreak and separates the two areas. The kitchen on one side. And on the other the relaxation area, comprising a comfortable sofa, armchairs and footstools. So that when he invites friends and family for lunch or dinner, the home owner can cook for them without having to leave their side for a moment… and without missing out on the fantastic sunset over the sea!
"Here, I have discovered how wonderful it is to cook outdoors, while chatting with my guests", the Spanish entrepreneur concludes. "This is a pleasure I wanted to bring to Madrid with me".
In the small garden of his city home, he recently had a second outdoor kitchen by Abimis installed, specifically the Atelier  model. "It is true that the weather in the capital is extremely different, especially in the winter", he confesses, "but luckily my garden is well sheltered and this allows me to use the outdoor kitchen year-round. In the warmer season, for dinner after the sun has set; in winter, to share an aperitif or a quick lunch with friends…"
BROWSE THE MOST BEAUTIFUL SEASIDE HOME KITCHENS
Abimis solutions perfectly reflect the original concept for which they were conceived: a professional-grade product devised for domestic settings that is both functional and designer.