Which are the kitchen trends for 2023? We took advantage of the recent Salone del Mobile and the Fuorisalone to find out…
After a careful analysis of the new products, we discovered that the trends for the 2023 kitchen are increasingly heading towards a warm and natural environment.
The contemporary kitchen is increasingly being transformed into a convivial and welcoming environment. A space designed not only for cooking, but also and above all to make us feel good with family or friends. Or when we allow ourselves, even alone, some small culinary pleasures…
So, the trends for 2023 feature island or peninsula kitchens, natural materials and colours and matt finishes. Outdoor kitchens, a relatively recent concept, also feature strongly. But, above all, the 2023 kitchen has become sustainable!
Let's look at the 2023 trends in detail…
Island kitchens and peninsula kitchens
Today's kitchens are no longer just cooking tools, but have become fundamental aggregating elements of domestic life. The kitchen has become an open space which opens up towards the living area, of which it has become an integral part.
So, the trends for 2023 award island kitchens and peninsula kitchens which, with respect to traditional ones, offer advantages both from a functional and an aesthetic point of view, are more versatile and promote conviviality.
An island kitchen is distinguished by the presence of a central island, which can be used not only for preparing food, but also for eating or socializing. In fact, the island can act as a breakfast bar or lunch area, making the kitchen more sociable and welcoming.
Peninsula kitchens also stand out due to the presence of a multi-function peninsula element. It can be used as a snack bar for a quite bite to eat or as an extra work surface.
Both island and peninsula kitchens therefore promote interaction between people. In fact, they enable cooking and eating, working and socialising, all to be performed in the same area, thus creating an intimate, sociable and welcoming atmosphere.
In practice, these types of kitchens are particularly suited to families or anyone who loves entertaining friends and guests.
Kitchens made from natural materials
The 2023 kitchen is embellished with natural elements; first of all wood and marble – "homely" materials that create a cosier atmosphere.
Natural materials are known to have a soothing effect on the mind and body and help create a warm and welcoming atmosphere.
The use of these materials can, therefore, positively affect the mood and well-being of those who live and frequent the kitchen.
Combinations between steel and natural materials are also perfect, perhaps in contrast… in particular steel and marble or steel and wood.
From a design point of view, they are strong and impressive combinations that give the kitchen a strong character and make it suitable for both design and more traditional environments.
From a practical and functional point of view, stainless steel is a perfect metal alloy for the kitchen. It is scratch and shock resistant, water, stain and heat resistant. It can come into contact with food, is naturally antibacterial and very easy to clean.  As a result, the use of stainless steel helps to create a professional and clean atmosphere in the kitchen.
Matte finish
Finishes in the kitchen tend are decidedly becoming more matt.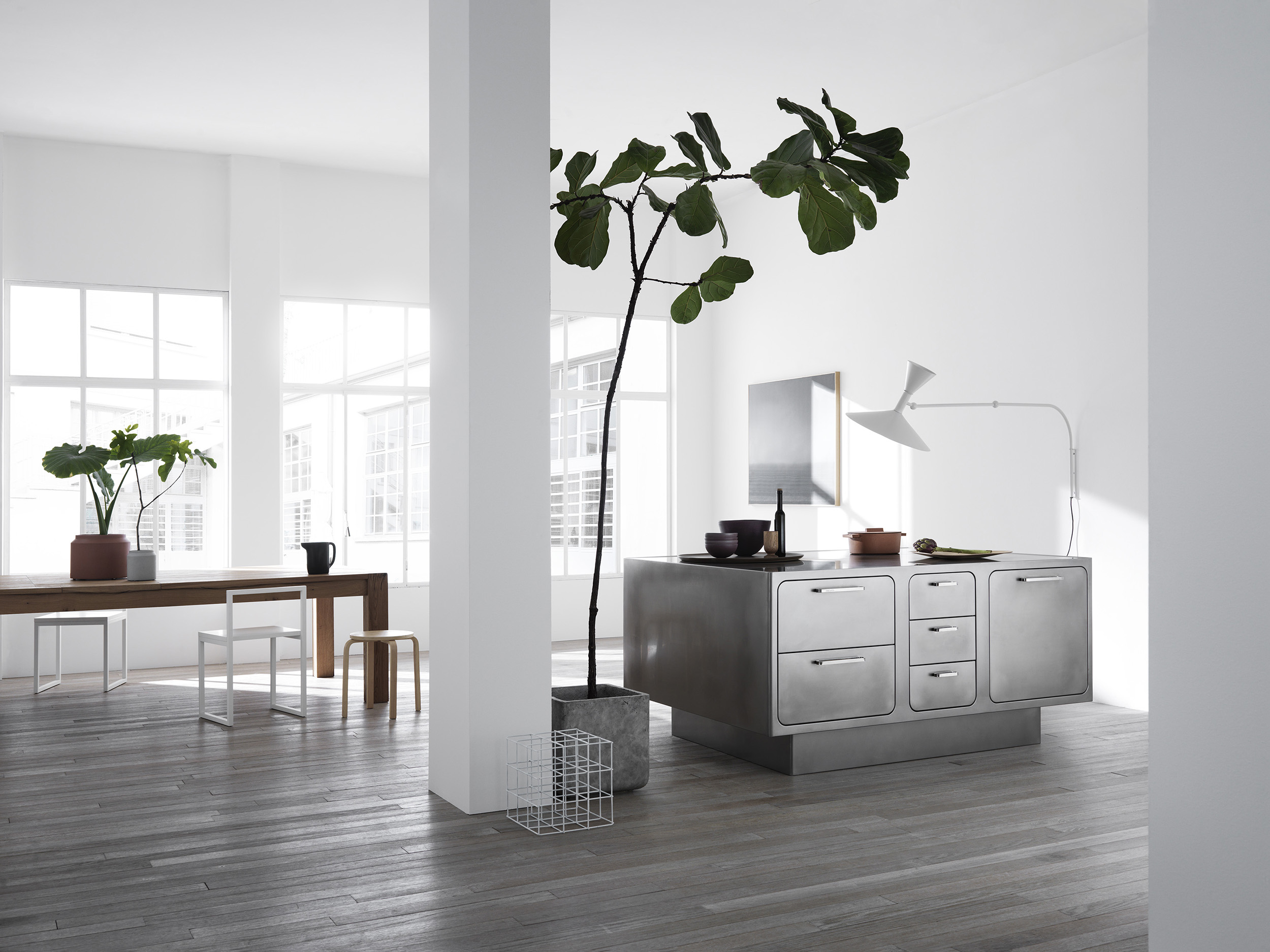 Both in terms of the choice of colours and the treatment of surfaces, which become more rough and textured, warm to the eye and silky to the touch.
A matt finish also gives the kitchen a more modern and elegant atmosphere, more sophisticated and refined than a glossy finish.
This choice is not only dictated by aesthetic reasons, but also by practical ones. Matte or satin finishes are very easy to clean and maintain. They also hide fingerprints, scratches and stains. For this reason, they are the ideal choice for kitchens that are used a lot or for families with children.
With regard to stainless steel kitchens, the most trendy finish today is the orbitally polished finish. Metallic finishes, such as the burnished steel finish, are also highly sought after, with "cloud effects" varying from grey to brown tones. Each one is absolutely original as they are made by hand.
Outdoor kitchens
The great protagonist of 2023 is the outdoor kitchen. No longer a simple barbecue or traditional masonry kitchen, but a real kitchen, equipped like indoor ones and performing like the kitchens in top restaurants. Outdoor kitchens allow you to experience the garden, the porch or the terrace as an extra room, to enjoy with family or friends.
Today, outdoor kitchens are increasingly similar to indoor kitchens. They can also house many appliances such as ovens, hotplates and hobs, refrigerators, grills, barbecues and, under certain conditions, even a dishwasher.
The only major difference is in the choice of materials that must be suitable to withstand the elements and various weather conditions, water, frost and heat. They must also be more resistant, durable and easy to clean.
For these reasons, one of the most widely used materials for outdoor kitchens is stainless steel, which combines all the features listed above.
Eco-friendly and sustainable kitchens
But the most important, nicest and most popular trend (our favourite!) maintains that kitchens should be environmentally friendly and sustainable.
In fact, in addition to being attractive and functional, sustainable kitchens focus greatly on the materials and production processes. A sustainable and environmentally friendly kitchen is primarily produced by companies using renewable sources, with low water and energy consumption and minimal waste. It is then made with recycled and recyclable materials (which do not contribute to the consumption of "virgin" natural resources) and, at the end of its life, can be disassembled and its materials recirculated…
And stainless steel, which Abimis has always used for its kitchens, is one of the materials that best reflect these characteristics.
The choice of energy efficient appliances and the use of water saving devices also help to reduce the environmental impact of the kitchen.
It is therefore very important to consider sustainability when designing or renovating a kitchen.