Peninsula kitchens:
features & advantages
Peninsula kitchens are one of the most popular solutions in contemporary homes. Here are the advantages of this type of kitchen.
Peninsula kitchens, like island kitchens are types of kitchen that are particularly popular with all those who, in addition to good food, love conviviality. They allow you to define spaces. They can be added to a dining area or work station. They promote conviviality and offer the possibility to cook comfortably for several people.
The functions of peninsula kitchens
Peninsula kitchens are designed for two reasons. To offer more space and create a connection with the living area.
The latter is a versatile and multifunctional solution that allows you to cook while looking onto the living area without having to forgo the pleasure of spending time with others.
Perfect for large kitchens or open spaces, peninsulas can, in fact, adapt well to smaller spaces.
First they offer the advantage of replacing the table or adding a more versatile breakfast-snack area. They also separate the kitchen from the living area without the need to build any walls. A solution that makes the environment brighter and more airy.
Peninsula kitchens are therefore ideal for amplifying the visual perception of a small room.
All in all, peninsula kitchens have so many advantages. So here's what to consider when making your choice.
The size of the peninsula in the kitchen
As for the size of the peninsula in the kitchen, its depth is usually 90 or 120 cm. To be able to move around it comfortably, approximately 100-120 cm should be left free on each side.
Finally, don't forget that a peninsula kitchen also offers more storage space. The lower part of the peninsula can, in fact, be equipped on two sides for storing dishes and equipment. And the side facing the living area can be completed with open spaces for books and objects, thus strengthening the connection between the two rooms.
Peninsula kitchens allow spaces to be defined
As we said before, peninsula kitchens allow you to define the different functional areas within an open space, leaving the environments in connection with each other.
But, precisely because of their fluid nature, they must be designed in such a way as to guarantee perfect integration with the living area.
For this reason, the materials, finishes and colours of a peninsula kitchen often recall those used to furnish the living-dining area. For the same reason, cabinets and containers tend to blend in with the environment and hide appliances, crockery, dishes and accessories behind concealed doors.
Peninsula kitchens are multifunctional
A peninsula kitchen can bring together different functions. The peninsula can in fact be used as an operating station, housing a hob and/or sink.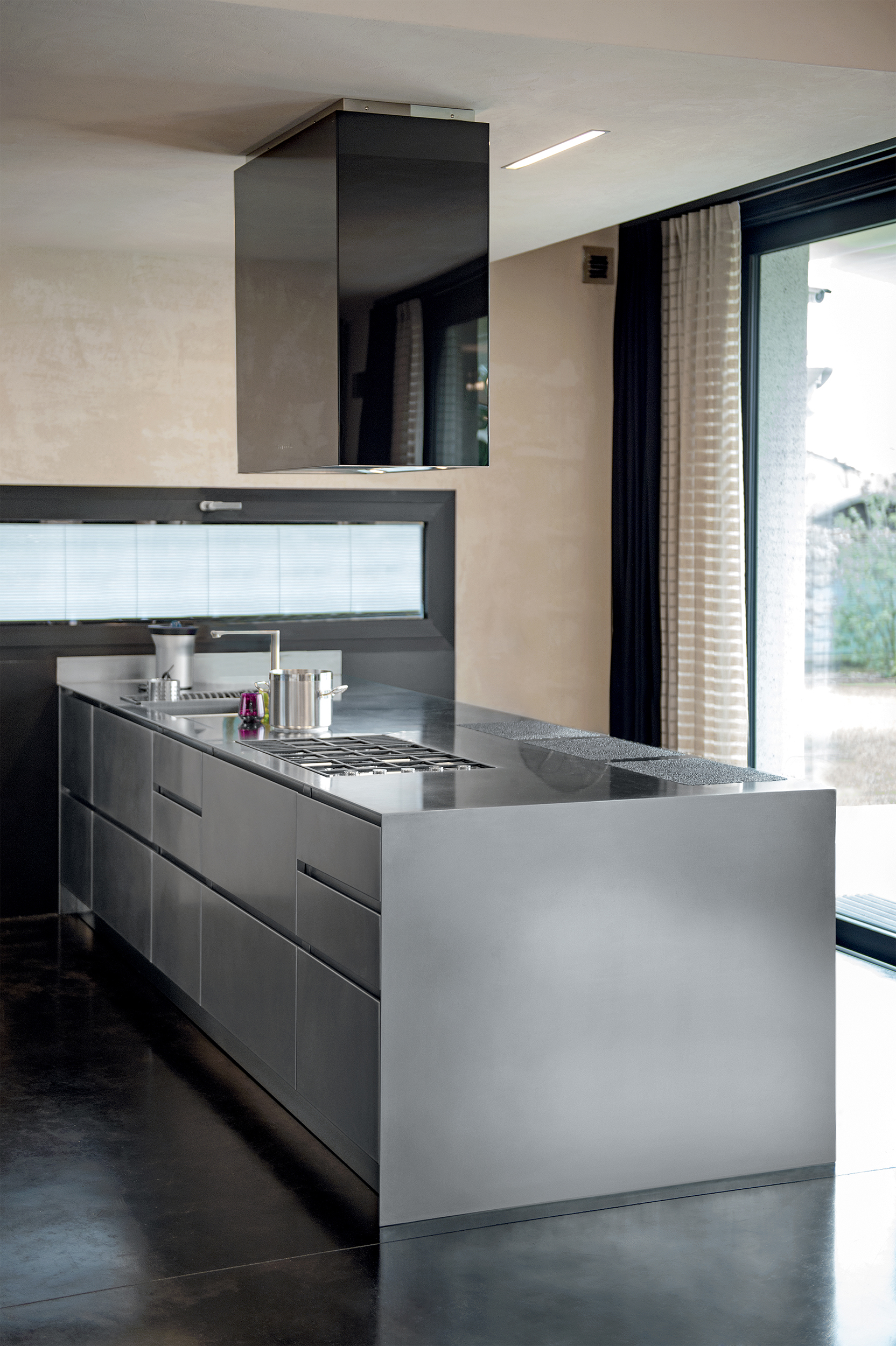 It can offer an extra worktop for preparing food. Or, it can even be transformed into a snack area, ideal for breakfast or a quick lunch.
Or it can be used for all three functions simultaneously. This just depends on the size of the peninsula.
Peninsula kitchens promote conviviality
Finally, peninsula kitchens encourage sociality. Unlike traditional linear kitchens, they allow you to try your hand at the stove, while at the same time spending time with family and friends. They offer the possibility to keep an eye on children playing in the living room. And they offer the undoubted advantage of several people being able to cook at the same time.
Finally, the peninsula can be quickly turned into a bar for light lunches or an aperitif with friends.
If the peninsula is often used for eating, it is essential to be very careful about the material used to make the top. One of the best choices is certainly stainless steel: a biologically neutral metal alloy. Steel is easy to clean and sanitize and for this reason it is the perfect material for sharing meals with loved ones, safely and without any stress.
Abimis peninsula kitchens
Abimis kitchens have completely customizable configurations, because Abimis only produces tailor-made kitchens. This allows us to design peninsula kitchens for every need and space requirement. From large peninsula kitchens to lofts and open spaces to more compact solutions for smaller apartments; from kitchens with high-tech peninsulas to simple snack bars.
All made of AISI 304 stainless steel, Abimis kitchens can be lacquered in the same colours as the living room furniture, to create a harmonious effect, or be left in the steel finish thus taking the centre stage.