Island kitchens, linear configurations, corner arrangements. In a large kitchen, the solutions are endless. The only risk: overloading rooms with too many furnishings. Here is a quick guide to help you choose.
A big kitchen means making big decisions…
Anyone lucky enough to have a large kitchen, perhaps in a very spacious room or a large loft, often faces design issues that are not easy to solve.
Furnishing a large kitchen is not as simple as you think. In fact, very often a large kitchen creates more problems than a small kitchen. This is because while designing a room with small dimensions sets very specific limits on it, having so much space at your disposal often creates uncertainty as to how to organise the rooms, how to separate the functions and optimise movements. So, the question remains: what kind of kitchen to choose? Linear, with an island or peninsula, "L" shaped or "U" shaped?
Remember that to be functional, a kitchen must be organised according to what we really need.
Let's consider our cooking habits and lifestyle
Before designing any kitchen, therefore also a large and spacious design kitchen, it is essential to ask ourselves about our habits.
Are we used to having friends over for dinner? Do we like to chat with guests while we're cooking? Do we spend a lot of time in the kitchen, even when we're not in the kitchen? Only by answering these questions will we be able to design the spaces optimally.
Very sociable people could, for example, take advantage of the large size to install a large kitchen with an island, an extremely versatile solution with great aesthetic impact.
For those who need lots of containers, there is space for columns, a useful choice for hiding accessories, an oven or other appliances. Those who prefer a more essential style of furnishing can get rid of wall cupboards and focus on shelves. In a large kitchen, the storage space can be organised with great flexibility.
But, let's not forget to consider the layout of the room to be furnished. In a large rectangular kitchen, a linear kitchen is usually preferred, whereas in a square setting an island or an "L" or "U" shaped kitchen will be more appropriate.
Which configurations to choose for a large kitchen?
Better to tailor the size of a large kitchen
Our first suggestion for those who have a large kitchen space to furnish is to tailor the size of the kitchen. Preferably with the advice of a designer or a company specialising in the production of professional kitchens.
This allows you to organise and optimise your space, functions and movements without forgetting the design. This is even more important the bigger the kitchen is or when the kitchen and living area "communicate with each other" in an open space environment.
Watch our insights on tailor-made kitchens .
Large island kitchens
Elegant, versatile and hyper-technological, island kitchens are instantly associated with convivial dinners with friends.
Usually overlooking the living area, island kitchens allow you to cook while looking onto the living room. So, the perfect choice for rustling something up without missing out on chatting with guests. Or to check the kids while they're playing…
Ideal for defining areas without putting up any walls, island kitchens are among the most popular choices in large open spaces. Although they are suitable for smaller settings, their natural habitat is in fact large kitchens. Especially if you want an operational island, which can accommodate the sink and/or the hob. In this case, a larger size must be provided. In order to be able to move around the island block easily and open the drawers and cabinets, at least 120-150 cm between the wall and the island is recommended.
Watch our insights on island kitchens.
Large peninsula kitchens
Another configuration appreciated by those who love conviviality is the so-called peninsula kitchen. Like an island kitchen, it allows spaces to be defined and more than one person to cook at the same time, with the advantage of having fewer constraints for gas and water connections.
So again, this is an ideal solution for large kitchens. The depth of the peninsula is usually 90 or 120 cm. To be able to move around it comfortably, a space of about 100-120 cm needs be left free on each side.
A peninsula kitchen can bring together various functions.
The peninsula can be used as an operating station with a hob and/or sink, it can offer an extra worktop or it can become a breakfast bar or a counter for a quick snack.
Watch our insights on peninsula kitchens.
Large linear or corner kitchens
If you have a large kitchen with an elongated shape, you can opt for a classic linear kitchen. In fact, extending along a single wall, linear kitchens allow the rest of the room to be left free. This solution takes advantage of high spaces, with cabinets or cupboards.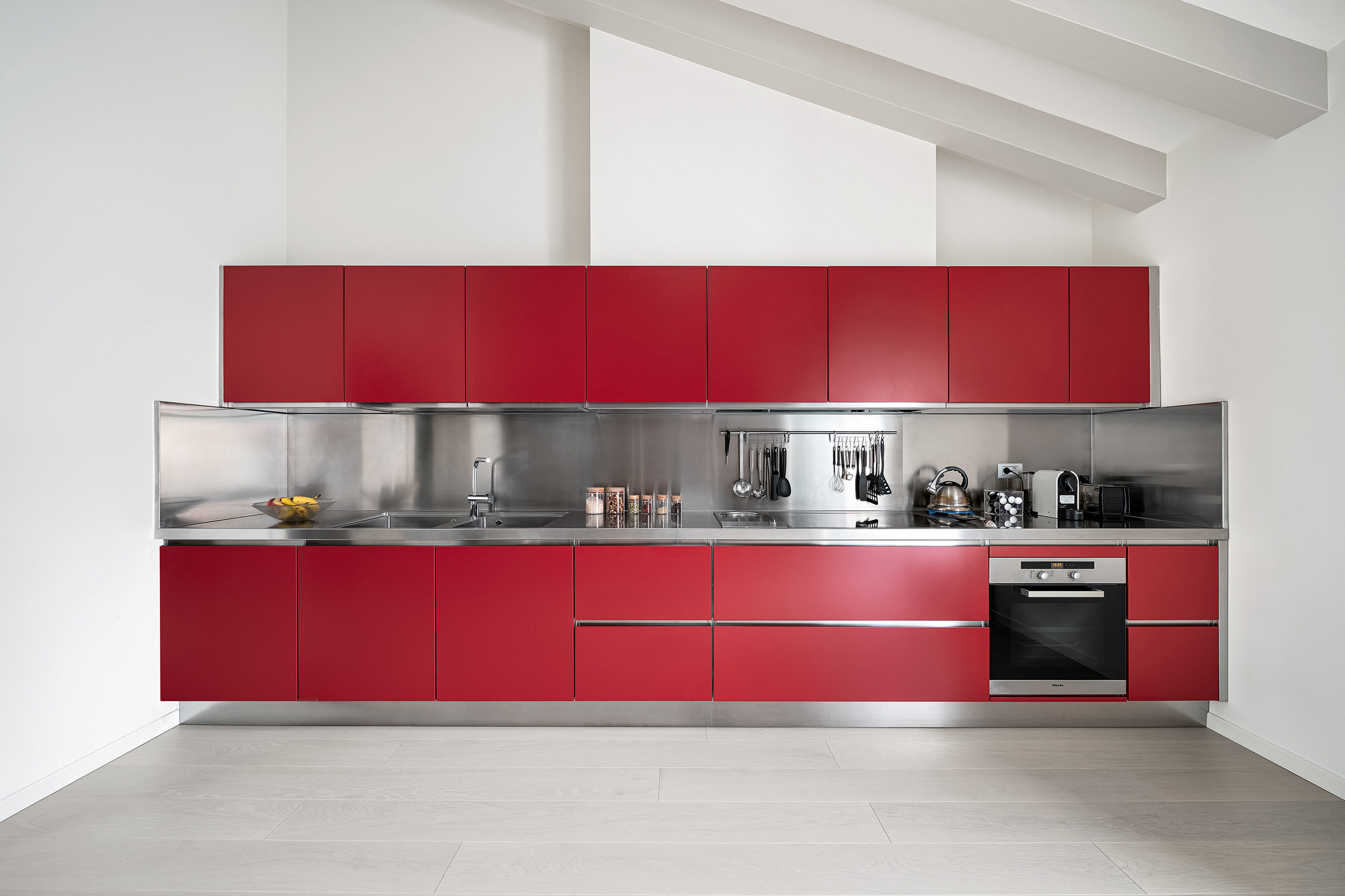 However, in large linear kitchens frequent travel from one end to the other is necessary to access the different areas.
If the room allows it, it is preferable to opt for a large corner kitchen, which enables the best organisation and optimisation of the 5 cooking phases: storage, preparation, cooking, plating, washing up. So the work becomes more organised and the chef can move more quickly and between areas.
An L-shaped kitchen also allows you to create more dynamic compositions in shapes and functions, and also to play with material or colour combinations that differentiate between the two walls.
In very large rooms, corner compositions can also extend onto the third side, being transformed into large U-shaped kitchens, which are even more organised and functional.
Watch our insights on corner kitchens.
Colours in large kitchens
While light colours or gloss finishes are better for a small kitchen, which visually expand the space, then a large kitchen leaves you with complete freedom. Black or white, pastel shades or bright shades, satin steel or mirrored surfaces. Everything is allowed. Including dark colours…
Only your taste and the style of your home will guide you in the choice.
Watch our insights on colour in the kitchen.
Abimis professional grade kitchens
Abimis kitchens have fully customisable configurations. Abimis only makes made-to-measure kitchens, also in very large dimensions, designed for all requirements and to fit all spaces. From large open island kitchens to lofts and open spaces to more traditional linear corner kitchens. From island and peninsula kitchens to simple snack counters.
All made from AISI 304 stainless steel, Abimis professional grade kitchens can be lacquered in any colour required by the customer, with the same paint used in the automotive industry, or left in the steel finish.
Moreover, Abimis kitchens are the result of a careful study of the ergonomics and movements of the cook. Therefore, a large Abimis kitchen is designed to make the 5 cooking steps immediate and consequential. To give home cooking the same tools as the great chefs use.