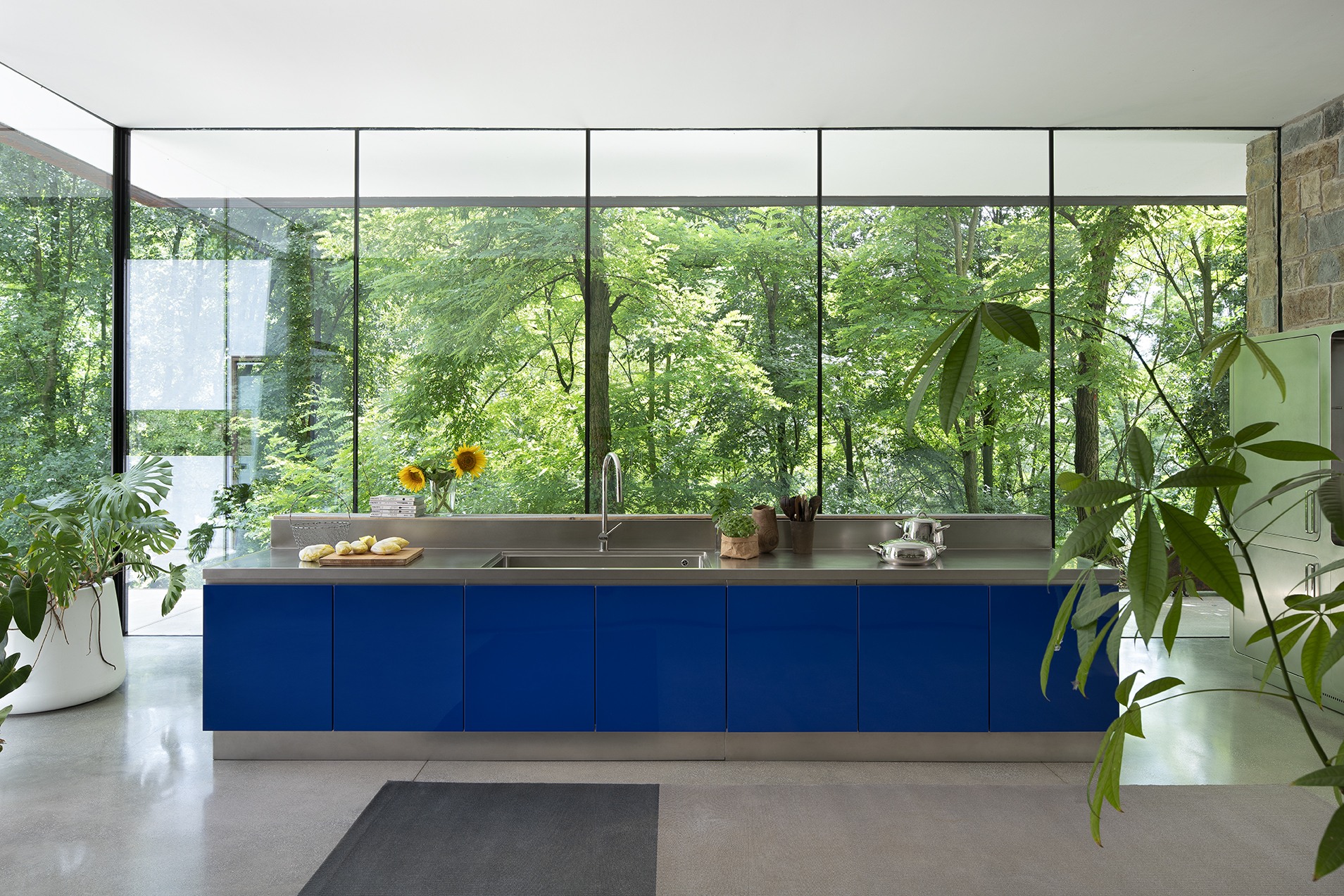 Coloured kitchens: when design puts you in a good mood
Coloured kitchens have the power to bring a room back to life. Here's how to bring colour into your kitchen.
You can change the perception of space completely. Defining functional areas within a room is rather useful. It has the power to affect people's mood. Today, we'll talk about colour, the undisputed star of interior design in 2021. Specifically, we'll tackle the issue of coloured kitchens.
Yes, colour is finally back in fashion at home! From relaxing shades of blue, to the bright hues of red, energy-packed yellow and gentle pastel colours too. Plenty of different colours, which all share a single leitmotif: the desire to reconnect us with nature and with life. If the global pandemic that has affected us for the past two years has taught us anything, it's how important it is to live in a home that helps us feel good. And what better way to help us feel alive than to be surrounded by colours? Especially in the room that represents the home more than any other: the kitchen.
Coloured kitchens: the latest interior design trend
Since it is a fact that colour is back in fashion in our homes, kitchens are better suited to interpreting this creative trend. As confirmed in magazines on- and off-line, coloured kitchens are increasingly becoming the genuine stars of the contemporary home.
From the brightest hues to gentle pastel shades, monochrome models and also multi-coloured combinations. A motley colour palette that can be used to transform your kitchen into a mirror into your personality. As every colour suggests different sensations and atmospheres.
For instance blue, which is the colour of water and the sea, conveys a sense of peace and helps with concentration and focus. The warm shades of beige, ochre and brown instil a feeling of calm and security, illustrating our connection with the soil. Yellow expresses energy, stimulates creativity and encourages positive thinking.
In short, every colour brings to mind a specific emotion. These emotions also change depending on the social and cultural context around us. It's up to us to choose the most suitable colour for our personality.
How to choose the right shade for your kitchen
The choice of colour for your kitchen does not only depend on emotional factors, however, based on the home-owner's personality and disposition.
Indeed, colour has a very significant effect on the perception of space too. So the most suitable colour for your kitchen should be chosen according to where it will be installed too.
Is the room large or small? Bright or dimly lit? Is the kitchen in full view or is it separate from the living room? Is it indoors or is it an outdoor kitchen?
It is essential that you ask yourself these questions if you're considering a coloured kitchen.
For a small-size kitchen or for a kitchen in a dimly-lit room, you are better off choosing pale colours, such as custard, sage green or baby blue. Even a kitchen in stainless steel, a material that reflects light and amplifies the perception of space, will be a winning choice…
In the case of an outdoor kitchen you can allow your creativity to run riot, with some daring colour combinations which you simply wouldn't get away with indoors.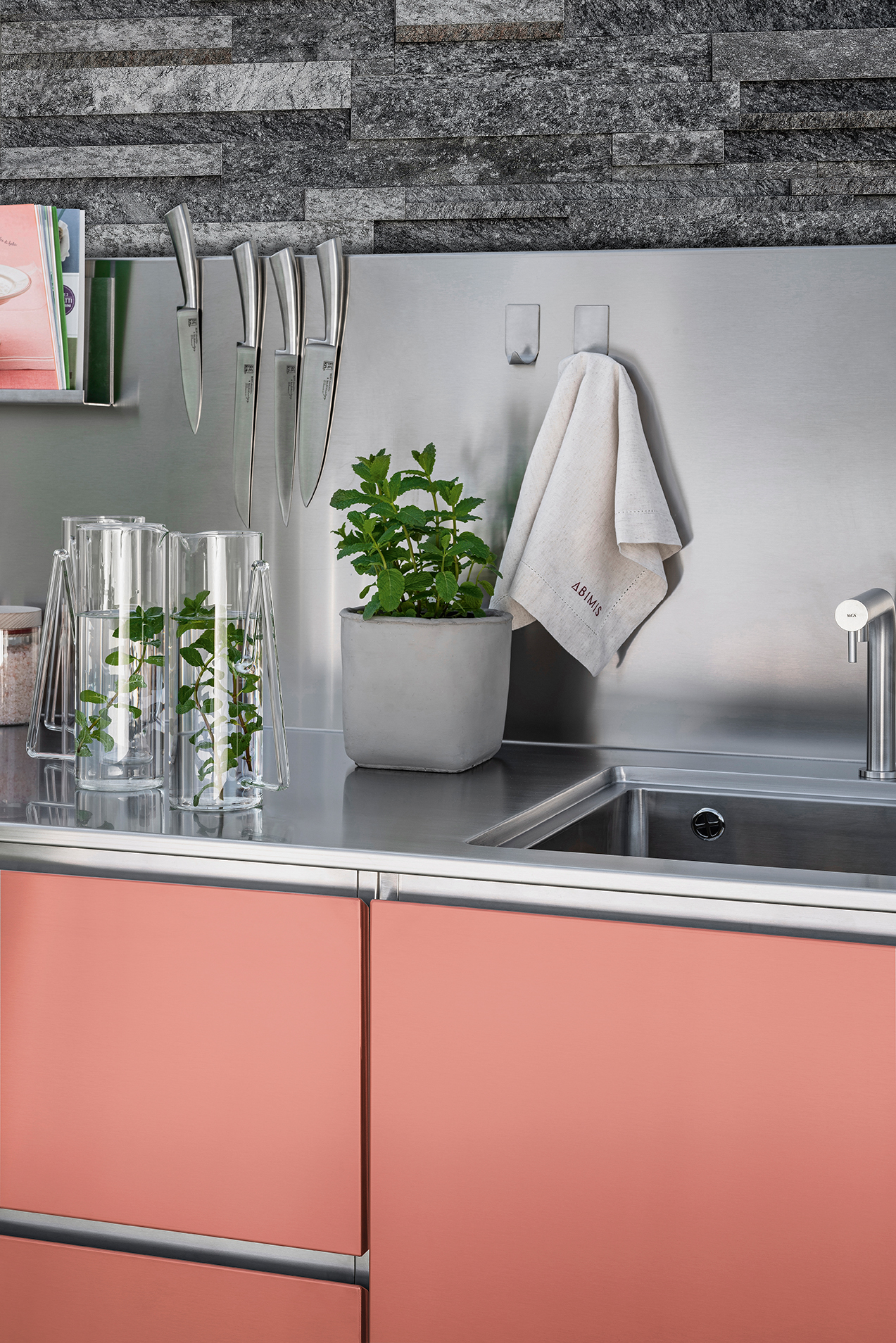 Last but not least, great attention should be paid to the finishes, which can contribute greatly to enhancing the feeling of depth in a small room or to make a room that's quite distant from a source of natural light appear brighter. Indeed, the same colour can create completely different effects depending on whether you choose it in the glossy, matt or satin finish. Equal attention should be paid to the choice of materials.
The effect of a kitchen changes entirely if you pick a natural or coloured wood, lacquered or open grain pattern, with glass doors or steel doors. Even stainless steel kitchens can create completely different looks depending on whether the steel is in polished mirror-finish or orbitally polished by hand, a finish that offers an enjoyable velvety soft finish to touch and to see…
How to balance out colours in the kitchen
As we were saying, coloured kitchens have the power to bring a room back to life. Beware, however, of using the right quantity of colours.
One high-impact solution, reserved for the boldest customers, is to choose base units in one colour and wall units in another. There is no shortage to variations on this theme.
Daring customers who have an impressive amount of space at hand can go for a monochrome kitchen in a bright hue – such as red, blue or green – or even all-black. Shyer customers can colour just one detail in the kitchen. Others can distinguish only the kitchen island with colour.
There are endless solutions for all tastes and requirements. The choice is yours!
All stainless steel kitchens by Abimis can be painted glossy or matt in any colour in the RAL range, allowing customers to customise their kitchen in their desired shade. Indeed, Abimis does not offer a standard colour chart. The colour is devised together with the customer according to the intended setting for their kitchen.
Abimis applies paint to the stainless steel using the same techniques used in the automotive industry. The process envisages subsequent phases of smoothing, painting and polishing, thereby guaranteeing a uniform effect and a colour that is extremely resistant to wear.
Coloured kitchens by Abimis can also combine painted elements with visible stainless steel elements, to create charming and disarming colour contrasts.