Two latest generation sea-view kitchens.
Abimis has been chosen for a recent installation in the district of Posillipo, in Naples, in a building designed during the 1950s by a pupil of Le Corbusier. The setting is an apartment with a mesmerising view of the sea, refurbished according to a project by the architect Giuliano Andrea Dell'Uva.
The apartment teams the appeal of aesthetic memory with a more contemporary look sought by the owners and it involved the insertion of two splendid Abimis kitchens.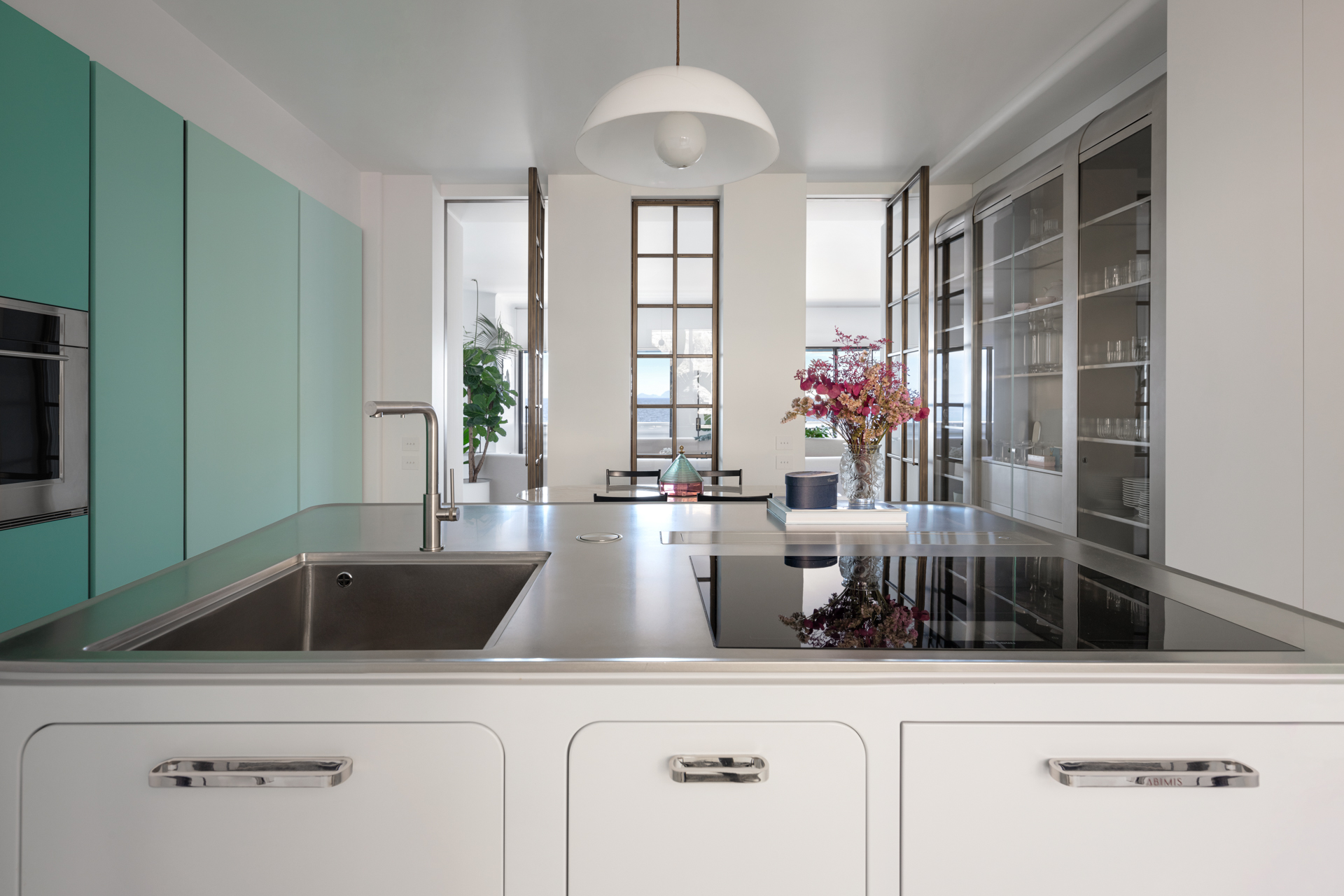 Inside the home stands a sophisticated island from the Ego collection. With its distinctive rounded corners, complete with cooking area with built-in hood, sink and dishwasher.
Entirely made of stainless steel, the doors have been lacquered white to blend in with the candour of the room, while the tall storage units, which also house the oven, have been lacquered blue-green to recall the colour of the sea which can be seen from the terrace.
To lacquer its cabinet doors, Abimis implements the same techniques applied in the automotive industry, which envisages a sequence of smoothing, painting and polishing to guarantee a uniform colour that is pleasant to touch and highly resistant to wear.
Another veranda balcony – which can be partially opened to enjoy the view and the sea breeze – has instead been fitted with an L-shaped composition of the Atelier line, with its simple and understated design, squared doors and recessed plinth, complete with washing-up area, hobs and oven.
Abimis solutions perfectly reflect the original concept for which they were conceived: a professional-grade product devised for domestic settings that is both functional and designer.