ÀTRIA, the new outdoor kitchen by ABIMIS.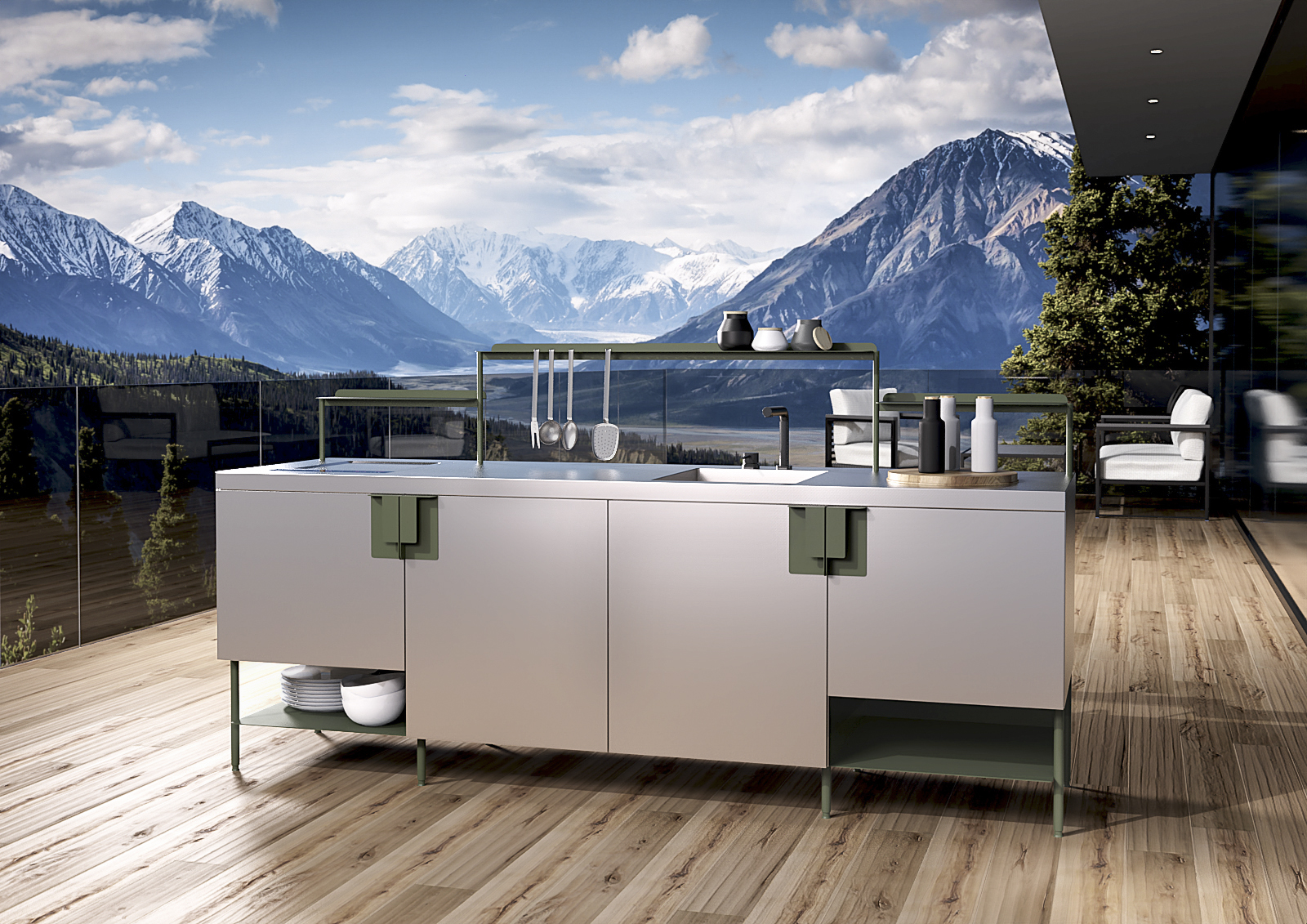 ÀTRIA is the new outdoor kitchen by ABIMIS. A kitchen devised specifically to resist outdoors, but which is also perfectly at ease in indoor domestic environments.
ÀTRIA is made entirely of AISI 304 stainless steel, the perfect material for kitchens (especially for outdoor kitchens) since it is anti-bacterial and biologically neutral, which is resistant to corrosion, to impact, to humidity and moisture and to high temperatures. Moreover, it is a perfectly sustainable material because ABIMIS guarantees the use of recycled stainless steel which is in turn 100% recyclable.
Understated silhouettes and architectural volumes
The ÀTRIA kitchen stands out for its striking yet simple design devised with painstaking care for detail. A minimal kitchen with clean-cut, functional silhouettes devised better to facilitate cleaning tasks and make the chef's work as simple and ergonomic as possible.
Its geometrical volumes, inspired by rationalist architectures, blend in seamlessly with any outdoor setting and adapt to all styles.
A kitchen to enjoy the open air year-round
ÀTRIA is a kitchen designed to be used outdoors whatever the season. For dinner with friends on a warm summer's night or for a lunch or party on the terrace in spring or autumn. But also, why not?, to enjoy appetizer drinks, a cocktail or a quick snack on a sunny winter's day.
An outdoor kitchen which can also be fitted in the garden or on the terrace, under a portico or by a pool. Ideal in the cold seasons if placed in a heated veranda or in a winter garden.
One kitchen, endless configurations
Understated, stylish and ergonomically designed, ÀTRIA is an outdoor kitchen that not only provides high-ranking performance levels, but it also offers countless customisation possibilities; both in terms of dimensions as well as the endless composition possibilities.
ÀTRIA is a bespoke kitchen with impeccable craft-based workmanship and completely "tailor-made", in pure ABIMIS tradition. That's why it is capable of accommodating the style and requirements of any user and of perfectly adapting to the most varied spaces and the most different contexts.
The design of the ÀTRIA outdoor kitchen
The design of ÀTRIA stands out for its manicured contrast between the geometric and minimal body of the kitchen and the structural/functional elements that define it, such as the handles, legs, shelves and backsplashes. Details that personalise the kitchen structure make each model truly unique and unlike any other.
Designed by Studio Delineo and Massimo Rosati and built by ABIMIS, the ÀTRIA outdoor kitchen features a structure supported by slender and discrete stainless steel legs, fitted with adjustable feet to ensure maximum stability.
The stainless steel kitchen storage modules, available in two heights, come in the satin finish or hand orbitally polished finish or in any RAL colour. In this case the kitchen is painted applying the same techniques used in the automotive sector, which guarantee maximum durability and colour fastness, even in bad weather and when exposed to UV rays.
ÀTRIA also affords an extensive choice of matching modular accessories, such as the equipped back panel that comes in a multitude of configurations.
Abimis solutions perfectly reflect the original concept for which they were conceived: a professional-grade product devised for domestic settings that is both functional and designer.