The Ego kitchen in Paris, in a contemporary home.
Here we are in Paris, on the super-central Boulevard Saint Michel, in a stately home oozing contemporary allure and furnished with sophisticated interior design items. Carefully mixed and matched, the interiors define the identity of the location and its chic and welcoming atmosphere.
The apartment has retained the original finishes: marble and wooden floors laid in a herringbone pattern, doors, windows and walls in white, the only exception being the kitchen, which is painted black and features cabinets in the same shade, including an island from the Ego model by Abimis.
A monolith in mirror-finish AISI 304 stainless steel which, thanks to its reflective surface, depending on the perspective and specific lighting, lights up the room with refractions, or almost disappears from view.
This gem constitutes the perfect combination of technology, painstaking craftsmanship and the possibility of customising every design and styling detail afforded by Abimis.It is an example of functionality that incorporates all the advantages of professional kitchens, such as ergonomic handles, the rounded corners, the flush-fitting doors featuring concealed hinges, the recessed plinth to avoid impeding movement around the kitchen and the possibility of accommodating any type of household appliance, including the hood that disappears into the worktop.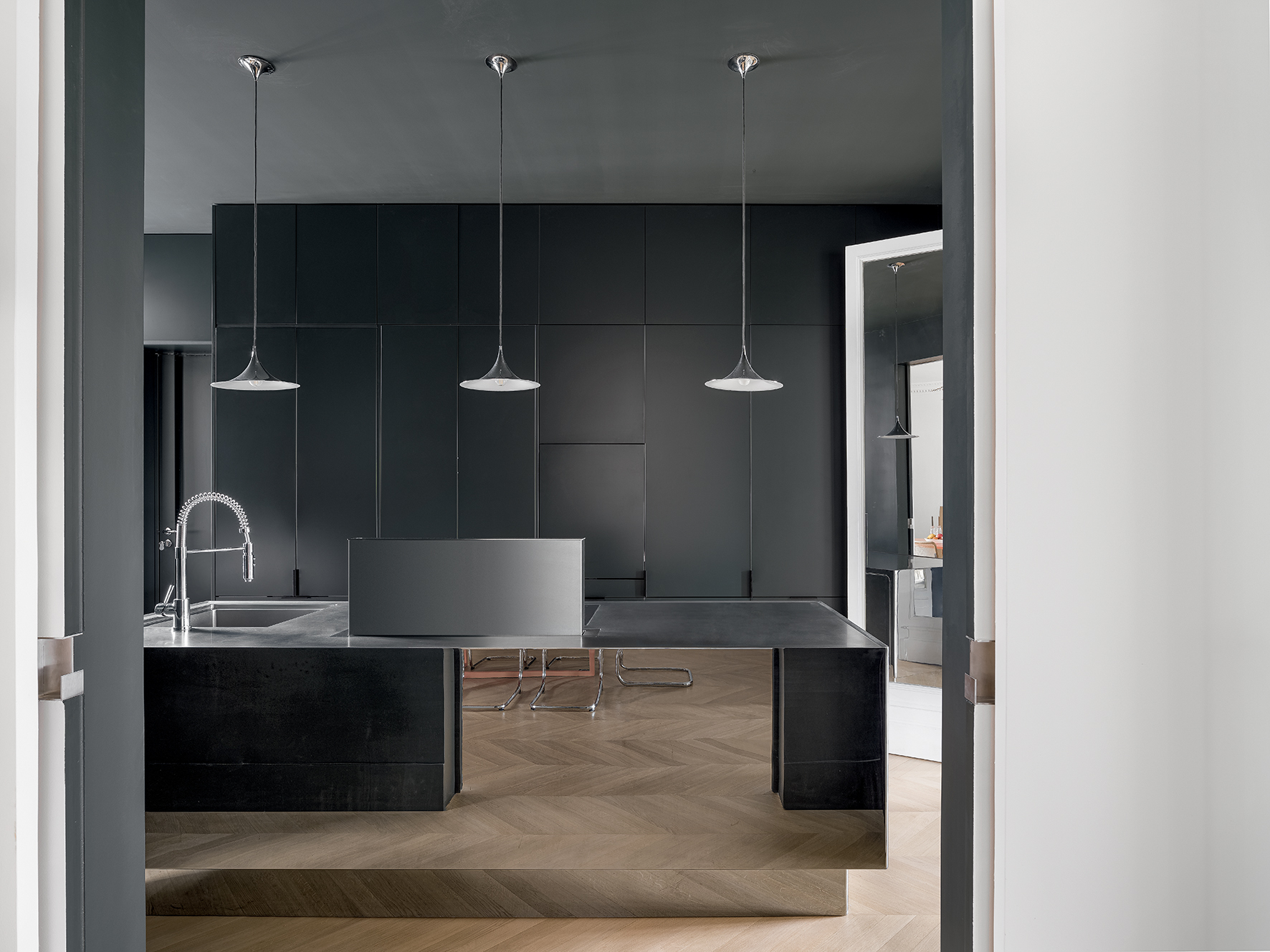 In its aesthetic styling too, this kitchen boasts an extraordinary level of expertise and sophistication: made entirely of stainless steel, its mirror-finish is the result of a manual polishing process, obtained through painstaking workmanship for an impeccable end result.
All this makes this particular kitchen, like every single Abimis design, a unique installation, capable of imbuing everyday moments of sociability with prestige and style.
Abimis solutions perfectly reflect the original concept for which they were conceived: a professional-grade product devised for domestic settings that is both functional and designer.