A kitchen with a view of Mount Vesuvius
Ego by Abimis furnishes a private home in the heart of Naples
An apartment oozing contemporary style, where the colourful and sophisticated decorative details, paired with vintage furnishings and outdoor furniture capable of surprising indoors, define a lively personality. The kitchen, which opens onto the dining area, comes in the form of an informal, welcoming, fresh and carefree space, a place that truly feels relaxing.
Even in smaller or 'reserved' areas, Abimis designs kitchens that are perfectly capable of accommodating all the needs linked to cooking, optimising every single function, paying particular attention to the definition of details and, above all, abiding by the five phases of cooking. Indeed, every single Abimis kitchen stems from a study of the chef's movements and consequently, breaking down the kitchen to accommodate them. For this reason, even in more complex settings or compact rooms, it is essential to ensure all five phases – preserving, preparing, cooking, dishing up, washing up – are straightforward, seamless and consequential.
Ego was designed here in a wall-mounted version complete with a compartment with a built-in domestic hood, upper shelves to store various utensils and other functional elements, such as the range of tall units. The practical worktop separates the cooking area from the washing one. The ergonomic handles, featuring an elegant and bright glossy finish, generate on the other hand an effect capable of reflecting the colours of the ceramic framing the kitchen area.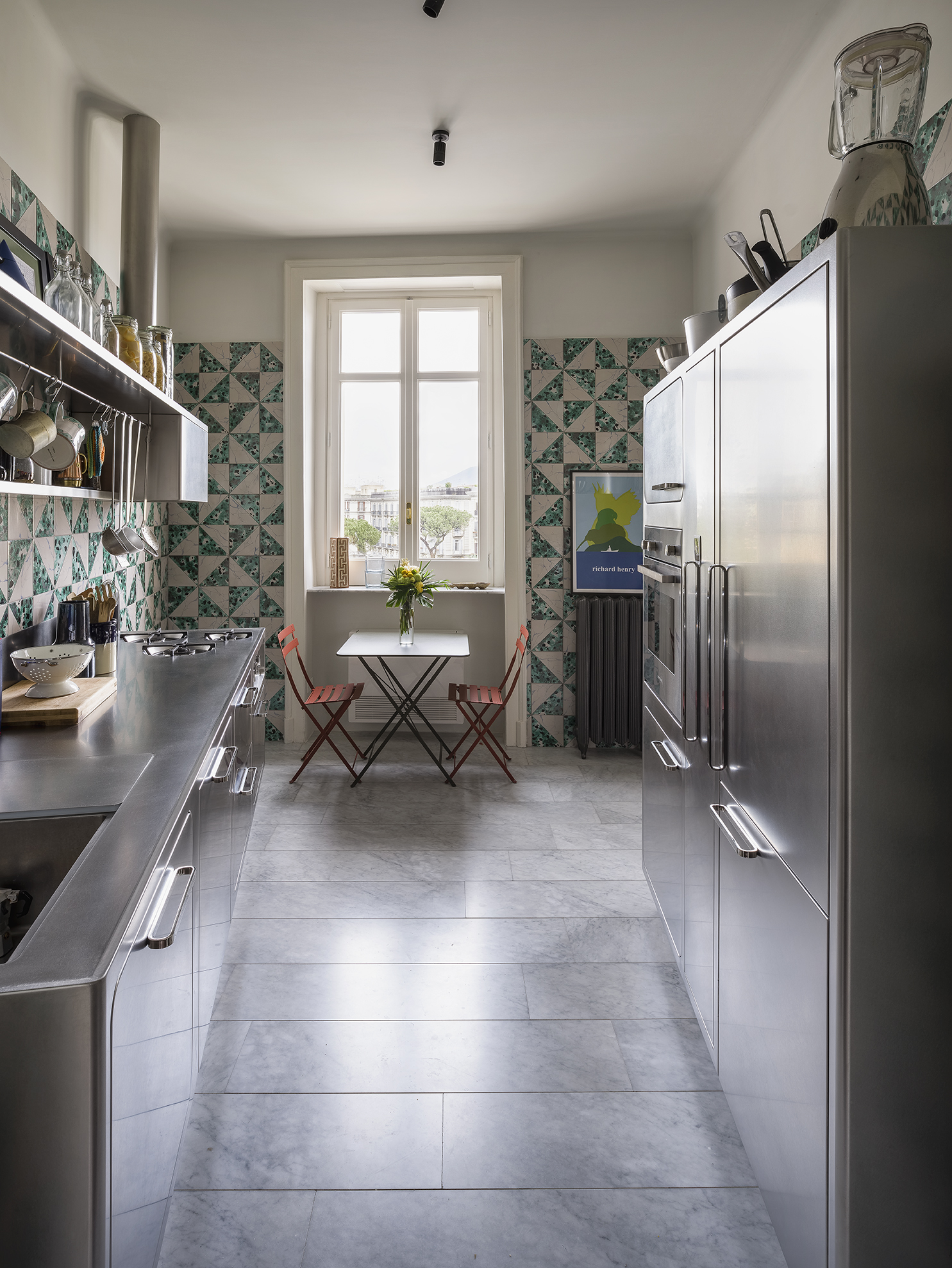 Made entirely of AISI 304 stainless steel, Ego once again reveals its haute-couture soul: building a bespoke kitchen not only means adapting it to the dimensions, architecture and style of its intended setting, making it perfectly proportioned, but also customising it to the needs and movements of its users, thereby turning it into a top-performing solution, to cook efficiently, with functionality and comfort.
Abimis makes the ability to 'design' the kitchen around your needs and habits a concrete possibility, defining its everyaspect and detail, from the dimensions to the shape, the material and the finish, the position of the worktop, cooking and washing areas and also the appliances.
In short, Abimis kitchens are truly unique and original solutions, which leave plenty of room for individual creativity.
Abimis per una residenza privata a Napoli
Photo credits: Matteo Cirenei
Abimis solutions perfectly reflect the original concept for which they were conceived: a professional-grade product devised for domestic settings that is both functional and designer.