A "majestic" outdoor kitchen by Abimis on lake Ontario
This is Canada. In Toronto to be exact: a lively metropolis overlooking lake Ontario.
The city chosen by a Canadian industrialist to build this massive home from scratch, in which to live with his large family.
A modern house that stretches over two storeys. Actually, we would do better to say three storeys. In fact, the top floor of the building plays host to a huge terrace spanning more than 200 m2, designed as a large "open air" living area.
Born and raised in the "wildest" part of the country, the entrepreneur has always loved living outdoors. Whenever he can get away, he moves his entire family to his country home: a typical Canadian farm surrounded by maple, beech and birch woods. A magical place where they are closer to nature and go on long horse rides or go fishing with the kids.
A large terrace for outdoor living
Living outdoors in a city like Toronto is no easy matter… And the plot of land chosen did not allow a large enough garden to be created. Hence the idea of creating this huge open-air terrace.
Although winters are rather harsh in Canada, Toronto's position enjoys a decidedly favourable status. The large lakes surrounding it – Ontario, Erie, Michigan, and Huron – in fact create a rather mild microclimate that allows Toronto's inhabitants to spend a lot of time outdoors, even in the colder seasons.
So the terrace has become the beating heart of the house, the place to spend most of the day in.
A double outdoor kitchen for cooking "al fresco"
In addition to a large living area and outdoor dining area, the owner wanted a super-accessorised outdoor kitchen. In agreement with the designer, he chose a kitchen from the Atelier collection by Abimis. A bespoke kitchen impeccably designed down to the nearest centimetre and "custom made" by Abimis for this special location.
The kitchen has been divided into 2 equally-sized blocks, separated by a metal pillar which supports the canopy.
The structure of the kitchen is made entirely of AISI 316 stainless steel in "scotch brite" finish.
The left-hand block, which houses the washing and cooking area, is dominated by an impressive American-made central barbecue.
The one on the right, on the other hand, is equipped with various undermount refrigerators (including a practical fridge for drinks supplied by Abimis) and various storage units. Everything is topped by a large stainless steel top more than 3 metres in length.
This is where the owner prepares his famous barbecues for his family and also for the many friends he likes to invite over as soon as his spare time allows it.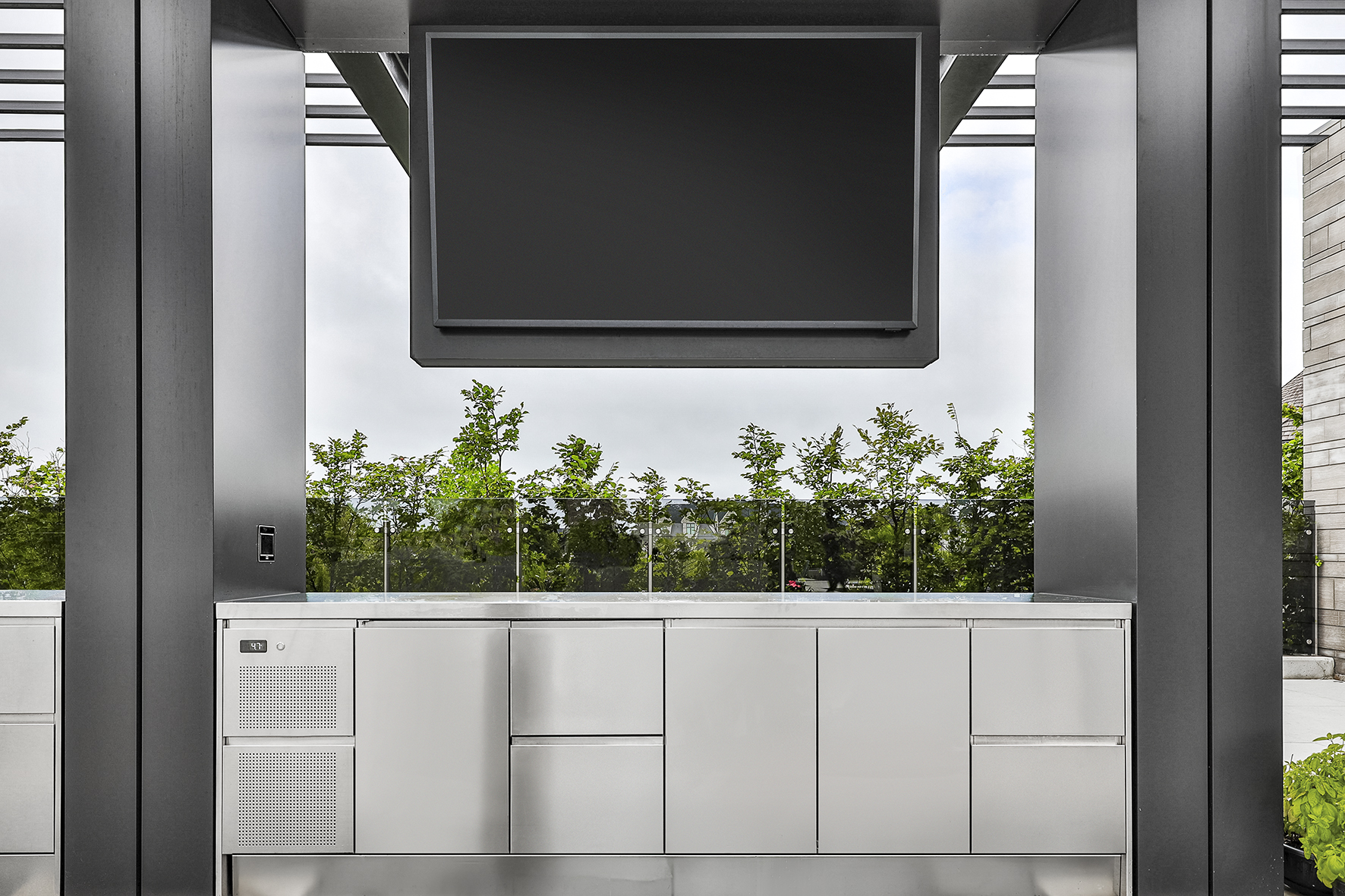 The family's passion for "open-air" living is so great that the terrace has also been set up as an open-air cinema. An enormous LED screen has been hung over the kitchen, where they can watch their favourite films after dinner.
An outdoor kitchen to be used in any season
A plate glass screen protects the terrace from the wind, without however hiding the spectacular view over the rooftops of the city and the lake.
The entire cooking area is topped by a bioclimatic veranda. Not so much to protect the kitchen which, since it is made of stainless steel, is easy to clean and wash as well as being resistant to all weather, humidity and moisture, frost and heat.
But rather to allow the chef to cook outdoors in any season and whatever the weather.
Real barbecue fans in fact don't let bad weather stop them… not even the cold Canadian winter!
BROWSE ALL THE ABIMIS OUTDOOR KITCHEN LINES
DOWNLOAD THE NEW OUTDOOR KITCHENS BY ABIMIS CATALOGUE
Abimis solutions perfectly reflect the original concept for which they were conceived: a professional-grade product devised for domestic settings that is both functional and designer.