An outdoor kitchen by Abimis overlooking a Swiss lake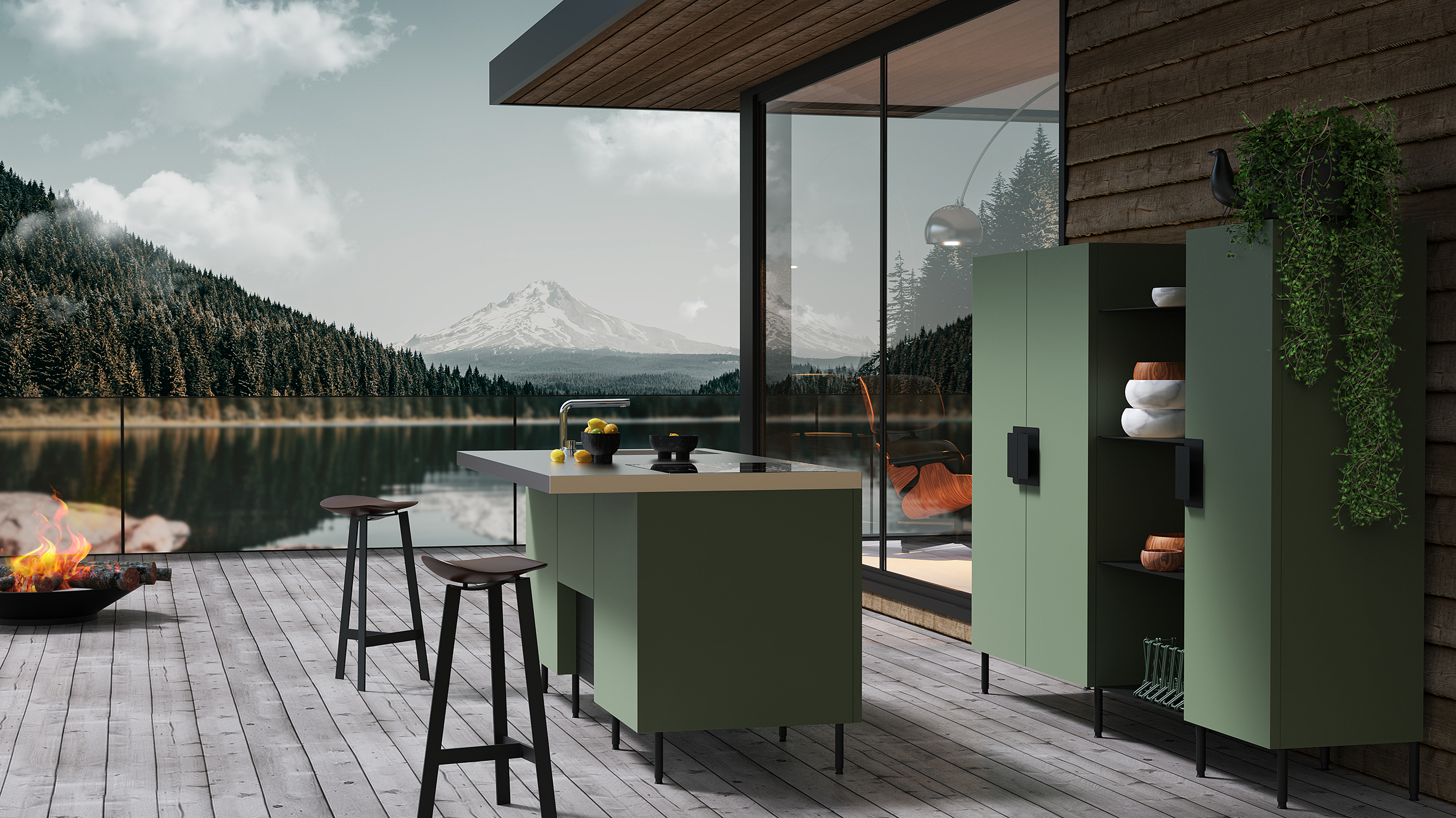 Surrounded by the Swiss Alps, overlooking a small mountain lake, this chalet brings together tradition and modernity. Indeed, its wooden structure constitutes a strong bond with local history and culture. Its open and minimal architectural silhouettes on the other hand exude a decidedly contemporary feel.
A chalet where nature can be enjoyed while the owners pursue their passions
This designer chalet is owned by a Swiss architect whose studio is located in Lucerne and who designed this Alpine refuge for himself as a place to savour the silence and sheer beauty of his mountains. The architect frequently visits because the premises offer him the ideal atmosphere both to work and to pursue his many passions. On the one hand, to practice sports while surrounded by nature: cross-country skiing, trekking, rock climbing… On the other, to enjoy small private pleasures which help him wind down, such as reading, listening to classical music and cooking good food.
Floor-to-ceiling windows and a large accessorised terrace
The chalet was planned specifically to accommodate his needs.
First of all, the walls in the living room open up completely to the outside, thanks to two large floor-to-ceiling windows. This means the owner can fully appreciate the view of the mountains and lake surrounding the house, while he sits back in his Lounge Chair by Vitra. Even when it's cold or snowing outside.
When the weather is a little milder, he has designed a large terrace, with wooden floorboards and furnished like a genuine open-air lounge. Furnished with a table and chairs, a sofa, two armchairs and even a large fire pit.
An avid gourmet, he also wanted a small outdoor kitchen on his terrace. "That way, I can enjoy nature even while I'm cooking…" he tells us.
An Àtria outdoor kitchen by Abimis on the terrace
To cook on the terrace, the architect picked a model from the Àtria collection by Abimis. This outdoor kitchen is made entirely of stainless steel, which makes it extremely resistant to adverse weather, cold and water. The ideal kitchen for mountain weather… Having fitted it underneath a projection in the roof, he can leave his kitchen outside in any season with full peace of mind.
What's more, to ensure the chalet blended in seamlessly with the surrounding landscape, he wanted the kitchen to be matt green in colour with contrasting black details.
The kitchen is small but immaculately organised. The top is divided up into two parts. The work surface is fitted with a sink, an induction hotplate and a small refrigerator. On the other side is a small snack counter with stools. This gives him the opportunity to cook while at the same time enjoying the company of his friends and chatting with them.
The Àtria collection has been supplemented with matching furniture
The kitchen has been completed with a matching cabinet, from the Àtria collection by Abimis, also in stainless steel and painted in the same colours.
This is a double storage unit with open shelves, where the home owner can store his crockery, cutlery, table linen and everything he needs to cook. Remaining within easy reach yet shielded from dust and dirt.
This solution is both practical and functional, while contributing to furnishing the outside with the same attention to detail and impeccable design that distinguish the interiors.
Abimis solutions perfectly reflect the original concept for which they were conceived: a professional-grade product devised for domestic settings that is both functional and designer.