ÀTRIA
A new form of efficiency and sharing in the open air.
Abimis, together with Studio Delineo and Massimo Rosati, has created ÀTRIA – the first modular kitchen specifically designed to exist outdoors, with a stainless steel core and 100% customisable.
The choice of name stems from the Latin term àtrium. Ever since paleo-Italic times, the atrium has constituted the heart of the home, the room that played host to the domestic hearth and where family life took place. The concept of ÀTRIA thus stems from the desire to bring together two ancient symbols of life: the hearth and the open space of the home.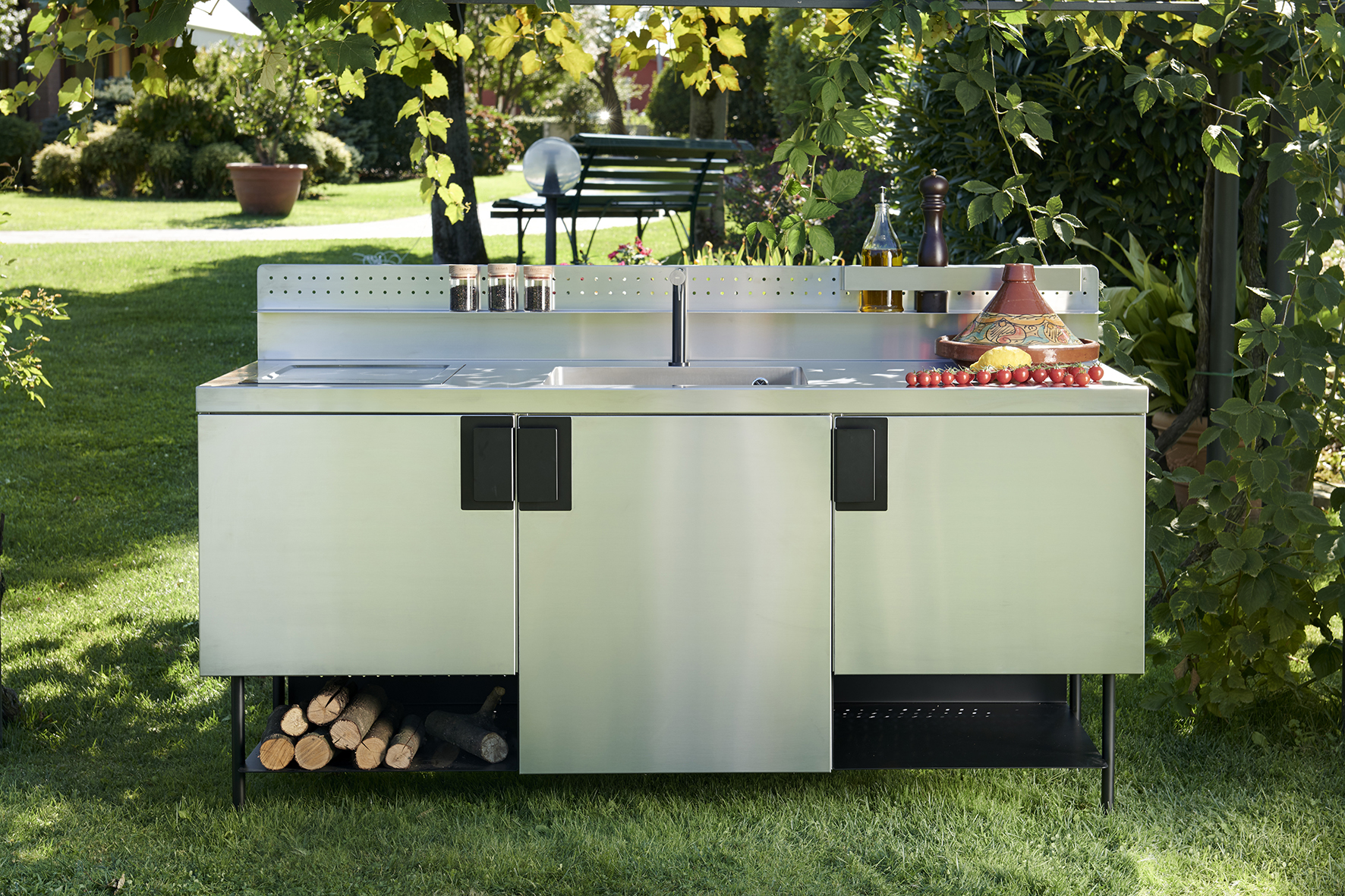 Like its name, the sleek and understated silhouettes of ÀTRIA also draw their inspiration from the world of architecture: indeed, this kitchen looks like a harmoniously-proportioned open architecture, defined by an elegant game of volumes and by the perfect alternation of blocks and voids that allow light to filter through, enhancing the texture of the entire project.
ÀTRIA is made entirely of AISI 304 stainless steel, an anti-bacterial and biologically neutral material that does not release any substances onto food, is resistant to corrosion, to impact, to humidity and moisture and to high temperatures. It is also 100% recyclable and extremely easy to clean.
If it is installed by the sea or a swimming pool, ÀTRIA is produced in AISI 316 stainless steel, a special alloy which – thanks to the addition of molybdenum – proves particularly suitable for life in settings that are rich in chlorine and salt air.
The design of ÀTRIA stands out for its manicured contrast between the geometric and minimal body of the kitchen and the structural/functional elements.
Details that personalise the kitchen structure make each model truly unique and unlike any other.
The storage modules, which are available in two different heights, are made of stainless steel and with various finishes (natural, satin finish or orbitally polished by hand), or they can be painted in any colour of the RAL range, using the same techniques applied in the automotive industry, thereby guaranteeing the best performance levels, in terms of durability and strength.
ÀTRIA also affords an extensive choice of matching modular accessories, such as the equipped back panel that comes in a variety of configurations.
Understated, stylish and ergonomically designed, ÀTRIA is therefore an outdoor project that not only provides high-ranking performance levels, but it also offers ample customisation possibilities, to accommodate the tastes and needs of all users and adapt to any surroundings.
With ÀTRIA, Abimis is suggesting a dynamic and contemporary vision of outdoor cooking, with a design and stylistic approach that sees the kitchen as an item of furniture that blends in seamlessly with open-air spaces.
Abimis solutions perfectly reflect the original concept for which they were conceived: a professional-grade product devised for domestic settings that is both functional and designer.