Abimis furnishes an apartment in the heart of Rome
The Colosseum is within a few minutes walking distance. Via di Sant'Erasmo, in Rome, is situated in the heart of the city's historic
centre and it boasts an astounding position on Celio, one of the famous seven hills, which make the Italian capital so extraordinary.
A workshop of ideas for interior design
This is precisely where the apartment is situated. Nothing is left of the previous structure: the 220 square metres, which previously counted on just one bathroom and one kitchen backing on to the bedroom area, now boast a much more functional layout, tailor-made to the customers' specific requirements.
A smooth sequence to emphasise  the value of conviviality
The heart of the new home is the generous space making up the living room, dining room and kitchen, which, marked exclusively by different flooring, follow one another in a smooth sequence to emphasise the value of conviviality. The owners picked the Ego model by Abimis to become the fulcrum of this shared space, dominated by neutral colours and brightened up by pop paintings resting against white shelves.
Made to measure by Abimis, its configuration is in the form of an island with a built-in hob topped by a slimline hood which dons the same profile as the kitchen. The two blocks are metal monoliths, embellished by curved profiles that make the furnishings appear to have been carved out of the material itself: an effect of the tailor-made workmanship of Ego, put together with painstaking care, from the various types of compartments, doors and worktops through to the finishes.
Made entirely of AISI 304 stainless steel, a biologically neutral metal that does not release any substances onto food, is corrosion-proof, built to withstand temperatures of up to 500° C and is very easy to clean, Ego stands out for its bevelled flush door fully integrated into the structure and invisible hinge, patented by Abimis.
While the apartment, which was refurbished in just four months (April-July 2016), puts the kitchen  in centre stage, the kitchen itself gives rise to a setting which is governed by the movements of the chef, where the cook is the only genuine star.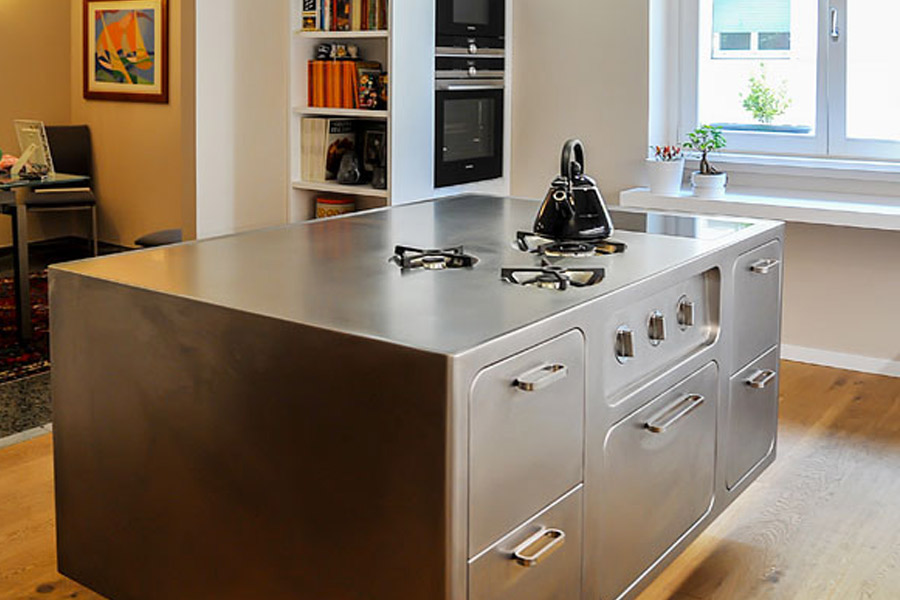 Abimis solutions perfectly reflect the original concept for which they were conceived: a professional-grade product devised for domestic settings that is both functional and designer.