Haute cuisine in high places: an Abimis in La Thuile
Whether it is expressed with the typical language of tradition or through signs of contemporary style, the appearance of a place in the mountains always has to abide by a series of silent rules which emphasize its Alpine identity while at the same time creating a warm, "Christmassy" atmosphere.
That's exactly the case for this chalet in La Thuile, a famous ski resort on the border with France in Val D'Aosta, where architect Francesco Tiribelli redesigned a genuine manifest of mountain customs with a contemporary twist, while retaining its warmer and more characteristic soul. The result is a setting that is partly stripped of the accentuated warmth of the original structure, in favour of softer, neutral and bright colours, yet which retains a large number of references to the local territory and to the familiar Alpine taste. One example of this are the lamps, tables and other items of furniture in unfinished wood, or the fur covering the bare floorboards, or even decorations with the typical symbols of the mountains.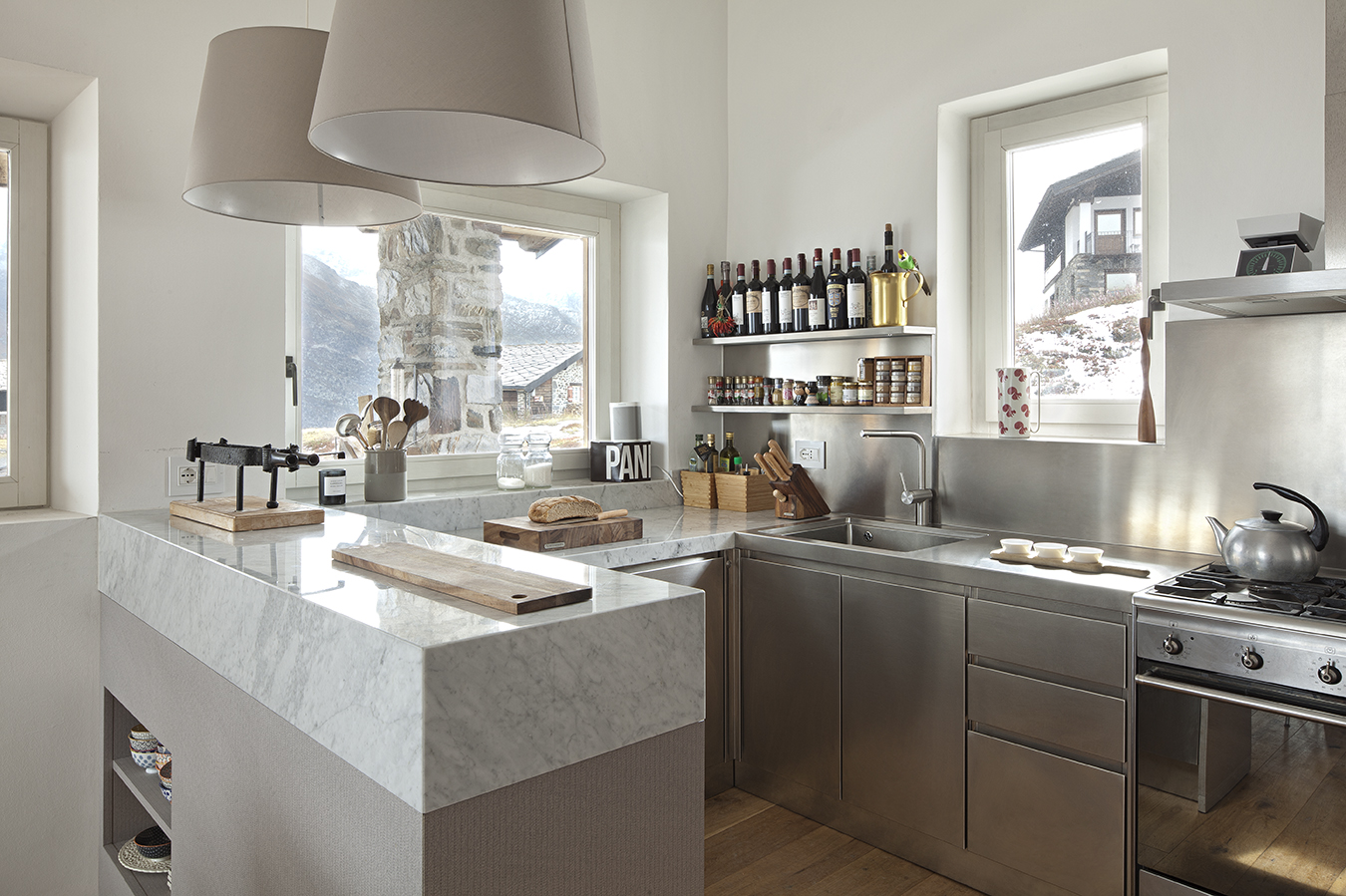 In the middle of this original project stands the kitchen, entirely tailor-made by Abimis to fit the little space available perfectly. Shaped to the nearest millimetre, the U-shaped module is devised to interact, for instance, with the indoor window sills, which have been turned into useful space for storage or display. The capacious cabinets are completely concealed in the wall, for an extraordinary, minimal styling result. There are only a few slits in the wall to suggest their use.
The project is rendered unique by the skilful combination of various materials: indeed, this Abimis kitchen features an impressive version with a white Carrara Marble top.
The kitchen block is warmed up by a wooden cladding which features a unique woven micro-texture inspired by the world of textiles.
The kitchen is therefore transformed from a merely functional element to an item of interior design, completely in keeping with the living room, the colours and style of which it mirrors. Abimis makes this and more possible, because it is entirely customisable, adaptable to all contexts and styles, sizes and choice of finishes. But that's not all: the service too, from support, to design planning and assembly, is tailored to the customer's needs, to ensure it is comprehensive and efficient, without restrictions.
For instance, delivery of this kitchen in La Thuile entailed complex logistics. The chalet, which is located at an altitude of 2,200, required the use of a cable car and a snowmobile for the entire kitchen to be delivered.
Abimis solutions perfectly reflect the original concept for which they were conceived: a professional-grade product devised for domestic settings that is both functional and designer.