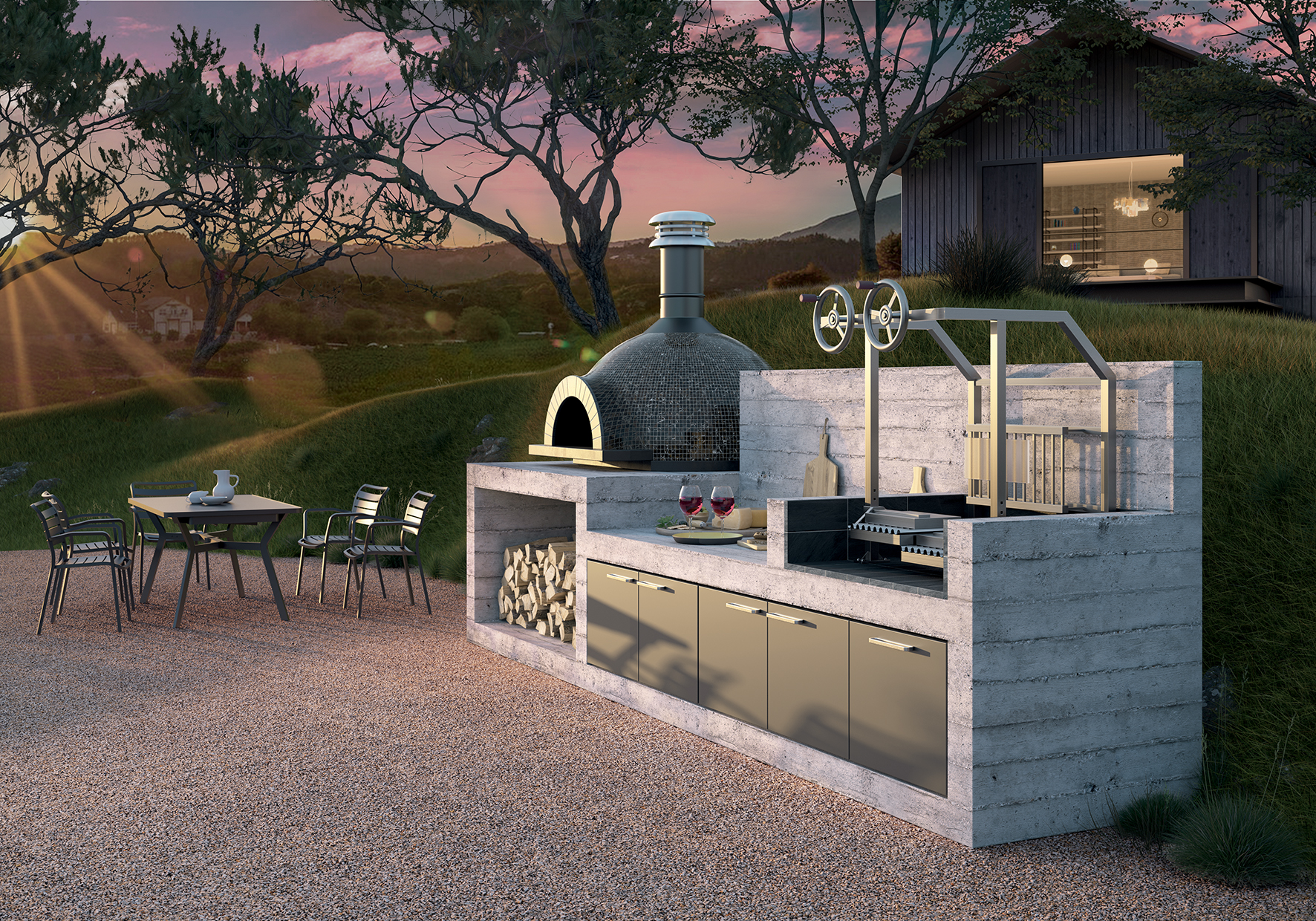 How to choose household electrical appliances for outdoor kitchens
Not only barbecues and wood-burning ovens. Outdoor kitchens can now be equipped with any household appliance, even professional ones. Here are some tips to help you choose.
Outdoor designer kitchens can be accessorized with all types of household appliances.
Cooking outdoors nowadays no longer means just having a barbecue with friends or cooking pizza in a wood-burning oven. Contemporary outdoor kitchens offer the same performance as the best indoor kitchens.
Versatile and multifunctional, outdoor kitchens can now be equipped with all kinds of household appliances: latest generation induction hobs, modern barbecues, ice-makers, fridges, refrigerated wine coolers and, in certain conditions, even dishwashers. Therefore, they are real cooking machines able to satisfy the most demanding chefs and seduce the finest palates.
Besides, if outdoor spaces have become an extension of indoor spaces, it is natural for outdoor kitchens to be able to be multi-accessorized. In fact, having always been the heart of the home, the kitchen becomes the quintessential place for conviviality, also outdoors.
So, let's have a look at which household appliances to choose for designing an outdoor kitchen to meet any chef's standards.
Household appliances for garden kitchens
1. Hobs for outdoor kitchens
The first step towards having a complete outdoor kitchen is the hob. Which one to choose? Induction hobs are the most suitable solution for outdoor kitchens as they don't need to be connected to the gas grid. In fact, this type of hob is electrically powered; an electromagnetic induction coil generates the necessary heat for cooking food. Made of glass ceramic, induction hobs are resistant to impact, corrosion and thermal shocks. They can also be adjusted in terms of heat intensity, guarantee fast cooking times and are safe and practical to clean. In fact, the glass around the cooking area stays cold, preventing the risk of burns.
Therefore, induction hobs are the best choice for an outdoor kitchen, even if some aspects need to be considered. As the hob is electrically powered, the domestic system may need to be reinforced.
Alternatively, conditions permitting, more traditional gas hobs can be installed. Durable, easy to use and available in a wide range of types, gas hobs are the most common in Italy in indoor kitchens and are just as suitable for outdoor kitchens. However, in the latter case, utmost attention must be paid to the material. For an outdoor gas hob our advice is to go for stainless steel, an extremely resistant metal alloy which is easy to clean.
2. Barbecues for outdoor kitchens
Just because cooking outdoors now means more than having a couple of sausages or burgers doesn't mean forgetting about a barbecue. A barbecue signifies conviviality and sharing. Therefore, no outdoor kitchen can be said to be complete without the possibility to have a barbecue with friends.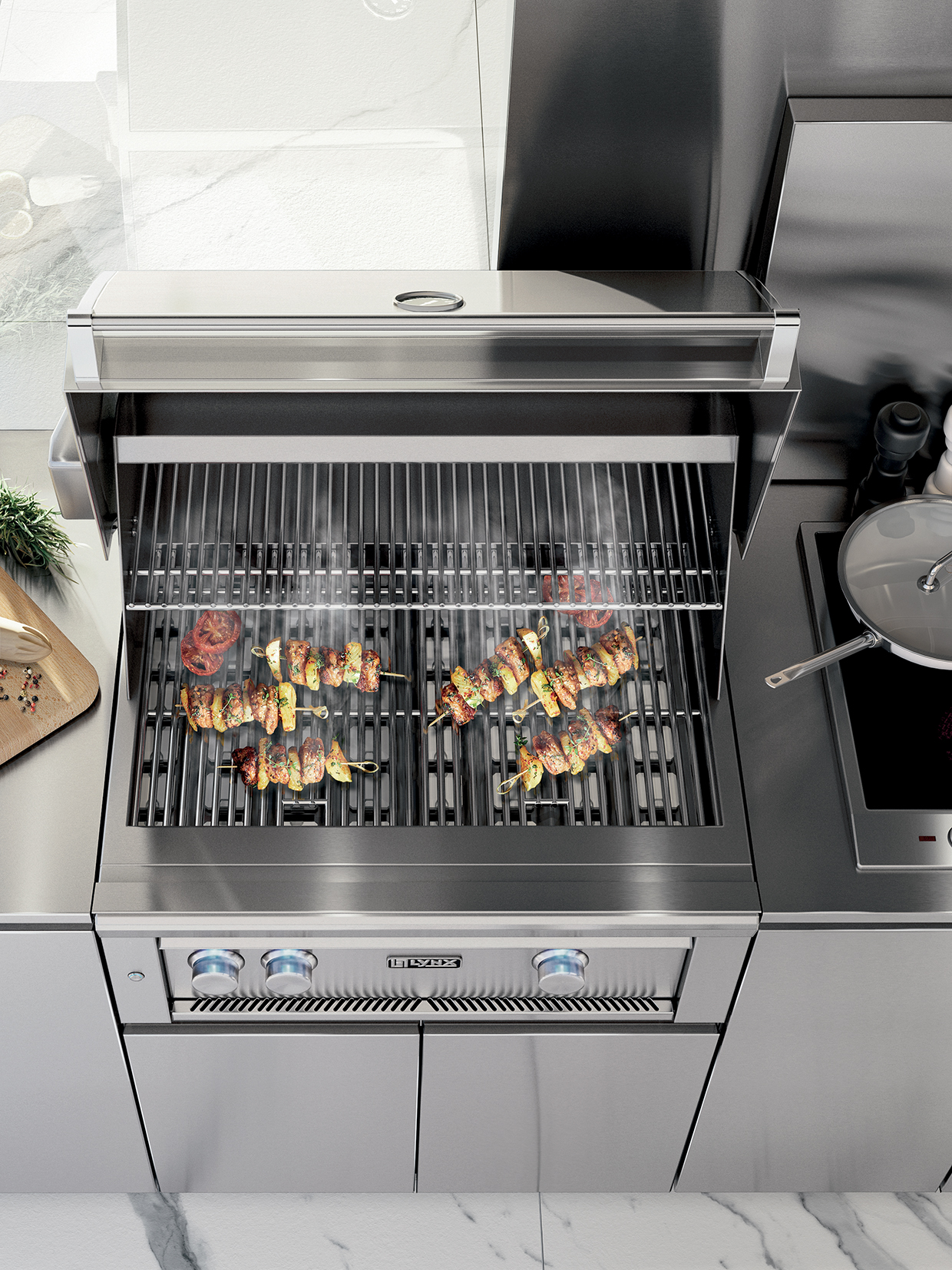 The aspects to assess when buying a barbecue are the size of the appliance, the installation methods and the features of the cooking system. In fact, the cooking method is different according to whether the barbecue is powered by charcoal, wood or gas.
Charcoal powered barbecues can be moved easily according to needs. The stainless steel or cast iron brazier heats up slowly, but distributes heat uniformly and retains it for a long time. The disadvantage? The charcoal system produces a lot of smoke.
Wood burning barbecues are generally very bulky and therefore recommended for anyone with a spacious garden or terrace. The strong point of the wood burning system is that the cooking reaches extremely high temperature levels.
Gas powered barbecues can be easily integrated into an outdoor kitchen. They are simple to use and to light, have an easily adjustable temperature and offer different types of cooking.
In fact, provided with a lid, these barbecues enable food to be cooked as though it were inside an oven. Another advantage is that they don't produce any smoke or leave any residual ash. They are undoubtedly a practical and versatile instrument for all outdoor kitchens.
3. Teppanyaki griddle for outdoor kitchens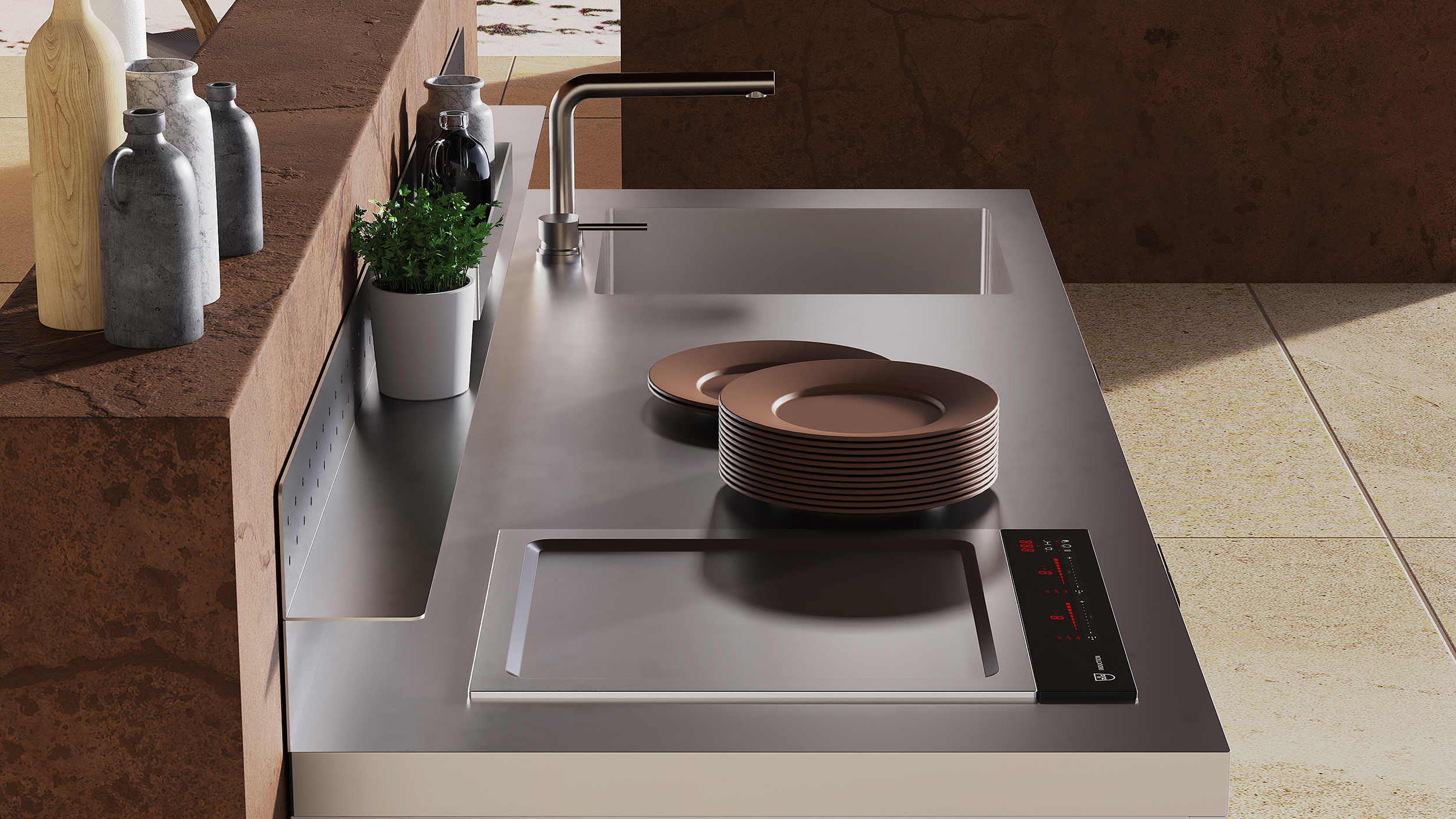 For anyone who loves grilled food, an alternative to the classic barbecue is a teppanyaki griddle. This is a cooking system used in Japanese cuisine.
With the teppanyaki griddle you can cook meat, fish, vegetables and cheese using an electrically powered red-hot steel plate.
Therefore, it is a tool that enables food to be prepared quickly, preventing it from getting overcooked and losing its nutritional properties. Teppanyaki griddles also enable various foods to be grilled at the same time as keeping the already cooked food warm before being served from the red-hot plate. 
Every step is visible, transforming the preparation of dishes into a real cooking show. An ideal solution for sociable dinners al fresco.
4. Wine cooler for outdoor kitchens
It's not a respectable lunch or dinner without a good wine. So, outdoor kitchens can be completed with a chilled wine cooler. A useful tool for storing your bottles of wine or champagne at the right temperature, keeping the organoleptic properties intact. Refrigerated outdoor wine coolers can be integrated into the kitchen structure.

The refrigerated wine cooler is closed by a door with double-layer tempered glass, which provides thermal insulation and protection from light. A cooling system enables the ideal temperature to be set, while one or more fans distribute the temperature more uniformly due to the movement of air. For more demanding users, there are also wine coolers with compartments at differentiated temperatures. A perfect solution for savouring every wine at its ideal temperature…
5. Ice maker for outdoor kitchens
Do you love sipping a cocktail on the terrace or by the pool? Well, there's a household appliance that you absolutely have to have in your outdoor kitchen: the ice-maker (commonly known as an ice machine).
Fundamentally for making cocktails or cooling down beers or other drinks, ice is an ingredient which should always be on hand during warm summer evenings.
But, remember that ice-makers need a water supply and an electric socket. And once connected, they provide ice falls for all requirements and in the most diverse formats.
6. Fridge for outdoor kitchens
If in the past an outdoor fridge was seen as a luxury, it is now considered an essential household appliance for completing an outdoor kitchen. By adding a fridge, even a small one, you can keep everything you need handy, without constantly having to go backwards and forwards between the indoor kitchen and the outdoor one.
The most suitable fridges are those made of stainless steel, a material that can withstand moisture and temperature changes. Another aspect to consider is the energy class. In fact, fridges installed in warm environments, like a terrace or garden in summer, consume more energy as they have to work more to cool the food down. Therefore, our advice is to choose a fridge in class F or higher, which corresponds to the old A+.
Finally, the climatic class is to be assessed (the minimum and maximum temperature within which correct operation is guaranteed). For fridges to be positioned in an outdoor kitchen, class SN-T is recommended, which guarantees optimal operation at temperatures up to +43°C.
The household appliances of Abimis outdoor kitchens
Abimis outdoor kitchens can be equipped with any type of household appliance, even professional ones. From induction hobs to Teppanyaki griddles, from gas barbecues to wine coolers, and from ice makers to dishwashers.
Abimis outdoor kitchens guarantee the same high performance and the same customization possibilities as the Abimis indoor range.
As they are all made of AISI 304 stainless steel (or the special AISI 316 stainless steel, which is particularly resistant to chlorine and saltiness, in the event of installation near the sea or by a pool), all the Abimis outdoor kitchens guarantee maximum resistance and offer extremely easy cleaning.