Beautiful to behold and useful. Accessories for designer kitchens are increasingly sought-after items, impeccably styled and devised to provide maximum functionality. They are the ideal allies for style aficionados and those who want to cook like a genuine chef.
Here are some tips to help you choose.
Haute cuisine is in the details. It is very often the details that make a difference and ensure the success of a project. Whether this is a furnishing or a cooking project makes no difference…
Consequently, if you want to have a beautiful and functional, veritable designer kitchen in your home then you should definitely not neglect the accessories.
This is because kitchen accessories are not only indispensable for organising the space in the best possible way, but they also define the character of a setting.
Designer kitchen accessories
Designer kitchen accessories need to be ergonomic, functional and hard-wearing, but also (and above all) attractive to look at.
Kitchen accessories should match their surroundings too. Either in keeping with the setting, as in the case of accessories made in the same style and using the same materials as the kitchen, or by contrast.
A piece of advice? We suggest you opt for designer kitchen accessories that are in other words distinguished by a simple and minimal silhouette, which therefore blends in with any style.
These days, the design of kitchen accessories is vital. Indeed, new kitchens tend not to have wall units or they replace them with shelving, display units and visible shelves.
What's more, contemporary kitchens open more and more often onto the living room, with which they form a single open space.
This blurring of boundaries between the two rooms, which were once clearly separate, has given rise to an important need. The need for kitchen and living room furniture to match one another and, as a consequence, for the kitchen accessories to be selected with the same care one would use to choose a vase or an ornament to display in a bookcase.
The aim is to create a living room with a stylish and impressive total look, where the boundaries between the kitchen, the living room and the dining room dissolve, creating one large single space.
Kitchen accessories. Design and functionality
While the design of kitchen accessories is extremely important, so is their functionality. Kitchen accessories should also help to organise and simplify the chef's job.
Rails for hanging accessories, drawer organiser systems, chopping boards, storage units, jugs, spice racks, knife sets… everything should be designed to organise the available space and optimise every task. To ensure everything is neat and tidy, without wasting time.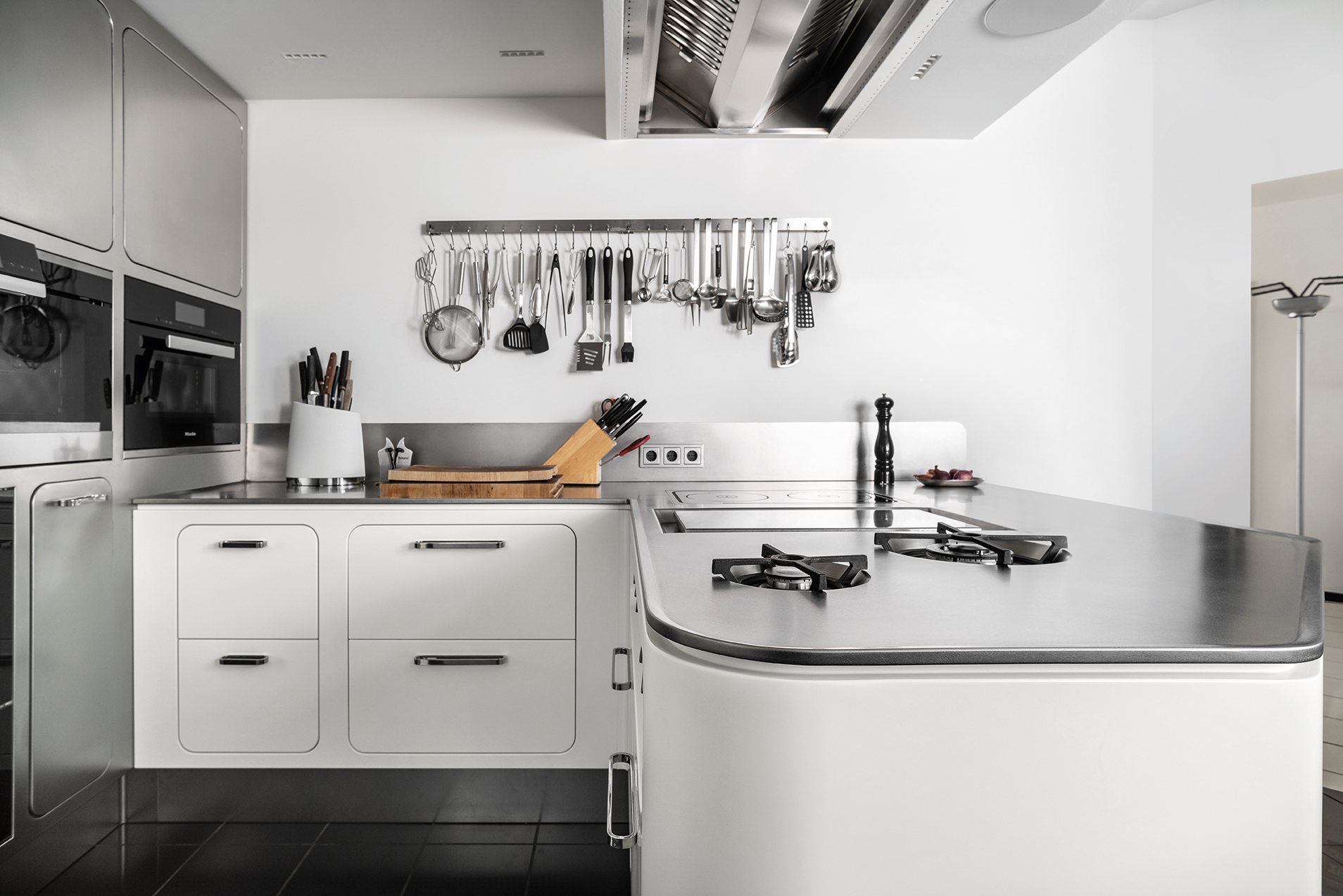 Accessories are not just accessories…
We know full well that optionals make cars more appealing, more welcoming, more enjoyable, improving the user experience and enhancing performance. Just like a piece of jewellery or a fashion accessory embellishes a garment, making it unique and giving it plenty of character.
Similarly, accessories are essential ingredients for any type of kitchen, regardless of its style or size. Whether large or small, contemporary or classic, semi-professional or country-style, minimal or decorated.
At the end of the day, we know it only too well… kitchen accessories are more than just accessories!
Abimis knows this too, having always designed its professionally-derived kitchens for domestic settings in partnership with great chefs.
This extensive expertise has led to A_ccessori, a line of top-quality kitchen accessories made with the finest materials. The same materials used in professional kitchens: stainless steel, borosilicate glass and beech wood.
The A_ccessori collection by Abimis
The A_ccessori line by Abimis offers a series of attractive and functional tools of the trade, for those wishing to cook at home like a professional chef. Designed by Roberta Tosolini, the collection is designed to organise your kitchen space with modular and multi-functional objects.
A_ccessori is made of beech wood or heat-treated oak, borosilicate glass and stainless steel, materials that strike the perfect balance between functionality and styling. Beech wood is extremely resistant to stress and shocks. Borosilicate glass is suitable for preserving food because it is hygienic, easy to clean, resistant to heat and to sudden temperature changes. Last but by no means least, AISI 304 stainless steel is a naturally aseptic, antibacterial, hard-wearing and easy to clean metal alloy. The same material used to make all Abimis kitchens.
So let's see all Abimis kitchen accessories, one by one.
Everything in full view! This is one of the trends in the kitchen today. Keeping pots and pans and utensils on show in fact offers a light composition, giving the surroundings a brighter and airy feel. One kitchen accessory we cannot forget about is there a steel bar. A useful element to keep everything in sight and within easy reach at all times.
To achieve this, A_PPESO, the stainless steel bar with hooks by Abimis comes to our aid. Its length, profile and attachment system can be customised, and A_PPESO can be fitted on the wall or beneath a shelf.
But that's not all… for those who love a more "minimal" style, Abimis has designed a special magnetic stainless steel wall panel that keeps knives and other metal accessories tidy without any bar in sight!
If you like to keep everything in sight and within easy reach, there are also fixing systems designed for smaller utensils. One example is A_TTACCO by Abimis, a practical and elegant magnetic fixing system designed to fix knives and other utensils directly onto the kitchen wall panel.
Saucepans, frying pans, knives, but also kitchen towels and pot holders. In the kitchen, textiles are important to add personality and warmth to the setting, as well as being useful. That's why you should never forget to put up a few hooks on the wall.
A_GGANCIO by Abimis is a series of minimal-style stainless steel hooks onto which you can hang your pot holders, kitchen towels, oven gloves and all your non-metal kitchen accessories.
Organisation is everything in a kitchen. All the more so in an aspiring chef's kitchen. That's why the drawers should be equipped with accessories designed to keep everything neat and tidy, practically and quickly.
A_TAVOLA by Abimis is a solid wood structure with compartments that fit into drawers like a glove. To keep your cutlery in the right place and within easy reach at all times.
Not just cutlery. There are a myriad kitchen accessories that need the right storage place. From spice jars to graters, ladles and rolling pins for your pastry experiments.
To store them, Abimis has come up with A_POSTO, a flexible system to optimise inner drawer organisation. Its structure allows you to modify the storage space continuously to accommodate the most diverse requirements.
A_POSTO is also available in a practical knife rack version.
When it comes to kitchen accessories, there is one object that is simply a must-have: the chopping board. Kitchen chopping boards should be carefully selected, assessing the functions and materials thoroughly. Food contact surfaces should be easy to clean, corrosion-resistant and should not absorb substances which could contaminate food. In addition, different chopping boards should be used for different food types, in order to avoid what is commonly referred to as "cross-contamination". Which is one of the main causes of food poisoning.
The A_FETTE system by Abimis consists of two stackable beech wood chopping boards, with different functions. The first chopping board was designed to contain Gastronorm trays, to chop and place the ingredients in the tray simply, thereby optimising cutting and cooking tasks.
The second chopping board was devised for bread, with a grid that allows breadcrumbs to settle directly in the collection tray underneath, which is very easy to pull out and clean.
While kitchen lines are becoming more and more understated, the walls are on the other hand being supplemented with storage elements, shelves and display units. Besides, as we mentioned earlier, open shelving solutions are right on-trend. That's why it's important for kitchen accessories to be attractive and above all in keeping with the style of the living room which the kitchen often overlooks.
A_GGIUNGI by Abimis is a series of borosilicate glass containers with beech wood lids, to help keep your kitchen neat and tidy with style. The clean-cut, stylish design of A_GGIUNGI allows you to add the containers smoothly in any setting.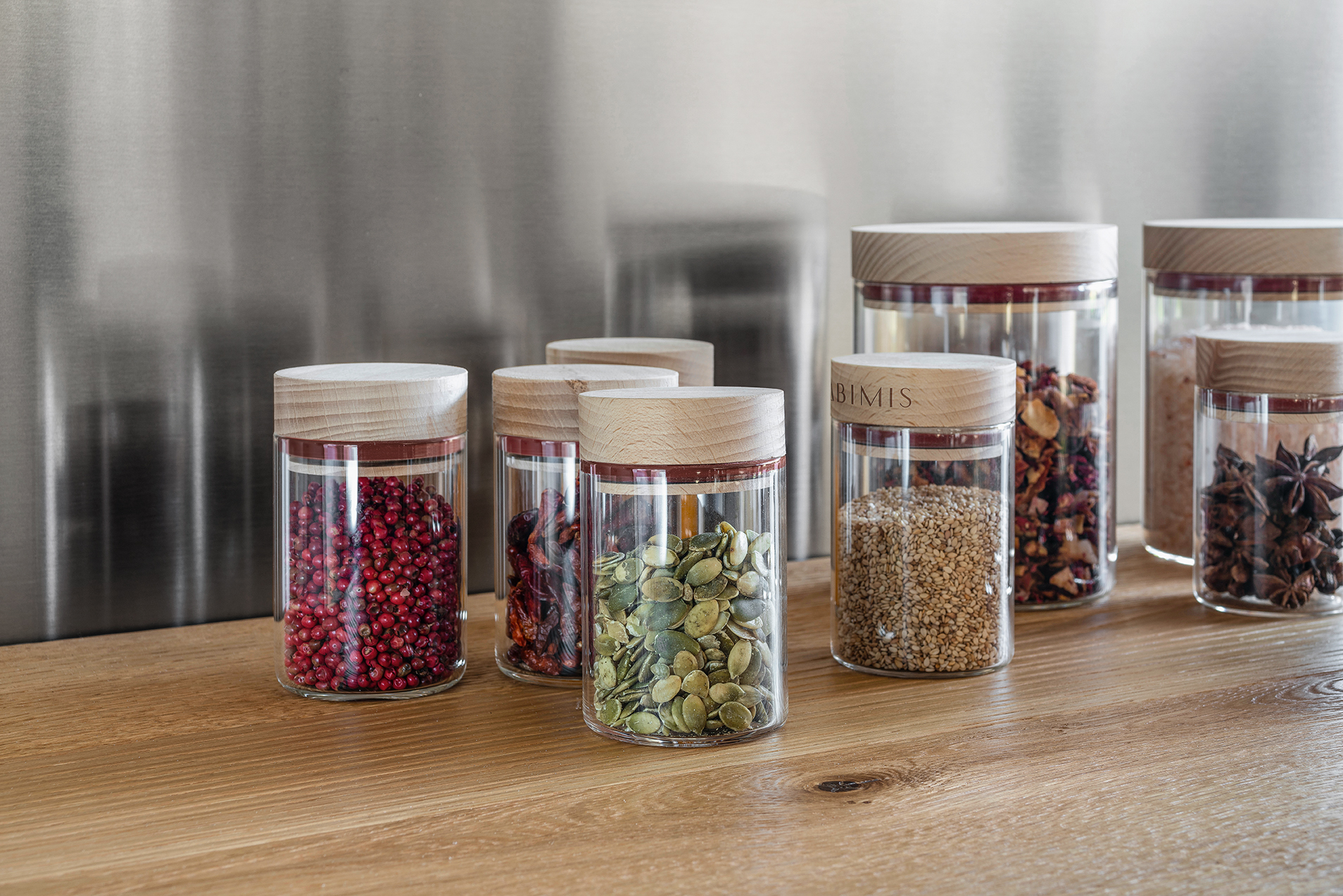 Your coffee, salt and flour can be stored in A_GGIUNGI, whereas chilli pepper, oregano and cloves can fill up your A_ROMI.
A_ROMI by Abimis is a series of borosilicate glass spice jars with a beech wood top. The jars are 14 cm high and have a diameter of 10 cm.
Once you have purchased your spice jars, you'll need shelves to display them all. Minimal shelves that can be used as a backdrop for ornaments and recipe books or to prop up your iPad so you can check the latest recipe from your favourite chef. A shelf such as A_POGGIO by Abimis, for instance.
A_PPOGGIO is a shelf to rest your books or iPad which can also be used to store your A_ROMI spice jars.