70s inspiration for a bright villa in corsica
Along the lush green coast of south-east Corsica, where the Tyrrhenian Sea laps against the jagged coastline and the Barocagio-Marghese mountains define the horizon to the west, you'll find an ancient place full of natural treasures: Sainte Lucie De Porto Vecchio.
An eclectic style with a retro' style and bright colors
The local architecture studio, Artedis, has renovated a villa overlooking the sea, opting for an eclectic style that's able to combine the simple design of the Abimis kitchen with vintage and brightly coloured touches, perfect for a holiday home.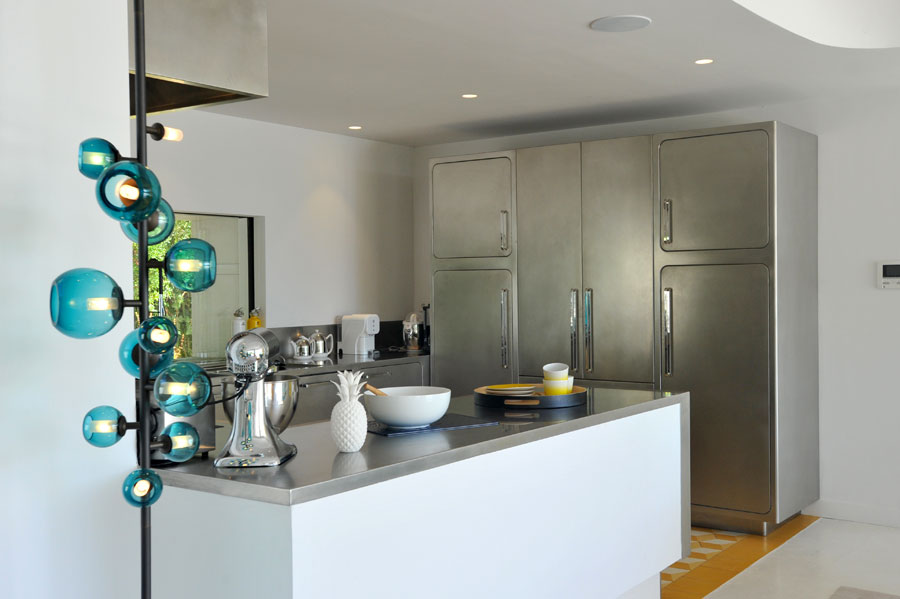 Ego kitchen an highly professional character
Thanks also to its large windows, the living area enjoys an exceptional amount of natural light, which is enhanced all the more by the predominant white colour on the walls; bright blue, turquoise and yellow furnishings inspired by the 1970s add warmth to the room, creating continuity with the kitchen's geometric pattern flooring.
This Ego kitchen by Abimis, with its highly professional character, creates a pleasant contrast in terms of style and has great aesthetic impact: as always, it has been made to measure and features a large U-shaped island designed to follow the owners' movements, offering top ergonomic performance.
From the initial design to the order
Just like a perfectly thought-out route, the design revolves around the five stages involved with cooking: on the one side, the preparation and washing, with the cooking area in the middle, complete with double oven, and, on the other side, the in-built counter covered in stainless steel for serving, completed by a system of columns destined for food storage, defined by their characteristic bevelled flush doors.
This is yet another example of how Abimis follows all aspects of the project, from the initial design to the order, right through to shipping and installation. The villa is difficult to get to, meaning that every single component of the kitchen had to be assembled and welded directly on-site, once again proving this company's ability to offer a fully comprehensive service.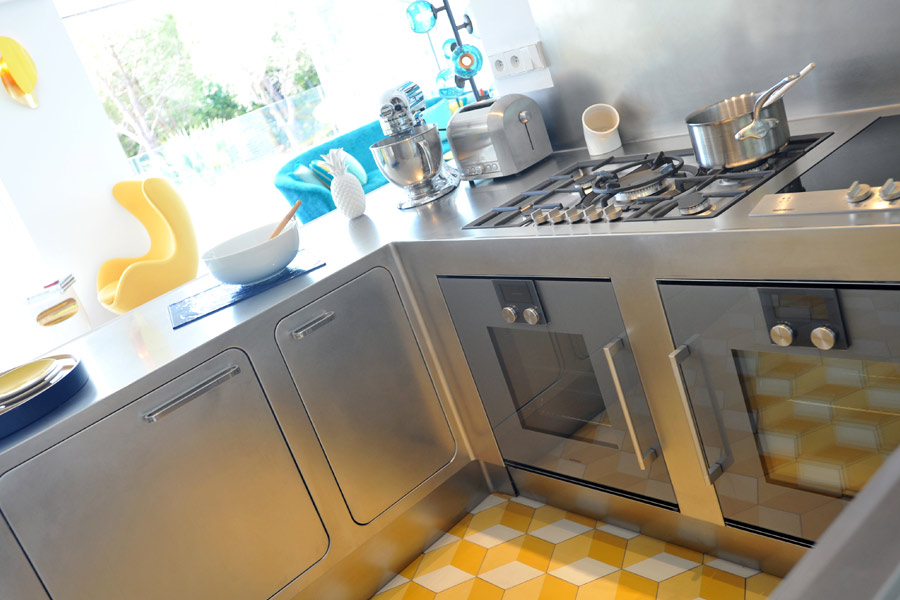 Abimis solutions perfectly reflect the original concept for which they were conceived: a professional-grade product devised for domestic settings that is both functional and designer.