An Ego90 kitchen by Abimis in a castle nestled in the Tuscan hills
Any self-respecting fairy tale begins with the classic "Once upon a time". 
The story we're telling you today truly resembles a fairy tale. Follow us: we'll tell you the story….
Once upon a time, in Tuscany…
Once upon a time, there was a family of French entrepreneurs who loved Italy and spent their family holidays there every summer, in the charming setting of the Tuscan hills. Father, mother, and only daughter, a dynamic and creative young woman with a romantic soul, who inherited her parents' love of Tuscany.
After spending many summers playing and running around freely among the soft hills surrounding Siena, the young woman, now all grown up, made the difficult decision to give up her long holidays in Tuscany to move to London for work reasons.
The years went by and one evening, while having dinner with her English friends, the young French woman met a young Italian wine-making entrepreneur and the two fell in love.
One fine day, her "prince in shining armour" revealed his secret dream to her. Which was to convert a historic family estate in Tuscany into a winery. He went on to explain that it was an old castle erected at the top of a hill in the countryside outside Siena. And he confessed that he wanted to move there, with her…
A castle brought back to life
A few months later, the young French woman was in Italy, happily embracing this unexpected turn of events which fate had in store for her. She immediately set to work refurbishing the old castle, separating the space into two distinct zones. The ground floor and the old barrel vaulted underground cellars were to be used for the winery, while a more contained area on the upper floors were set aside for her new family home.
A fan of furniture and antiques, she wanted to retain almost all the old furniture inside the manor. Yet, driven by her creative international spirit, she also added a few splashes of modernity. Including concrete flooring, to remind her of her London loft, and several contemporary design signature pieces.
A bespoke ABIMIS Ego90 kitchen
Also a fan of good food, the new home owner loves having friends and family over and cooking for them. Hers is an exceptionally high-end Italian-French cuisine, which she learned and experimented with by attending several master courses with star chefs in both countries.
For this reason, she wanted a large, super-accessorised kitchen, for which she set aside an extremely large and welcoming space. She picked a stainless steel professional kitchen and included it in a setting furnished with a warm and decorated style, almost as if it were a living room.
She chose the Ego90 kitchen model with an orbitally polished finish by hand. A variant of the Ego line by Abimis but with square-edge doors rather than rounded doors. A stainless steel kitchen which she designed herself, better to accommodate her now consolidated habits and movements as a trained chef.
The kitchen, which is entirely bespoke, was organised into themed areas, mirroring the 5 steps of cooking proposed by Abimis. She subsequently divided up the kitchen into three separate rooms. In the first one, she created the preservation zone, comprising the wine cellar, freezer and refrigerators with differentiated temperatures, to guarantee the cold chain for the correct preservation of food. In the main room, she set up the area equipped for preparing and cooking food. Here, in addition to the hob and ovens, she also wanted a teppanyaki hot plate and a "coup de feu", a multi-function simmer plate typically found in French kitchens, which she uses for soups and fondues. This area is topped by a large professional suction hob, which is also in stainless steel.
Last but not least, she separated the washing-up area entirely, which is placed in a room adjacent to the cooking zone.
These three rooms are joined together by the impeccable interior design taste of the home owner. Every detail has been picked with painstaking care. Including the carpets and the old seats, recovered from the castle, or the collection of frames on the walls.
As well as the vintage style lamps hanging from the ceiling, fitted onto old oxidised brass lamp holders. Or the collection of ancient Tuscan majolica tiles, fully on show above the stainless steel hood and on the tall oven unit. Even the forged iron kitchen handles, also produced by Abimis, were designed specifically by the owner so that they would match the curtain rails.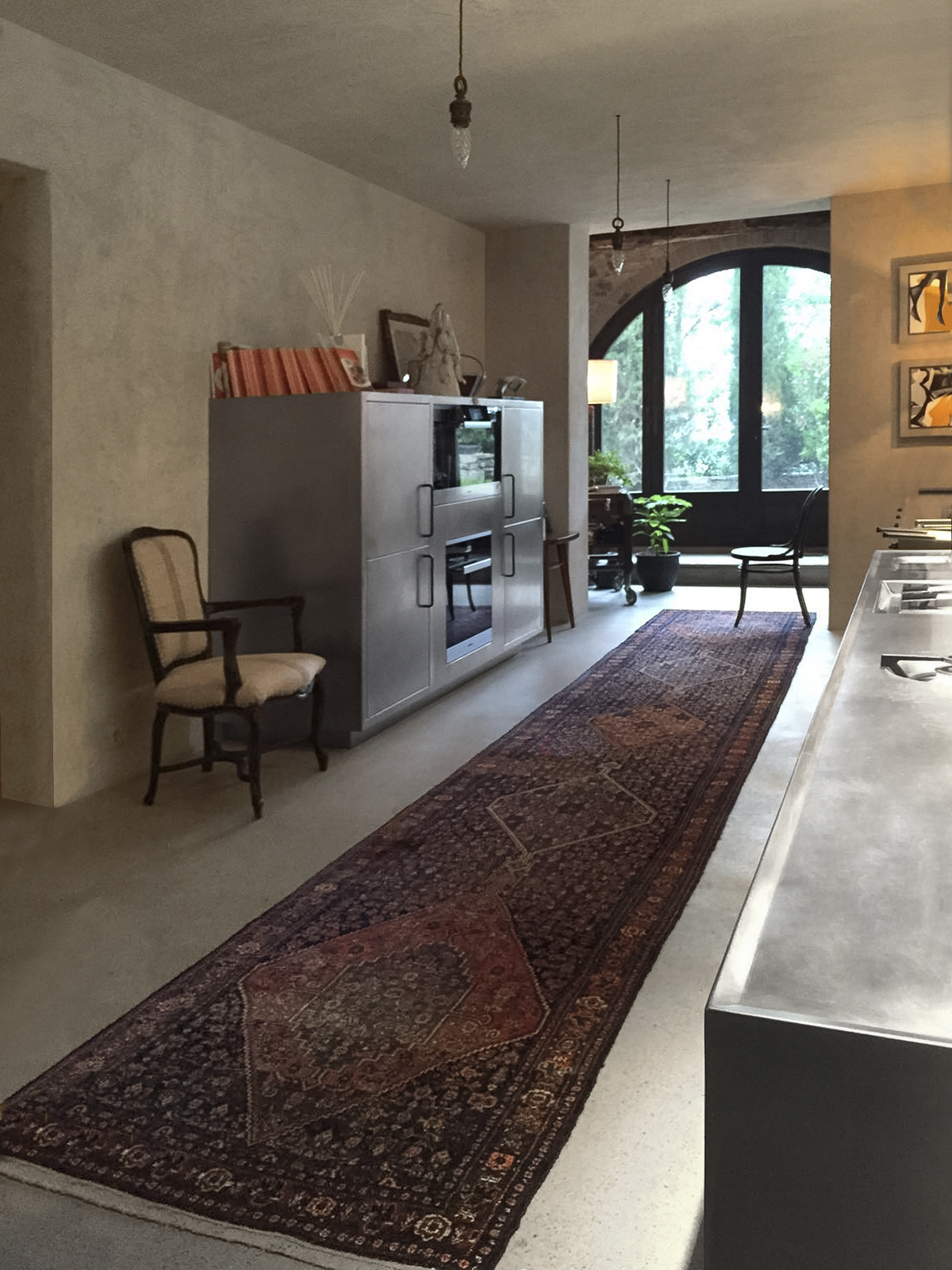 The atmosphere that the young home owner has succeeded in creating is truly incredible. With her impeccable taste and refined style, she has managed to transform a super accessorised industrial style kitchen into a contemporary luxury kitchen. She has managed to create a warm, gentle and stylish ambiance in her large kitchen. The perfect blend of French style and Italian allure. Just like the dishes she loves to prepare in her new Abimis kitchen…
Abimis solutions perfectly reflect the original concept for which they were conceived: a professional-grade product devised for domestic settings that is both functional and designer.