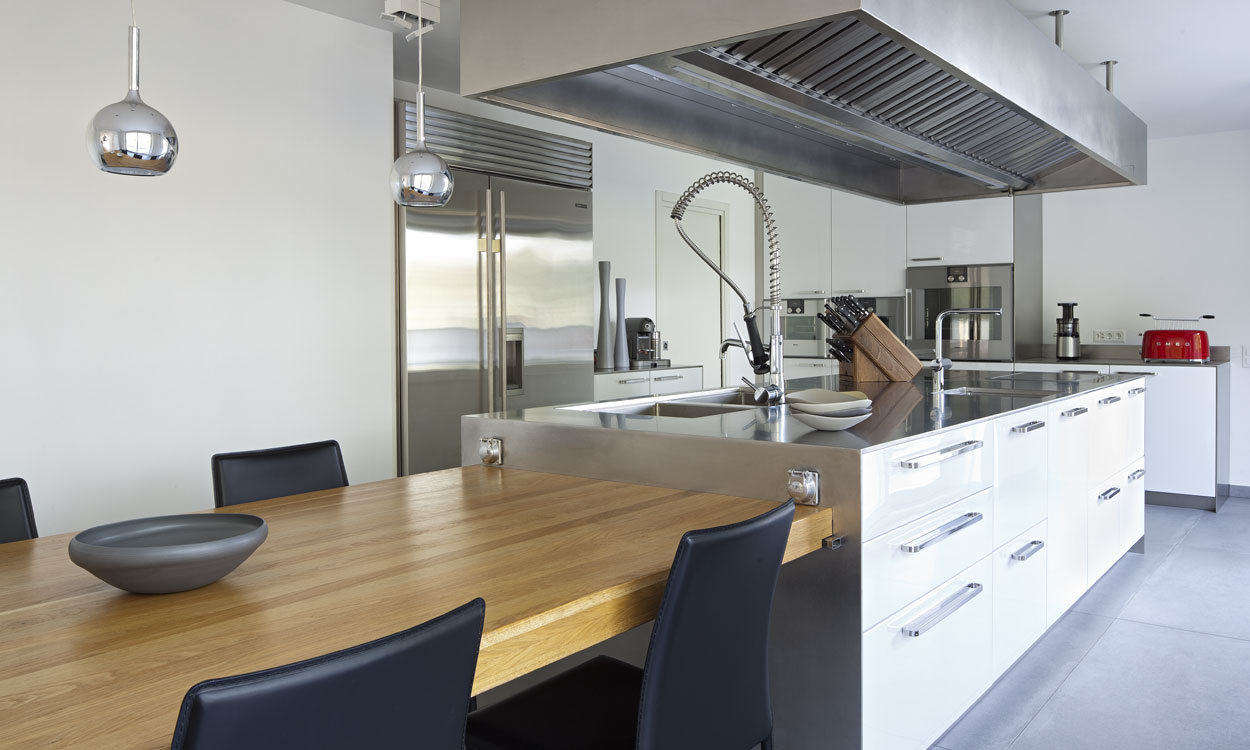 An Atelier kitchen by Abimis in glossy white finish
The setting is in Lugano, one of the pearls of Switzerland, overlooking the namesake lake. Indeed, it is right here, in the heart of the Ticino-based city, that a professional has decided to live with his family.
When the owner, a biking enthusiast and a foodie with a fondness for hygiene and cleanliness involved the designer to redistribute the interiors and choose the furniture, he made two specific requests. Both were aimed at enjoying his great passions within the home.
Firstly, he wanted to extend the large garage in order to keep his collection of motorbikes, both vintage and contemporary models, in full view.
His second request was to have a large, bright and functional kitchen area, to enjoy eating, cooking for himself and his friends, and to benefit fully from everyday family life.
Considering his passion for cooking, he wanted a professionally-derived kitchen. In other words, a kitchen designed to offer the same performance levels as professional kitchens but distinguished by contemporary style and devised for domestic settings. A high-end kitchen which would suit the clean-cut, understated and minimal design that the owner picked for the remainder of his home.
The choice fell on the Atelier line by Abimis, a professional kitchen for domestic use, the characteristics of which convinced designer and owner alike.
Atelier by Abimis is in fact a kitchen affording professional performance levels and maximum customisation; starting with the composition of the modules, through to the choice of the tiniest detail.
The central island is fitted with practical storage drawers.
Indeed, every Abimis kitchen is truly bespoke, just like a tailor-made garment: you can choose the cut, the colour, the material, the style, the accessories…
The living area of this house in Lugano comes in the form of a large, bright L-shaped open space.
On one side is the sitting room. On the other, connected by a large opening in the wall, is the kitchen area which also houses a wooden table for informal meals with family and friends.
Both settings overlook the garden. Large floor-to-ceiling windows flood the house with light and create continuity between inside and out. White walls and floors featuring large concrete-coloured porcelain stoneware tiles contribute towards creating a neutral and minimal atmosphere.
A deliberate choice on the part of the designer, who wanted to allow the kitchen to play the starring role.
To make this room even brighter and more "minimal", the designer opted for a kitchen by Abimis in orbitally polished stainless steel with glossy white lacquered doors.
The result is truly effective and striking. In the centre of the room, a large island plays host to a dual washing area, the induction hob, a Teppan yaki and a generous workspace. This significant central element, which is more than 3 metres long, is topped by a professional-style ceiling hood.
There are two accessorised walls. The first consists of three tall unit modules with ovens and larder units and two lower modules. The second houses another larder unit area and an "extra large" stainless steel refrigerator. To create a stylish contrast, polished steel handles were picked for the white doors.
The designer's pickings are not merely restricted to aesthetic styling, but they are also dictated by specific functional choices and quality materials. The doors are all fitted with a handle and, as mentioned above, they were picked in glossy white finish.
However, the painting process of Abimis kitchens is not the traditional method. In an attempt to guarantee maximum resistance to knocks, scratches and dents, Abimis uses the same painting techniques used in the automotive industry for its kitchens. This complex process envisages subsequent phases of smoothing, painting and polishing.
For reasons of hygiene, practicality and cleanliness, all the tops and work surfaces were ordered in AISI 304 stainless steel , a particularly high-performing steel alloy, which Abimis uses for all its indoor kitchens. A quality and environmentally-friendly decision, since this material is antibacterial, it does not release any substances onto food, is resistant to scratches and to temperatures of up to 500°C, is extremely easy to clean and is 100% recyclable.
In this setting the designer has proven his outstanding creative skills. And they have done this by incorporating the superior performance levels of a remarkable professional kitchen in a setting with a simple, linear and welcoming design. Their winning idea was to have created a high-tech yet welcoming space, one which is professional yet at the same time informal. A relaxing place to enjoy everyday domestic bliss, to cook in and host friends and family.
Abimis solutions perfectly reflect the original concept for which they were conceived: a professional-grade product devised for domestic settings that is both functional and designer.