What are the key aspects of an industrial-style kitchen? Those that are capable of combining tradition with innovation?
Industrial style has reclaimed the beauty of factories in large metropolitan cities. Widely available materials such as stainless steel and wood, which were at the time used in the construction of huge structures such as large warehouses and old depots, have been restyled with a contemporary twist by extroverted architects and eclectic interior designers.
When designing interiors, both these "unrefined" materials are capable of creating furnishings oozing absolute prestige and elegance, characterised by an attractive and unmistakable simplicity. A sophisticated stylistic mixture of materials that generates incredible shapes and colours with myriad facets like a chameleon, as if it were living in a nest that lights up with multiple rays of light, like the soul of an artist. Indeed, because industrial style is a niche-preference, and we can track it down to luxurious villas or sophisticated restaurants, both settings embellished by paintings and sculptures by emerging or internationally renowned artists.
The industrial-style kitchen: when styling meets total functionality
Beyond mere styling, the industrial style is highly appreciated because it provide an excellent solution also in terms of functionality. For instance, professional-grade stainless steel designer kitchens leave people with the utmost freedom of expression to delight diners with gourmet dishes.
The kitchen environment is no longer seen simply as the room devised solely for preparing food, but instead a place to share with others, where styling and functionality merge together amid genuine traditions, such as the love of food and innovative instruments that improve the well-being of its inhabitants. For these reasons, in an industrial-style kitchen, everything has to be co-ordinated to perfection.
What are the two trendiest types of industrial-style kitchens?
If you want to design an industrial-style kitchen, this is the right article to read; it will take you less than two minutest to read and offer you some interesting food for thought, and information that is taken for granted. Favouring an open plan layout distinguished by designer kitchens with a professional cooking station or a central island is the best solution. In addition, industrial style in kitchens stands out for its minimalist soul, without excess frills, as can also be seen in the choice of materials and in the lighting.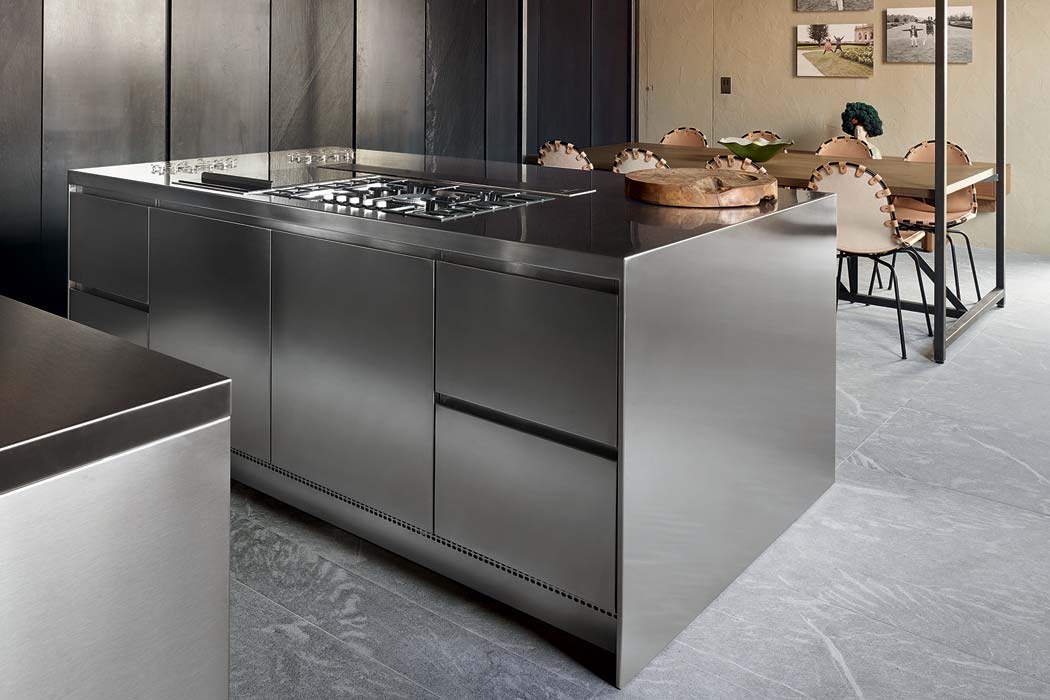 Designer kitchens with professional cooking station
An open plan layout designed in large spaces is a must-have for industrial style, because it makes the setting bright, in net contrast with those dark shades of colour implemented to recreate interiors that recall those of a mechanic's garage. In this same space, so airy and welcoming, the designer kitchen with professional cooking station is just perfect, and it is particularly required by those who think about cooking as a genuine form of art. This particular audience places a certain amount of attention on functional spaces and the finest materials, which must under all circumstances comply with styling and functionality: of high visual impact, yet easy to clean.
As regards functional spaces, mechanisms that pull all the way out are without a doubt proving extremely popular, as they allow you to exploit all the available space to the full. Some of the most practical and capacious solutions compared to traditional shelves are:
Completely pull-out baskets
(These solutions are not only more practical than traditional shelves, for instance, they are also more capacious).
Until recently, in domestic kitchens, the materials used for the kitchen work surfaces were limited solely to marble and granite because they simply had to be functional. Now on the other hand, people's needs have evolved. Stainless steel worktops constitute outstanding styling, functional, practical and sturdy solutions, capable of satisfying the style of luxury contemporary kitchens. A material such as AISI 304 stainless steel, thanks to its resistance to high temperatures, is considered to be an excellent alternative to granite.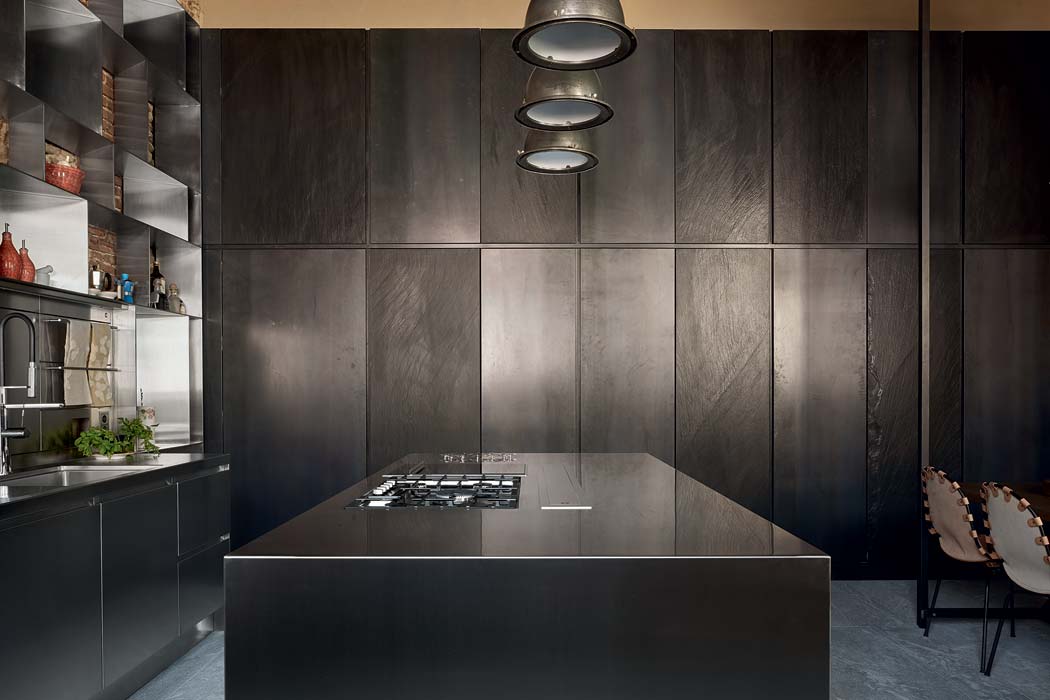 Designer kitchen with central island
Industrial-style furniture wishes its real use to be the core of every activity, the centre of everyday life to be enjoyed fully and shared. Furnishing a kitchen with a central island constitutes an excellent solution to create a certain degree of continuity between the cooking area and the living area, especially if the latest new trends in the kitchen involve its increasing incorporation into other settings.
Thanks to the central position that does not rest against the wall, the island proves particularly popular because it allows the user to cook in complete freedom, granting fluidity of movements. The island therefore becomes the cornerstone of the kitchen because it contains the main functions involved in cooking, such as:
Storage
Preparation
Cooking
Dishing up
Washing
In addition, the central island makes the space more open and enjoyable: it eliminates all those barriers such as walls, which instead delimit space, failing to foster sociability: this way the chef can easily chat to and see his or her guests.
Lighting in the kitchen: a must-have of industrial style
Light is a form of communication used to bring to mind a specific response to a perception. The way in which spaces and objects are illuminated governs the way we perceive them and respond to them. For this reason, lighting in the kitchen takes on an extremely important role in the setting. Good lighting can transform a sterile space into one that is capable of conveying intimacy and warmth.
In particular, in an industrial-style designer kitchen or in a stainless steel kitchen, the light above the worktop plays a key role in the preparation of dishes. Indeed, it is customary to arrange a lighting system that will clearly and directly emphasise the work surface concerned to proceed with the utmost care with tasks requiring precision, such as filleting or chopping food, avoiding any areas of shade.
Without a doubt the most commonly used type of lighting is suspension lamps, a principal light source that fully accommodates the functional and styling requirements. Suspension lighting is functional because it makes it possible have uniform lighting over the entire work surface and it also plays a styling role because, more often than not, it is implemented by interior designers and architects to decorate the kitchen.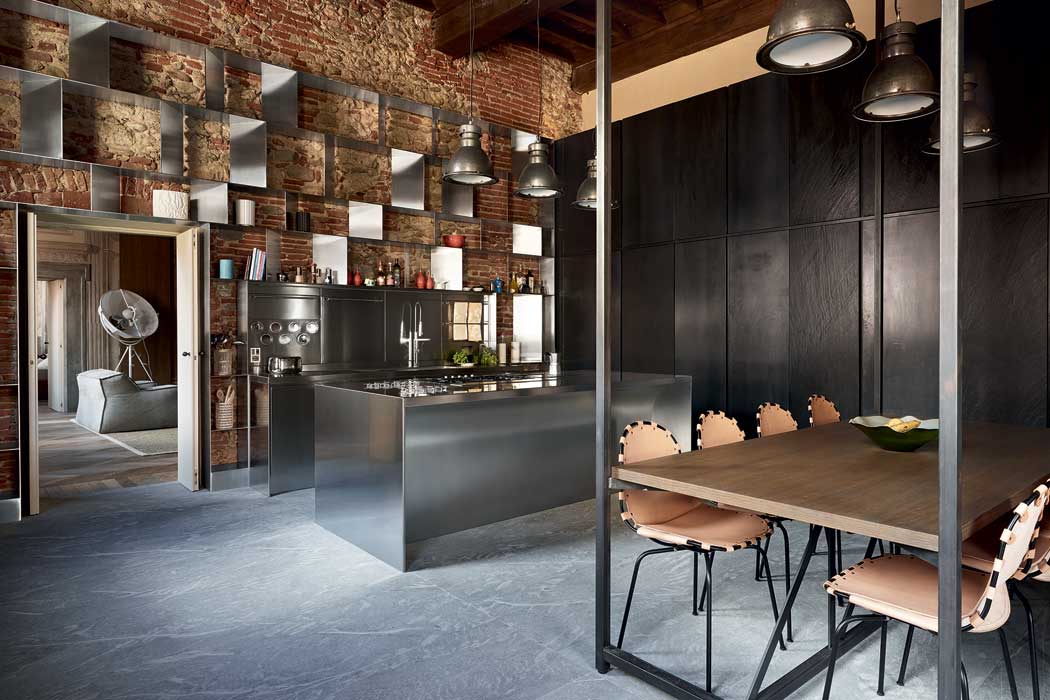 Stainless steel in the kitchen: styling and functionality
Finding the perfect combination of materials is a very delicate moment to value industrial-style kitchens. The styling aspect is extremely important, just as much as the functional one: the assessment and subsequent choice will always fall upon the use of quality materials suited to the various tasks carried out in the kitchen.
Currently stainless steel designer kitchens are extremely trendy both in the professional kitchens of great Chefs as well as in the kitchens of novice cooks. Why is that? A material such as stainless steel embraces both topics: functionality and styling. Stainless steel is functional because it is:
Hard-wearing
Durable
Hygienic
High gloss
In addition, stainless steel has a high styling impact because it features characteristics such as:
Stainless steel designer kitchens, owing to their technical and styling characteristics, blend in seamlessly with a metropolitan-inspired style, industrial style to be precise.
Are you designing new domestic interiors specifically with industrial style? Have you already seen the designer kitchen lines, Ego and Atelier, by Abimis?